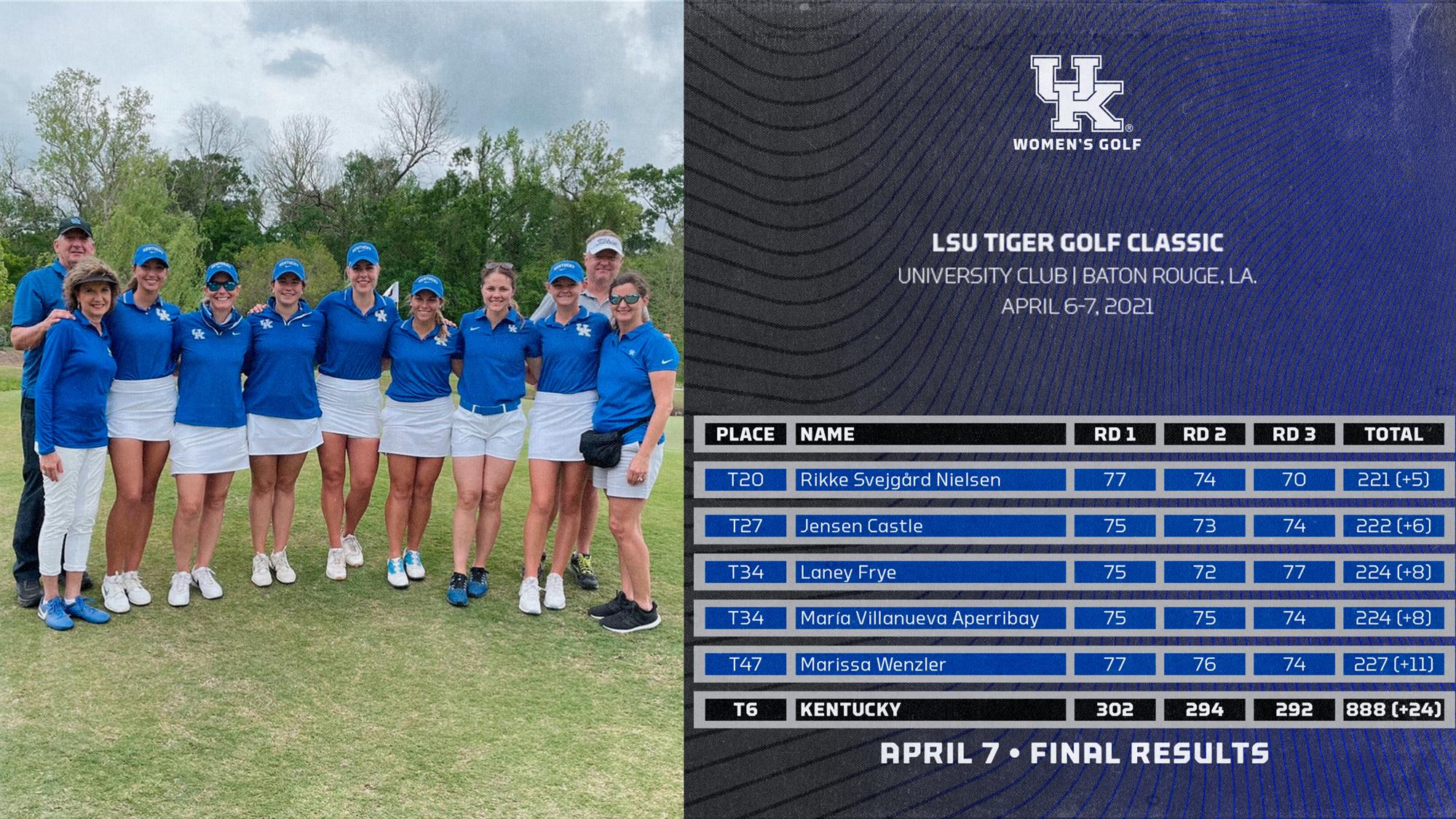 UK Women's Golf Climbs Five Spots at LSU Tiger Golf Classic Finale
BATON ROUGE, La. – The Kentucky women's golf team made a strong final-round climb on Wednesday at the LSU Tiger Golf Classic to finish in a tie for sixth place and close out the 2020-21 regular season in impressive fashion.
 
For the second straight tournament, UK rebounded from a subpar first round with resilient second and third rounds to finish among – and ahead – of some of the best teams in the country.
 
The Wildcats improved their score in every round at the University Club (par 72, 6,350 yards) in Baton Rouge, Louisiana. After posting scores of 302 and 294 on the 36-hole Tuesday, Kentucky carded a 4-over-par 292 in the final round Wednesday, the fourth-best score in the 14-team field.
 
Kentucky finished ahead of top-10 teams Florida State and Georgia and top-25 schools Alabama and Florida.
 
No Wildcat finished worse than 47th place and every player showed signs over the last two days of playing their best golf just in time for the postseason. Chief among them was senior Rikke Svejgård Nielsen, who made a final-day charge with a 2-under-par 70 for her second straight top-20 finish after coming up empty in the first six events of the season.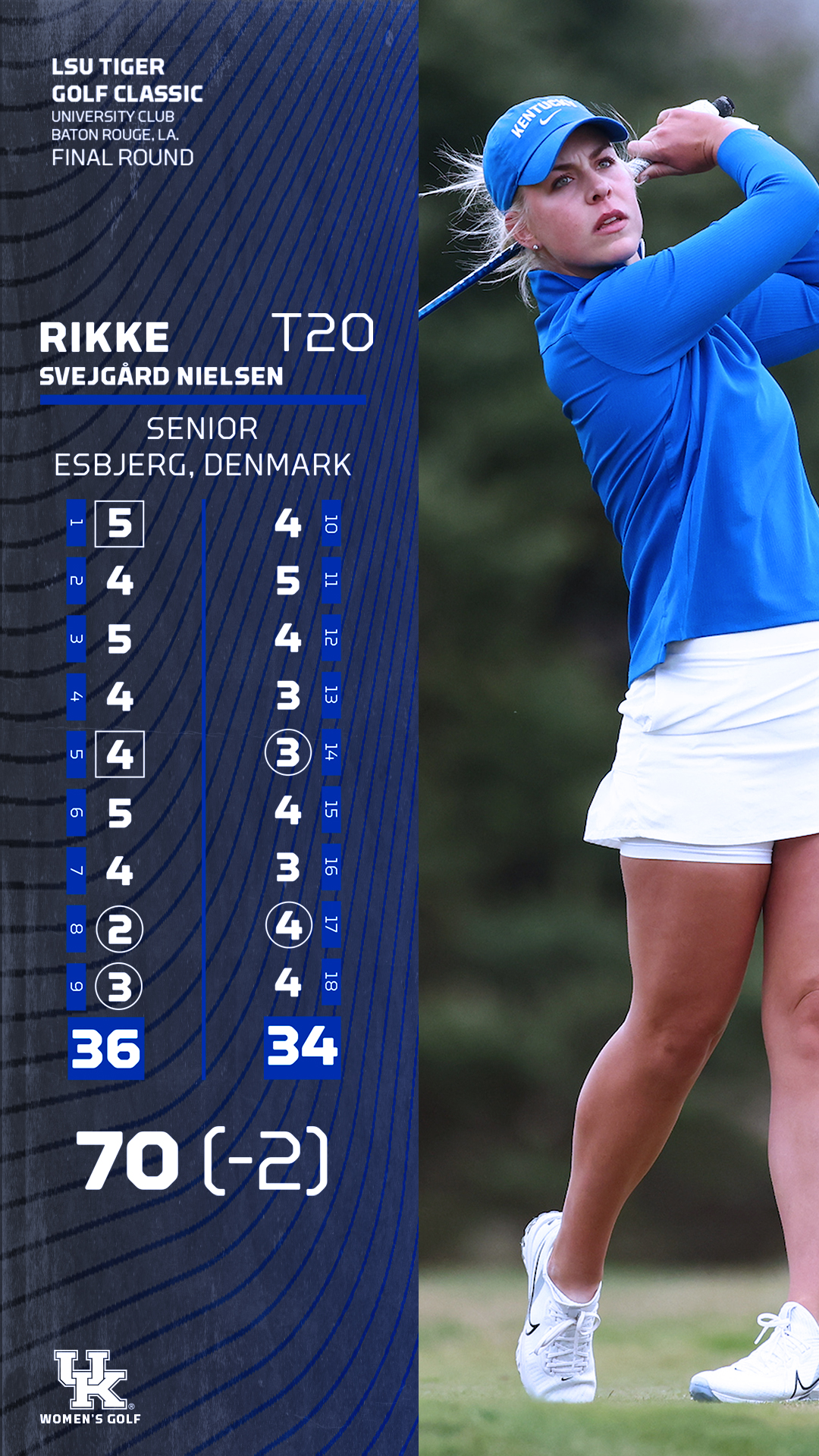 "This team fights incredibly hard," said Borst, who served as an assistant at LSU from 2007-10. "We never give up. We play with toughness, we play with discipline and we keep getting after it. I love it."
 
Fourth-ranked LSU used its home-course knowledge and experience to its advantage for an easy 22-shot win. At 12-under par, the Tigers were the only team in red numbers. LSU's Ingrid Lindblad, the No. 4 player in the country, won medalist honors with a score of 5-under par.
 
UK made a similar climb just a couple of weeks ago at the Liz Murphey Collegiate Classic, moving from 15th place after round one to a final standing of third.
 
The season's two most complete tournaments of the season could not have come at a better time for the Wildcats. The postseason begins next week, April 14-18, at the Southeastern Conference Championship in Hoover, Alabama. The NCAA Regionals, which UK appears to be a lock for ranked 35th in the country, are in early May.
 
After up-and-down play for most of the 2020-21 season, the Wildcats have found their footing for the most important time of the year. While no player finished better than 20th in this week's event at LSU, the team got solid contributions from everyone and racked up its fair share of birdies.
 
Among the most encouraging signs for Borst and her team is the improvement from round to round. Over the last two tournaments, UK has gotten better as the event has worn on. After the opening 302, Kentucky posted the third-best 36-hole score to close the event.
 
"Our goal is always to hit 70% of greens (in regulation) as a team," Borst said. "Although we don't always get to that spot, it still creates opportunities, and it keeps them in the process. That is the one thing that we focus on is to keep trying to get those opportunities to score."
 
Individually, the Wildcats' depth and talent is stepping up at the right time, most notably Svejgård Nielsen.
 
The senior entered the season with high expectations as one of the most experienced and talented players on the roster. However, Svejgård Nielsen has battled consistency issues and failed to record a top-20 finish in the first six events in 2020-21 after posting seven in her first two seasons as a Wildcat.
 
Svejgård Nielsen appears to be on to something now. After snapping the cold streak by tying for 16th place two weeks ago at the Liz Murphey Collegiate Classic, she tied for 20th in the LSU field with a season-best 54-hole score of 221, 5-over par.
 
Svejgård Nielsen played the final 36 holes at even par. After opening with a 77, she carded a 74 in the second round and a season-low 70 on Wednesday. The final round featured four birdies and just two bogeys.
 
"I think she's just relaxing a little bit more and trusting that she can score," Borst said of Svejgård Nielsen. "That's one of the things that, as a player, when your game feels really good, that next level you don't get to unless you trust it. So, trusting your routine, getting comfortable. For her to come out at Georgia's golf course and this golf course and shoot under par, her game is right there."
 
After a season-best six birdies in the second round, sophomore Jensen Castle fired five more Wednesday and finished among the tournament leaders with 12. To boot, she also put an eagle on the scorecard in the final round on the par-5 sixth hole.
 
But it was a bit of a rollercoaster for Castle this week. The red numbers were offset a bit by some big numbers as well. Despite six holes of birdie or better in the final round, she could do no better than a 2-over-par 74 because of three double bogeys and three bogeys. Castle finished just a shot behind Svejgård Nielsen at 6-over par and tied for 27th.
 
Freshman Laney Frye and sophomore María Villanueva Aperribay tied for 34th at 8-over par. Frye, Kentucky's leader in stroke average, top-20 performances and top-10 showings this season, had a rare off day on Wednesday with a 77. Villanueva Aperribay was consistent all week with a 74 in the final round after back-to-back 75s on Tuesday.
 
Sophomore Marissa Wenzler enjoyed a 74 in the final around with five birdies for her best score of the three-round tournament. At 11-over par, she tied for 47th.
 
The SEC Championship begins a week from Wednesday in Hoover. UK will be battle tested as far as the league tournament is concerned after a conference-focused schedule in 2020-21 due to COVID-19 safety protocols.
 
UK has fared well against the league competition. This week's event at LSU featured 12 teams from the SEC, plus Florida State and Pepperdine. All told, 12 teams in the field rank in the Golfstat top 50 and eight are in the top 25.
 
"We're all excited (for the postseason)," Borst said. "I think this has been a long time coming since our season last year was so shortened, so I'm excited for this team to see the Greystone (Country Club in Hoover) and just for us to be in postseason and feel the emotions and all of that. I'm excited for our team. I think we're ready."
 
For the latest on the Kentucky women's golf team, follow the team on Twitter, Facebook, and Instagram, as well as on the web at UKathletics.com.