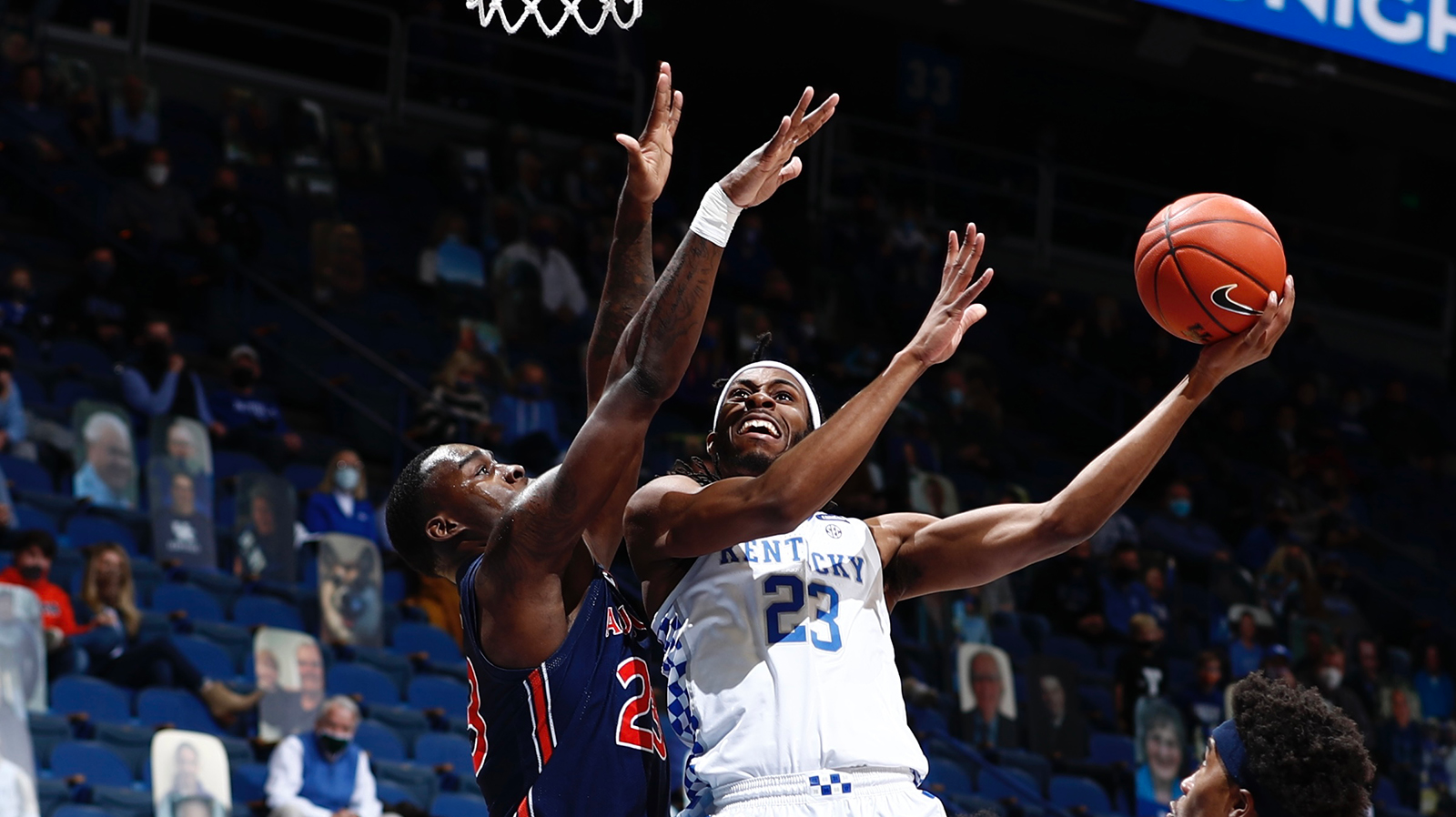 February 13, 2021 - 03:20 PM
Cats Snap Skid with Tight Win Over Auburn
LEXINGTON, Ky. – On a number of occasions this season, Kentucky has found itself in the lead, or within a possession of the lead, in the second half only to eventually see victory slip away.
Saturday's game against Auburn appeared to be headed down a similar path. After the Cats built a 14-point lead, 63-49, with 10:36 to play, the Tigers began chipping away. Eventually, Auburn would tie the game at 77 apiece with 46 seconds to play on an Allen Flanigan layup.
But this time, things would be different for the Cats. Just 13 seconds after Flanigan's layup, UK's Davion Mintz hit a right-wing 3-pointer to give the Cats an 80-77 advantage. The Cats would play solid defense and hit enough free throws down the stretch to win 82-80, snapping a four-game skid in the process.
UK head coach John Calipari has been looking for someone to step up and hit the big shot for the Cats. He was happy with Mintz being that guy on Saturday.
"The one he made today, those are daggers," Calipari said. "It takes a unique guy, and I'll tell you why: They can't be afraid to miss the shot. That's the one that will make it. Yeah, but the dude that's not afraid to miss, I'll deal with the miss, but I'm shooting this and this is a dagger. Proud of him."
Isaiah Jackson scored a career-high 18 points and added 11 rebounds, Brandon Boston Jr. made five 3-pointers and scored 17 points for Kentucky.
Calipari was happy to see his team's hard work pay off.
"They have to have rewards," Calipari said. "We've been making strides for three weeks, but you've got to have a reward at the end. And so, because all the hard work, all the extra conditioning they are doing, and shots, and then sacrificing for the team, you've got to have some reward, and you've got to win somewhere."
Besides what would have been John Calipari's first five-game slide in his 12 years at Kentucky (6-13, 5-8 SEC), the Wildcats prevented their first-ever three-game losing streak at 45-year-old Rupp Arena. They also denied the Tigers (11-11, 5-8) their first season sweep. The Tigers are 2-50 inside Rupp with their last win there coming in 1988.
Jackson, a freshman, had his first career double-double. He and the team were excited to snap the losing streak.
"It's been a heavy burden lately finishing out close games," Jackson said. "We would be up in games and then just lose the lead. But this game we finally put everything together and we got the win today. So, everyone's really happy and excited about the game."
Keion Brooks Jr. added 12 points for Kentucky, which shot 53% in the second half and made 8 of 13 from the arc after going 3 of 11 from long distance in the first half.
 
Thor was 5 of 6 on 3-pointers in scoring 24 points with nine rebounds for Auburn. Flanigan added 23 points and Sbarife Cooper, averaging 20.2 points per game coming in, finished with 14 points and eight assists but on just 6-of-23 shooting. Cooper, the freshman point guard who sat out the first 11 games, has had his two lowest-scoring games against Kentucky. He scored 11 points in a 66-59 victory on Jan. 16.
Boston and Mintz hit consecutive 3-pointers to give Kentucky its first lead. After Cooper replied with a 3-pointer, the Wildcats went on a 19-6 run that included two more Boston 3-pointers and resulted in a 60-47 bulge. Another Boston 3 made it a 14-point lead midway through the second half.
Kentucky missed its first eight shots with Auburn going up nine midway through the first half before the Wildcats scored seven straight. The Tigers again were up nine after Flanigan scored five consecutive points and led 36-30 at the break.
Both head coaches were called for technicals, Calipari in the first and Bruce Pearl in the second.