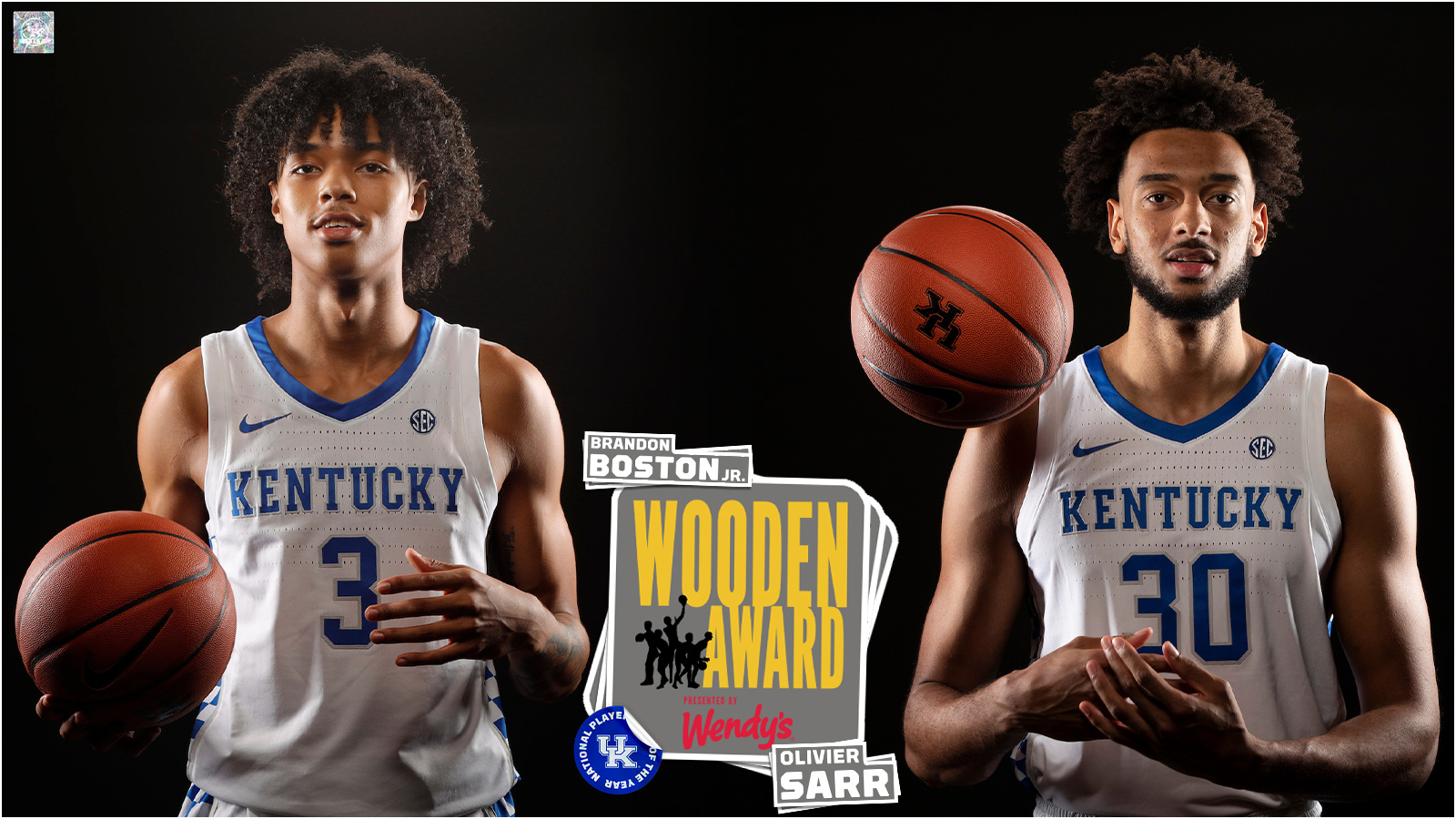 December 1, 2020 - 11:34 AM
Boston, Sarr on Wooden Award Watch List
LOS ANGELES – Kentucky men's basketball players Brandon Boston Jr. and Olivier Sarr were tabbed to the John R. Wooden Award Watch List, awarded annually by the Los Angeles Athletic Club to the nation's most outstanding player.
 
Kentucky is one of 11 programs with two players among the top 50 preseason favorites for the Wooden Award's Player of the Year Trophy. In addition to the Wildcats, two other Southeastern Conference schools in LSU (Javonte Smart and Trendon Watford) and Tennessee (John Fulkerson and Yves Pons) had two players selected.
 
The preseason top 50 list represents 11 conferences, 32 upperclassmen, 20 seniors and seven freshmen. The players on the list are considered strong candidates for the 2021 John R. Wooden Award Men's Player of the Year. Players not chosen to the preseason list are still eligible for the Wooden Award midseason list, late-season list and the national ballot.
 
The national ballot consists of 15 top players who have proven to their universities that they are also making progress toward graduation and maintaining at least a cumulative 2.0 grade-point average.
 
Nearly 1,000 voters will rank in order 10 of those 15 players, who have qualified as meeting the standards set forth by Coach Wooden and the Wooden Award Steering Committee. Voting will open prior to the start of the NCAA Tournament and will allow voters to take into consideration performance during early round games. The Wooden Award All American Team will be announced the week of the Elite Eight of the NCAA Tournament. The winner of the 2021 John R. Wooden Award will be presented following the NCAA Tournament in April.
 
Kentucky's Anthony Davis is the only winner in program history. He claimed the honor in 2012 after helping lead Kentucky to its eighth national championship in program history.
 
Boston has already made an impact for the Wildcats through two games. He is the team's leading scorer at 17.5 points per game and is second on the team with 8.5 rebounds per game. He's shooting nearly 50% from the floor and logged his first career double-double with 20 points and 10 rebounds against Richmond on Sunday.
 
A consensus five-star prospect, Boston is Kentucky's top-ranked player in the 2020 class. Boston averaged 19.7 points and 7.0 rebounds per game at Sierra Canyon High School his senior season. He helped lead the team to a 30-4 mark and a No. 2 national ranking. Boston was named the California Male Athlete of the Year and the California Basketball Player of the Year by USA Today. He was also tabbed a First Team Naismith All-American, Second Team Sports Illustrated All-American, SLAM Magazine All-American, California Mr. Basketball and the Gold Coast League MVP.
 
Boston was selected to the McDonald's All American Game, the Allen Iverson Roundball Classic and the Jordan Brand Classic. He averaged 22.8 points, 8.1 rebounds, 3.2 assists and 1.9 steals per game in the Nike Elite Youth Basketball League circuit prior to his senior season. Boston earned 2018-19 MaxPreps Boys Basketball Junior All-American Team honorable mention distinction after averaging 18.4 points, 5.4 rebounds 1.9 steals while leading his previous high school in Norcross, Georgia to the state semifinals as a junior.
 
Other notable preseason recognitions for Boston include:
 
Naismith Trophy preseason watch list
Naismith Memorial Hall of Fame Julius Erving Award preseason watch list (nation's best small forward)
Preseason All-SEC First Team (media and coaches)
Preseason All-America Third Team (CBS Sports, Stadium)
 
Sarr is averaging 12.5 points, 7.0 rebounds and 1.5 blocks per game through the team's first two games. He notched a double-double with 17 points and 11 rebounds in a career-high 38 minutes of action against Richmond.
 
Sarr, who was granted immediately eligibility last month after transferring from Wake Forest, enjoyed a breakthrough season in 2019-20 with the Demon Deacons, averaging 13.7 points, 9.0 rebounds and 1.2 blocks per game. He shot 52.7% from the floor, made the All-Atlantic Coast Conference Third Team and was the runner-up for the 2020 ACC Most Improved Player award.
 
Widely regarded as one of the nation's top transfers, Sarr totaled 664 points, 496 rebounds and 81 blocks with 31 starts in three seasons at Wake Forest. In his third season with the Demon Deacons, he led the team with 11 double-doubles and 33 blocks, scored in double figures in 23 games, and was a two-time ACC Player of the Week. Sarr was particularly good late in conference play, finishing on a six-game double-figure scoring run with three double-doubles.
 
Included in that season-ending tear was a 20-point, 13-rebound game vs. Pitt in the 2019-20 finale, a career-high 30 points and 17 rebounds in a win vs. Notre Dame, and 25 points in a double-overtime victory over Duke. Sarr also enjoyed three straight double-doubles in January vs. Virginia, Clemson and Boston College and recorded 21 points and 13 rebounds vs. nationally ranked Arizona.
 
Prior to his career at Wake Forest, Sarr played for the French National Team at the U-17 and U-18 levels. He will be the 10th 7-footer in UK history and the first since Isaac Humphries in 2016-17.
 
Additional notable preseason honors for Sarr include:
 
Preseason All-SEC Second Team (media and coaches)
Naismith Memorial Hall of Fame Kareem Abdul-Jabbar Award preseason watch list (nation's best center)
ESPN's Dick Vitale Preseason All-America First Team
 
Boston, Sarr and the Wildcats return to action Tuesday night in the Champions Classic. UK takes on No. 7/5 Kansas at 9:30 p.m. ET on ESPN.
 
For the latest on the Kentucky men's basketball team, follow @KentuckyMBB on Twitter, Facebook, Instagram and TikTok, and on the web at UKathletics.com.