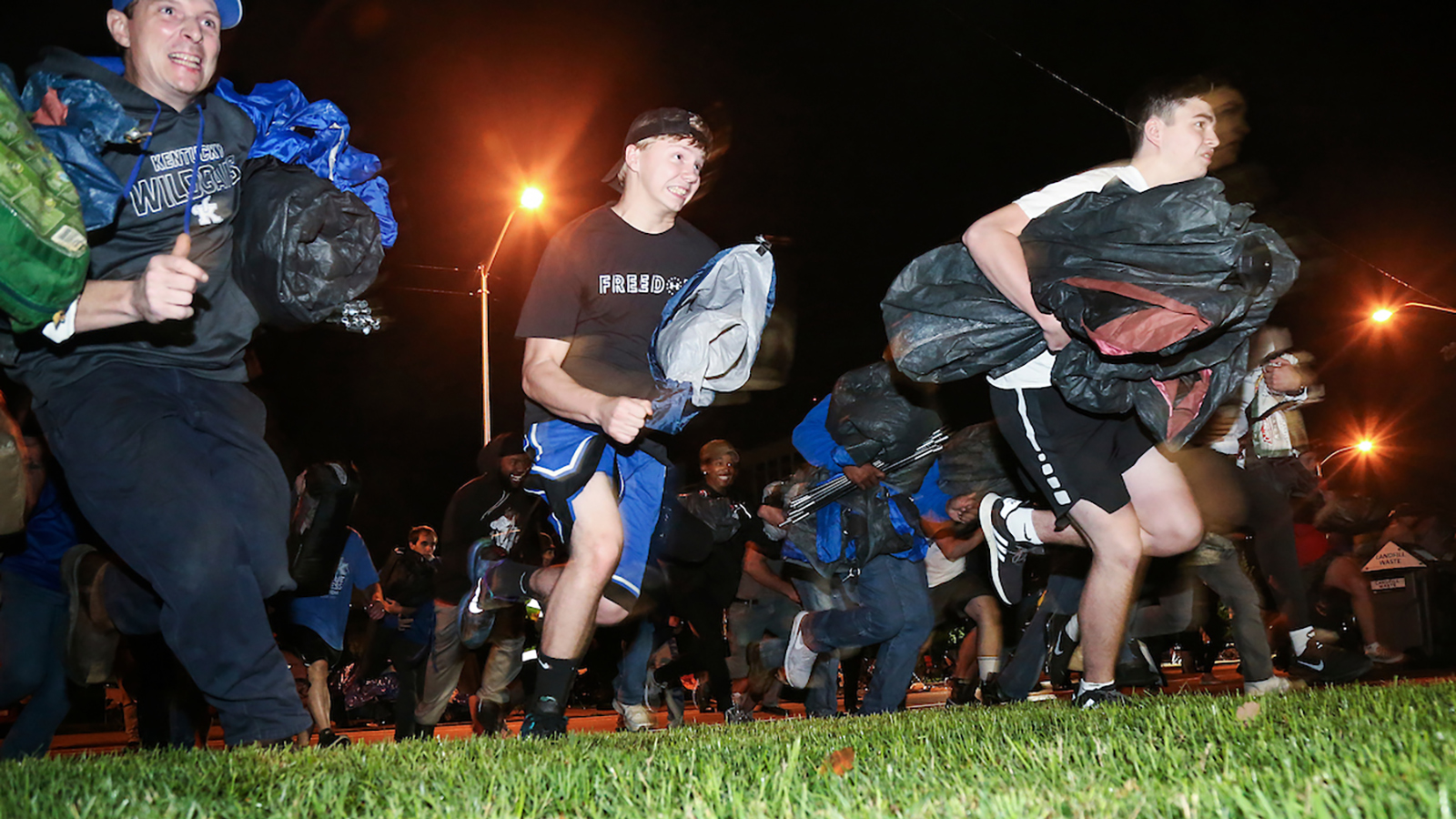 September 26, 2018 - 09:28 AM
#TentCity HQ: Capacity Reached, Control Cards Unavailable
10 a.m. Wednesday – Capacity reached; control cards unavailable 
On the second day of the Big Blue Madness campout, camping space has reached capacity. As a result, no new campers will be able to set up and no control cards for free tickets to the annual event will be issued to those not already camped out. Fans are encouraged to use Ticketmaster.com to acquire tickets to the first open practice opportunity for UK's 2018-19 men's and women's basketball teams.
 
The annual campout officially began Wednesday at 5 a.m. After the arrival of new campers on Wednesday evening and early Thursday morning, the tent count moved to approximately 322 and capacity was reached.
 
Tickets are free again this year for the annual spectacle in Rupp Arena, which will feature introductions of both the men's and women's basketball teams, practice drills, videos, and more.
 
Tickets for the 2018 edition of Big Blue Madness will be available at 10 p.m. both at the Memorial Coliseum ticket windows on Avenue of Champions for fans with control cards and online at Ticketmaster.com. All patrons require a ticket to Big Blue Madness, regardless of age. There will be a limit of four tickets per person at the Memorial Coliseum ticket distribution. Online orders will have a minimal service fee attached, and there will be a limit of four tickets per household. All duplicate orders will automatically be canceled.
 
UK Athletics cannot guarantee fans will receive tickets by lining up or going online. Full details
We had a great time this morning waking up all the #BBM18 campers with some free breakfast. Check out the full gallery ?? #poWEr

?? https://t.co/HUpNdtknQw pic.twitter.com/0gitvEypsc

— Kentucky WBB (@KentuckyWBB) September 27, 2018
9:30 a.m. Wednesday – Initial tent count at 305
The calm after the storm has settled in at the annual campout for tickets to Big Blue Madness. After a rainy early morning move-in and setup, most campers were grabbing well-deserved naps.
 
As of about 9:30 a.m. on Wednesday, approximately 305 tents had been set up in the area surrounding the Joe Craft Center and Memorial Coliseum. That's up from 270 at the same point in last year's campout.
 
Things should stay quiet for a few hours on Wednesday, but the action is soon to pick up. The stage for the Tent City Live broadcast on Wednesday is already set up and visits from various UK teams are planned.
 
Happy camping!
The rain has let up and the sun is trying peek out here at the #BBM18 campout. The 10 a.m. ?? count was 308. Still great spots available, #BBN, so come on out. #TentCity HQ ?? https://t.co/j3xLRWpluM pic.twitter.com/gudwIrlo8W

— Kentucky Basketball (@KentuckyMBB) September 26, 2018
Complete campout information
LEXINGTON, Ky. – Tickets for the 2018 edition of Big Blue Madness in Rupp Arena will be available Friday, Sept. 28, at 10 p.m. at the Memorial Coliseum ticket windows on Avenue of Champions and online at Ticketmaster.com. Big Blue Madness, the first open practice opportunity for UK's 2018-19 men's and women's basketball teams, is Oct. 12 at 7 p.m.
 
Tickets are free again this year for the annual spectacle in Rupp Arena, which will feature introductions of both the men's and women's basketball teams, practice drills, videos, and more. Like the last three years, the ticket distribution will take place Friday night both at the Memorial Coliseum ticket windows on Avenue of Champions and online at Ticketmaster.com.
 
All patrons require a ticket to Big Blue Madness, regardless of age. There will be a limit of four tickets per person at the Memorial Coliseum ticket distribution. Online orders will have a minimal service fee attached, and there will be a limit of four tickets per household. All duplicate orders will automatically be canceled. UK Athletics cannot guarantee fans will receive tickets by lining up or going online.
 
To support regular campus operations and facilitate student pedestrian routes to and from class, campout space will be located at the north, east and southeast areas around the Joe Craft Center-Memorial Coliseum complex.
 
A limited number of control cards will be issued to those camped out Friday, Sept. 28, at 2 p.m. Fans will receive a maximum of four tickets per control card Friday night. No more than four control cards will be distributed to each tent. Fans with control cards are encouraged to start lining up for Friday night's ticket distribution by 8:30 p.m. All fans must be present to obtain their control cards and only one control card per person will be accepted at distribution. Full details
 
The Madness has begun. The #BBM18 campout is officially open. pic.twitter.com/sKxwsDeSX4

— Kentucky Basketball (@KentuckyMBB) September 26, 2018