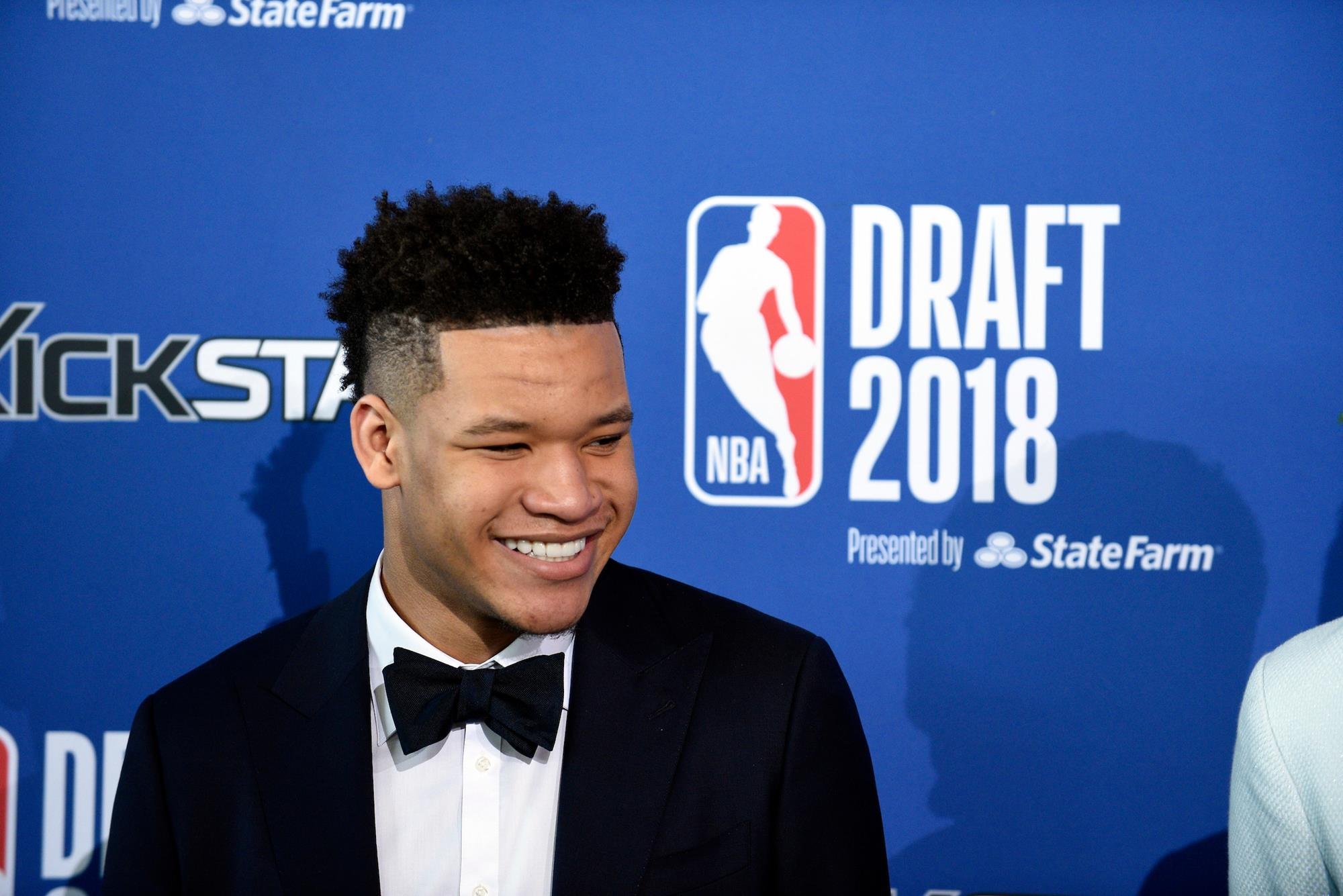 Kevin Knox Named to All-Summer League First Team
LAS VEGAS – With 14 players participating in this year's NBA Summer League, there really was no question that Kentucky was going to make a splash once again. All the two weeks of action did was solidify that no program better prepares players for the professional game than UK.
 
After being selected in the top 10 of the 2018 NBA Draft by the New York Knicks, Kevin Knox (2018) showed off his versatility and dominated play en route to being one of five players selected to the All-NBA Summer League First Team. Knox averaged 21.3 points, 6.5 rebounds, 2.3 assists and 1.0 steals in four games in Las Vegas. His 29-point, nine-rebound effort against the Lakers in 33 minutes was arguably his best performance. He knocked down five 3-pointers in the game and scored 16 points in the third quarter.
 
He wasn't the only former UK player to shine, however.
 
Archie Goodwin (2013) became the all-time leading scorer in summer league history, Isaiah Briscoe (2016-17) earned a contract with the Orlando Magic, Knox's fellow draftees Shai Gilgeous-Alexander (2018) and Hamidou Diallo (2018) received rave reviews, while NBA vets Bam Adebayo (2017), Dakari Johnson (2014-15) and Alex Poythress (2013-16) continued to star.
 
Malik Monk (2017) and De'Aaron Fox (2017) both had short stays with Monk injuring his thumb and Fox only appearing in one game for the Sacramento Kings, but both enjoyed eye-popping performances in their one appearance. 
 
In total, 14 former Wildcats took to the court during the three summer-league sessions played in Las Vegas, Sacramento and Utah.
 
Goodwin scored 57 points in six games with the Portland Trail Blazers who took home the Summer League's tournament title. He has now scored 375 career points in summer league action to become the all-time leading scorer. He averaged 9.5 points, 2.8 boards and 1.0 assists a game during this year's run.
 
The Orlando Magic signed Briscoe to a multi-year contract after having a stellar camp and quality performances in his abridged play in Summer League. Briscoe suffered a shin contusion in the third game, but put together back-to-back solid outings prior to that. He scored 16 points, dished out four assists, hauled in three rebounds and swiped two steals against the Nets in his debut.
 
Gilgeous-Alexander averaged 19.0 points, 4.8 rebounds, 4.0 assists, 2.3 steals and 1.0 blocks per game in four games with the Los Angeles Clippers. His best game came with 21 points, eight rebounds, three steals and a pair of assists against the Kings. He reached double-figure scoring in all four games and had at least four assists in three of the four games he played.
 
Diallo displayed his freakish athleticism and an improved jumper in five games with the Oklahoma City Thunder. He averaged 10.8 points, 4.8 rebounds and 1.0 steals a game, while shooting at a 48.8-percent clip. He enjoyed a 19-point performance on 7-of-11 shooting against the Nets. He also had eight rebounds and a pair of steals in that game.
 
Wenyen Gabriel (2017-18) suited up for the Sacramento Kings and put together an eight-point, 10-rebound effort against Gilgeous-Alexander's Clippers. He also had a 15-point game against the Cleveland Cavaliers and a seven-point, 10-rebound outing vs. the Golden State Warriors.
 
Adebayo logged 14.0 points, 9.2 rebounds and 1.6 assists in five games with the Miami Heat. Johnson averaged 13.7 points, 5.3 rebounds and 3.0 assists a game for the Thunder, while Poythress posted 12.2 points, 4.0 rebounds, 1.2 steals and 1.0 blocks a game for the Indiana Pacers.
 
Fox saw in action in the Kings' first game of the summer against the Lakers. He had 23 points on 9-of-15 shooting with eight rebounds, six assists and three steals. Monk, who missed his rookie year's Summer League action due to an ankle injury, was prepared to utilize the added opportunities to continue to strengthen his game. After scoring 23 points with four 3-pointers to couple with two assists and a pair of steals against the Thunder, his time in Las Vegas was cut short again with an injury to his thumb.
 
NBA training camps open for all 30 teams on Sept. 25 with the first preseason games beginning on Sept. 28.
 
For the latest on the Kentucky men's basketball team, follow @KentuckyMBB on Twitter, Facebook, Instagram, Snapchat and on the web at UKathletics.com.