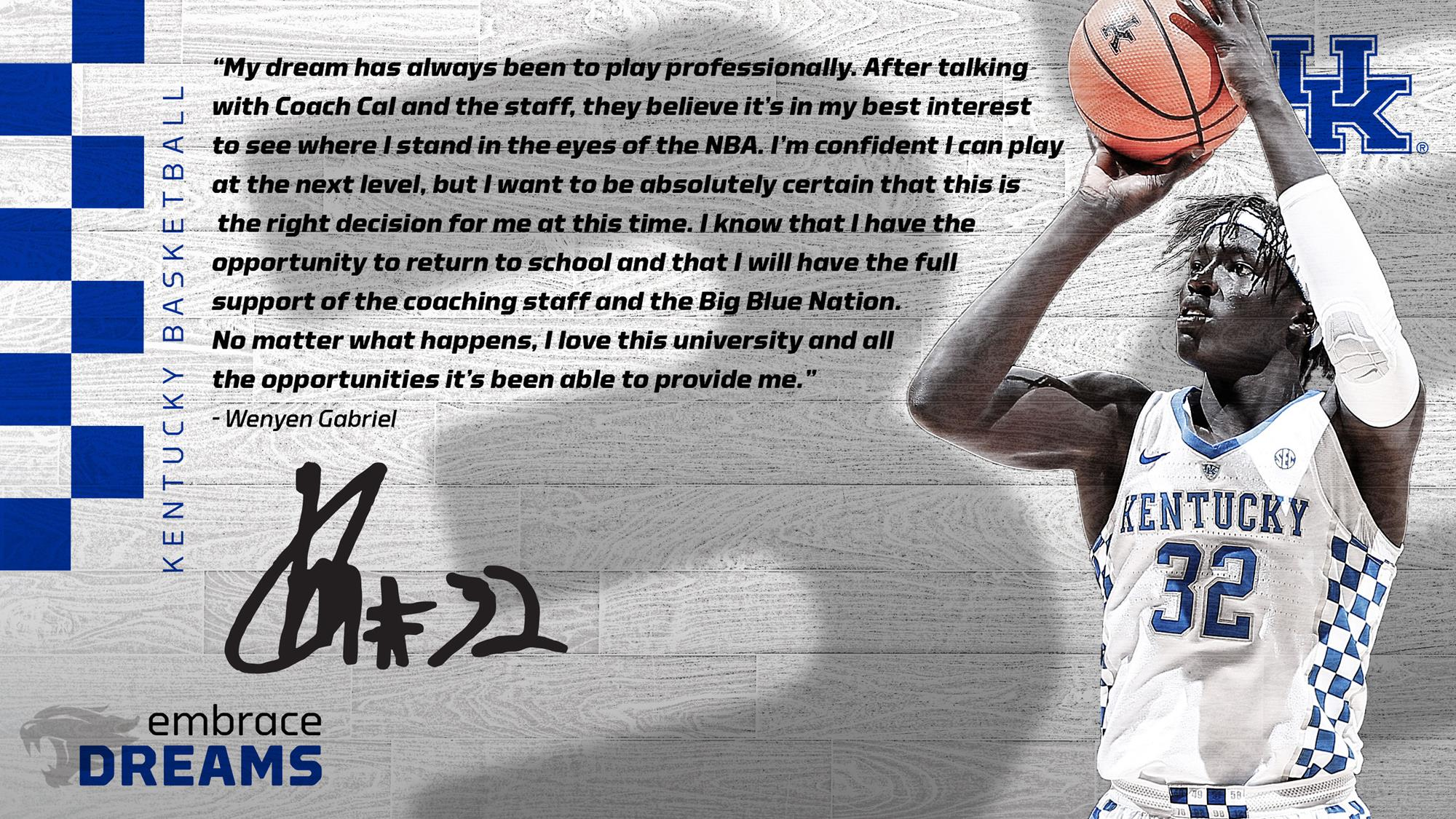 April 18, 2018 - 12:36 PM
Gabriel to Declare for 2018 NBA Draft; Eligible to Return
LEXINGTON, Ky. – Kentucky men's basketball sophomore forward Wenyen Gabriel announced Wednesday that he plans to submit his name for the 2018 NBA Draft but will not hire an agent. So long as Gabriel does not hire an agent, he will have until May 30 (10 days after the NBA Draft Combine) to make a final decision as to whether he wishes to remain in the draft or return to Kentucky.
 
"My dream has always been to play professionally," Gabriel said. "After talking with Coach Cal and the staff, they believe it's in my best interest to see where I stand in the eyes of the NBA. I'm confident I can play at the next level, but I want to be absolutely certain that this is the right decision for me at this time. I know that I have the opportunity to return to school and that I will have the full support of the coaching staff and the Big Blue Nation. No matter what happens, I love this university and all the opportunities it's been able to provide me."
 
Gabriel is the fifth underclassman from the 2017-18 Wildcats to declare for the 2018 NBA Draft, which will be held June 21 at the Barclays Center in Brooklyn, New York.
 
Freshmen Hamidou Diallo, Shai Gilgeous-Alexander and Kevin Knox have all declared for the draft and plan to sign with agents, ending their collegiate careers. Freshman forward PJ Washington has also entered his name in the draft but does not plan to hire an agent at this time, opening up the possibility of a return to school.
 
"Wenyen knows how much I would like to coach him another year, but I also understand the situation he's in and his desire to pursue his dreams," UK head coach John Calipari said. "The great part about this process is Wenyen will know firsthand where he stands with the NBA. If it's his time and he can continue on the path that he went on this year, he becomes a valuable asset for a team because of his energy, his willingness to do anything to win and his ability to stretch the floor. If he needs to return to school, we will continue to push him to be the best version of himself as we try to chase a championship next season. It's a win-win for him, and he has my full support."
 
Gabriel made huge strides in his sophomore season and played a key part in UK's late-season run, which included the Wildcats' fourth straight Southeastern Conference Tournament title.
 
Over the final eight games, Gabriel averaged 9.9 points, 5.5 rebounds and 2.1 3-point field goals per game. The 6-foot-9 forward became UK's go-to 3-point threat down the stretch of the season, making 56.7 percent of his shots from behind the arc over that eight-game stretch.
 
Included in that late-season run was an unforgettable performance in the SEC Tournament semifinals. Gabriel made all seven of his 3-point attempts en route to 23 points. The 7-for-7 performance set UK school records and SEC Tournament records for most 3-pointers made without a miss.
 
He also posted 16 points and 12 rebounds vs. Buffalo in the second round of the NCAA Tournament for his first double-double of the season to go along with three 3-pointers. Gabriel had two other such games with three or more 3-pointers in 2017-18.
 
For the season, Gabriel averaged 6.8 points and 5.4 rebounds. He made 42 3-pointers, second most on the team, on 39.6-percent shooting from behind the arc. The native of Sudan blocked a team-best 40 shots, including four games with three or more blocks. He had four games with 10 or more rebounds.
 
Gabriel's freshman highlights included 23 points vs. LSU, career-high 16 rebounds vs. Auburn and three straight games in double figures in the nonconference season.
 
The 2018 NBA Draft Combine will take place May 16-20 in Chicago.
 
Since Calipari joined the Wildcat program for the 2009-10 season, UK has produced 31 NBA Draft picks over eight seasons, 14 more than the next closest school (Duke). Included in the 31 are 24 first-round selections, three No. 1 overall picks, 12 top-10 selections and 17 lottery picks.  
 
Of the 21 players in the Calipari era who declared for the NBA Draft after one season at Kentucky heading into this season, all 21 were drafted in the first round.
 
For the latest on the Kentucky men's basketball team, follow @KentuckyMBB on Twitter, Facebook, Instagram and Snapchat, and on the web at UKathletics.com.