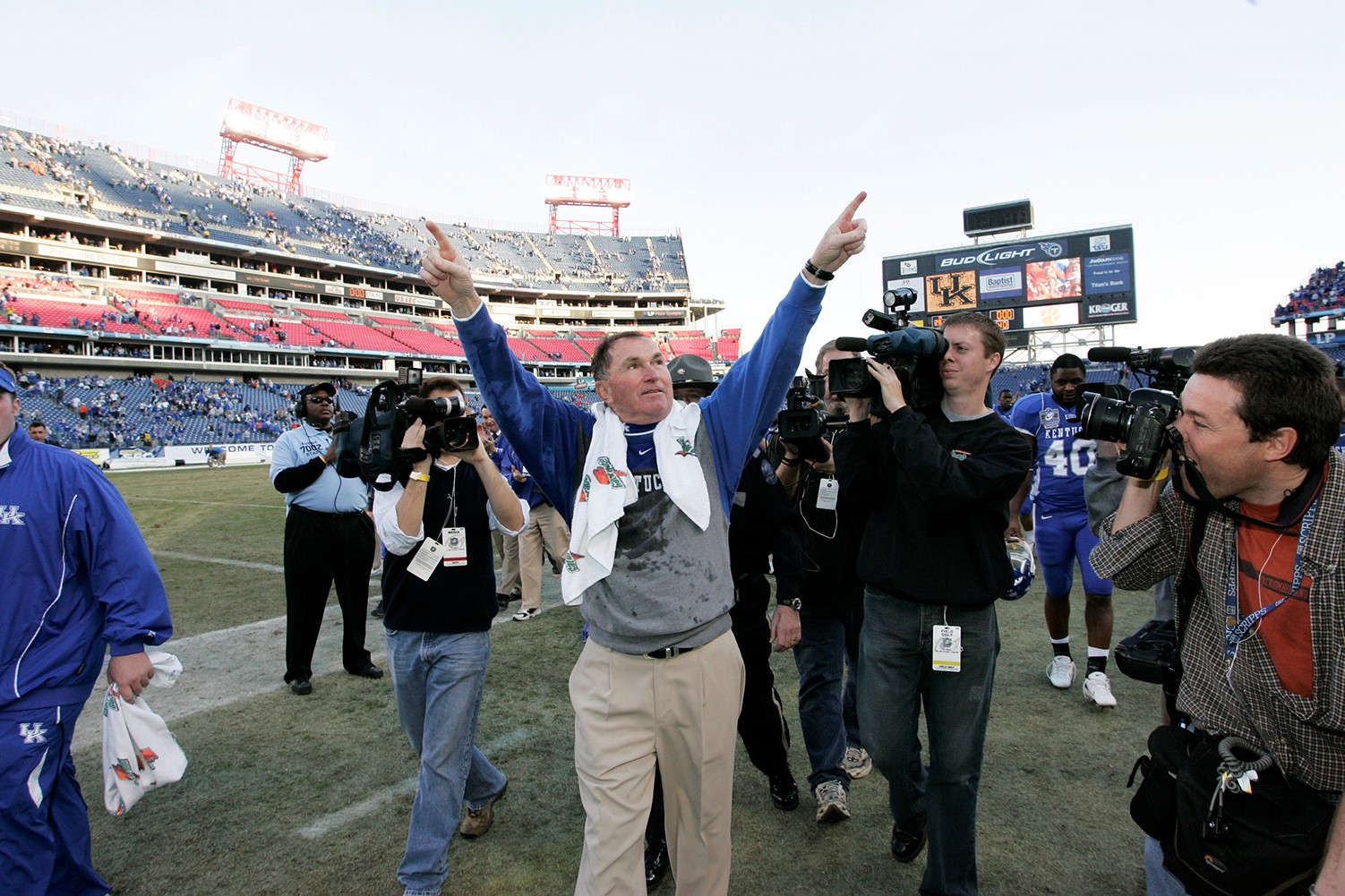 LEXINGTON, Ky. – UK Athletics Hall of Fame head coach Rich Brooks and members of the teams that won three consecutive bowl games from 2006-08 will return to Lexington to be recognized as part of an elite team reunion this weekend.
 
Brooks and his Wildcats will enjoy festivities starting on Friday when they attend football practice. A private reception will follow on Friday evening before members of the team are recognized at halftime of UK's game vs. Tennessee on Saturday, which kicks off at 7:30 p.m. at Kroger Field.
 
Brooks' teams remain the first and only in Kentucky football history to win three consecutive bowl games, claiming Music City Bowl victories over Clemson and Florida State and a Liberty Bowl win over East Carolina. The group was known for record-setting offensive performances and reenergizing the UK fan base, notably by scoring a pair of wins over top-10 teams in 2007 over No. 9 Louisville and No. 1 LSU.
 
The bowl championship teams are among 14 teams from six different programs being honored by UK Athletics during the 2017-18 season. The 1978 men's basketball team, Adolph Rupp's men's basketball national championship teams (1948, '49, '51 and '58), the 1988 baseball team, the 1987 and '88 volleyball teams, the 1988 men's tennis team, and the 1986 and '88 women's golf teams also have been or will be honored.
 
UK Athletics recently established a reunion committee as a way to honor great Kentucky teams of the past. The committee was formed to define official parameters of recognition, identify and select deserving teams, and coordinate dates and arrangements with the specific programs. Input from current head coaches and administrators was taken into account when setting the criteria.
 
Standards for selecting teams each year will include but is not limited to final records, conference championships and postseason finishes. The committee will place emphasis on honoring teams that coincide with yearly markers (for example, a 25th anniversary of a team's championship), although other factors will be taken into consideration. Special focus was placed this year on teams that would typically fall outside the committee's reunion windows moving forward.
 
Tickets for Kentucky's return to Kroger Field on Saturday are on sale now and can be purchased at UKFootballTix.com. Ticket offerings also include Finish Packs – three-game packages for UK's final three home games of the season against Tennessee, Ole Miss and Louisville starting at $144.
 
Reminder to fans – As per city Ordinance, masks are not allowed: With Halloween approaching, fans are reminded that as per Lexington city ordinance, masks may not be worn in public.  Therefore, fans may not enter Kroger Field with masks or wear masks on game day.  Also, for safety and security purposes, costume props will not be permitted inside the stadium on game day.