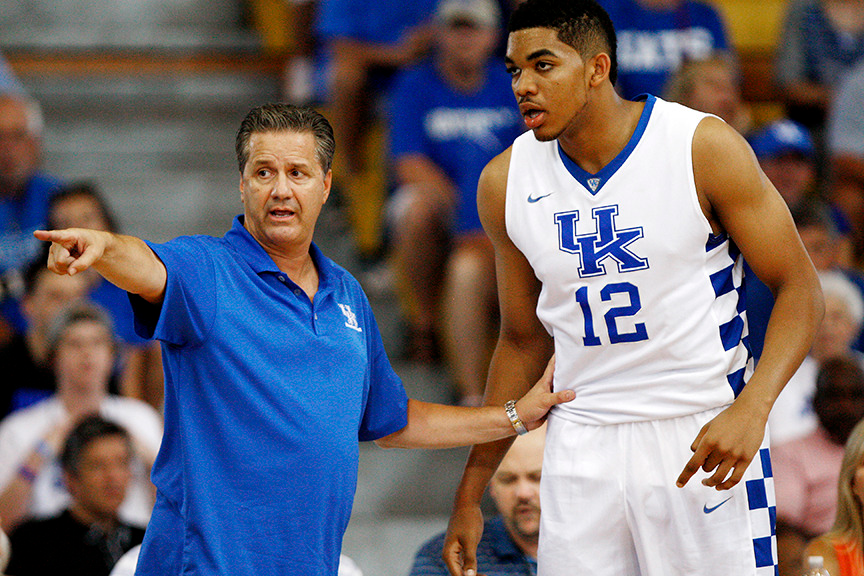 August 9, 2017 - 05:31 PM
Calipari, Towns Discuss Upcoming UK Alumni Charity Game
LEXINGTON, Ky. — Kentucky men's basketball head coach John Calipari and 2015 No. 1 overall NBA Draft pick Karl-Anthony Towns discussed the upcoming UK Alumni Charity Game and the John Calipari ProCamps — which is going on this weekend at the Joe Craft Center and Memorial Coliseum — during a press conference with the media on Saturday.
Tickets for the 2015 UK Men's Basketball Alumni Charity Game, which will be held Sept. 13 at 5:30 p.m. ET in Rupp Arena, will go on sale to the public on Aug. 14, at 10 a.m. ET. For the first time, a team of University of Kentucky pros will face a team of North Carolina pros.
All seats are reserved and priced at $50 and $100 (premium lower level), $25 (lower level), $10 (premium upper level), and $5 (upper level). Tickets can be purchased at the Rupp Arena box office, online at Ticketmaster.com, at any Ticketmaster Outlet or by phone at 1-800-745-3000. There is an eight-ticket limit per person. All orders will have additional fees attached plus a $1 facility fee. All proceeds from the game will go to charity.
Set to tip off Sunday evening at 5:30 p.m. ET, the game will feature UK players either currently or formerly playing professionally against North Carolina players either currently or formerly playing professionally. The Big Blue Nation will have an opportunity to enjoy some of the top talent to don the Blue and White against other elite talent. Per NBA rules, the University of Kentucky cannot confirm individual players participating in the exhibition game.
On having a chance to spend time with the guys who leave every summer for the NBA at ProCamps …
"All seven, they've been in and out, and I've gotten a chance to sit down with all of them. That's important. They get going now. Now they've got their own lives, they've got their own agents, they got their own marketing people. You have to call somebody (to get a hold of them). `Can I get a hold of Karl?' `Yeah, you have to call Anne who is going to call Bill who is going to get a hold of Karl for you.' And then I tell her, `OK, you can call my assistant who will call my secretary and they can talk to me then.' So we're going through 25 channels to talk to Karl Towns."
On the kids coming back …
"You know what's great though? These kids come back and I have parents stopping me saying, `These are the greatest kids.' I had people stopping me yesterday about Devin (Booker) and Trey (Lyles). The people that were with Karl(-Anthony) Towns the other day in Louisville are raving about, `Man these are really good guys.' And that's an option. When you're as good as they are players, you don't have to–you can be who you want to be. And it shows how they've been raised."
On the recent trend of recruiting international players …
"You know with me things just kind of happen. As they happen I roll with it. You're recruiting guys who don't want to run from this. This is what they want. Whether they're from Lexington, Kentucky or Toronto, Canada or from Australia or New Zealand, who wants this? Because guys who play here, they'll tell you — you've got to want this. It's not something you can run from. You've got to run at it. And those are the guys that come here and have success. So it's not been by design. But again, the guys we have, I don't care where they're from, they're pretty good players."
On if he hopes to add another player for the upcoming season …
"A player or two. Karl said he'll come back if I let him shoot 3s."
On the UK Alumni Charity Game …
"Part of the charity will be in honor of Dean Smith because they're coming here to play. The Hall of Fame has asked us to do something for a legacy fund and it would be in Coach Smith's name. Hopefully it's a significant amount in his name that's given to something like that. Can you imagine, if it's North Carolina's players against our players, one they lose. But two, the craziness in the building. Our people are nuts. They're crazy. There will 25,000 people there. The crazy thing people are going to buy tickets to scalp the game on September 13th. Are you crazy? They'll be scalping tickets. Only at Kentucky."
On the possibility of Jamal Murray qualifying for the Canadian National Team …
"I'd like him to do both, but I don't know that it's going to be possible. It wasn't possible for (Karl). This is the rule. If there's any way that he can do both, I would like him to. It's going to be a hard deal."
On what he's heard about summer workouts …
"I told Alex (Poythress), `I'm not settling for anything, Alex. You're going to play like you did in the Bahamas. That's who you're going to be.' If he comes back and does what he can do and theses guards are playing, then we have to see where Charles (Matthews) and Mychal (Mulder) fit into this along with Marcus Lee and Skal (Labissiere). My son told me Derek (Willis) is playing really well. Dominique (Hawkins) is Dominique. He'll play how he did last year. The hard thing for us, like last year, is how will we play? Are there seven or eight guys that deserve to play or are there more or less than that? That's who we'll play. Then it becomes how you play. Will we play pick-and-roll? Will we press? We have new rules. You guys are looking at the 30-second rule. That's because you don't know basketball. That has no effect on the game. Which one will have and effect, all you Basketball Bennies? (Reporter answers eliminating the five-second rule. ) Jerry, oh my gosh. Jerry's been studying. The closely guarded is the one. I coached that back in the mid 90s. I had to coach against John Chaney and Temple. They gave it to one guy and he bounced it for 20 seconds. Charles Barkley would take it on the wing and start backing, backing, and back in. How are we going to play and what's it going to do? My hope is that if it turns the game ugly then we can change it before the season starts. We could see it in an exhibition game and get rid of it. That's the rule that we all have to figure out. But with this team, do we press? Do I press with guards? Do I press with Skal or Marcus on the ball? How do you press? Do we play two bigs? It looks like we're going to have the opportunity to play with two 7-footers again if we choose to do that. We may play with three guards. That's not my druthers. We may go back to the dribble-drive. There are so many things that we could do. I could put a huge team out there and play zone. We have so many questions to answer and we don't have a trip to the Bahamas. Early on it may be ugly, but I'm not worried about it because we have good players. If you have good players, then you have a chance. I like my team.; Have you ever heard me say that before? That's before I've got them all together.
On Alex Poythress' rehab …
"He's in good shape. He said he started sprinting two days ago. I told him he's got to stay out, but I can't wait until he's in there with this team because you've got a beast now. When he came in three years ago, the league was in a way that I had to prepare him as a three man because that's what he was going to be in the NBA. Unless I was going to cheat him, I had to do that. It's been a process. Now the league has changed. Now the fours all look like him in the NBA, so now he can be the position he's most comfortable playing and be right for him — right for us obviously, but right for him. So I think what you're going to find is when he starts coming back and he can start doing what he does — I mean, his body, his shoulders, and he's starting to sprint now — it's going to be interesting."
On having the guys all together…
"I'll leave you with this: It was great seeing these guys. They all get together and you can see the, not only the comradery, but you can see the emotion between them and their feelings between them, and that's what this is about. And you know people will say, `Well, I need them for four years together.' They would probably get sick of each other after four years. But I do know this: What they went through for that season — (and then they're) running down Dom(inique Hawkins) and Derek (Willis) and they're hanging out with Tyler (Ulis) and Marcus Lee and you see how they react to each other. … Seeing Devin in here and Willie (Cauley-Stein) hanging out being goofy Willie and the twins in town, it's what this is supposed to be about. This is supposed to be about their growth, about them and now they come back. This camp where they're able to get with the kids, our staff is basically nonexistent. I walk in for 10 minutes. This is about them doing this stuff and having fun and enjoying it."
On what it's like to be back in Lexington …
"It's really fun. It's amazing to think after the long season we had and after all that's gone through with me and my life so far, it feels good to be back home."
On where his bobblehead, Karlito, is …
"I actually left it. I should have brought it too. I should have brought it. I have it."
On what he was able to achieve at Kentucky and what the program means …
"The (Minnesota Timberwolves shirt) I'm wearing right now doesn't happen if I didn't come to the University of Kentucky and have the best coaching staff in the world and the best coach in college basketball, Coach Calipari. It's the truth. I don't wear the shirt without him and this program. I think the biggest thing that I realized in coming back is that my time is over. I really am not a Wildcat coming back and playing anymore. I'm not in training camp and here for school anymore. It's sad. Life moves by so fast. The biggest thing that I've taken from coach during my year here was to always live in the present because it goes by so fast. I think gave us that advice in the season I really embellished it and relished it. That was probably the best advice I've gotten so far in my career because we had such a special team last year. Now that I'm in the NBA, I'm starting a new page in my life. I have no regrets because I was able to cherish every moment that I was with my brothers, coaches and all the moments that we had. I don't look back and say, `Man, I wish I would've done that.' We played in the present, cherished every moment, and it went by so fast."
On if Kevin Garnett is a mentor for him …
"Of course. He's a living legend. He's one of the top players to ever play in NBA. To be able to have him on my team and learn from him is a blessing. He's one of the most talented forwards to ever play the game."