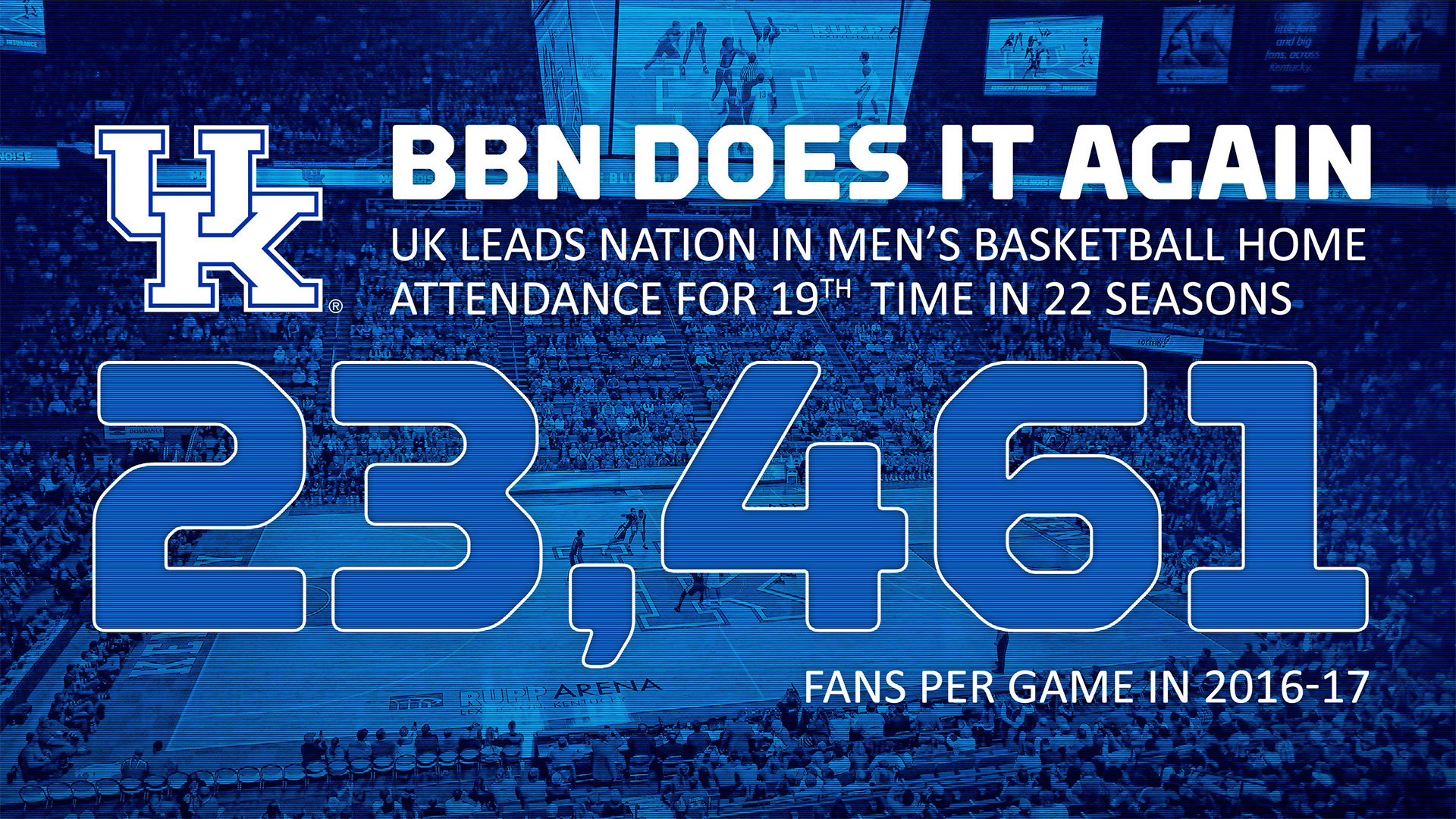 August 8, 2017 - 03:48 PM
UK Men's Basketball Led Nation in Home Attendance in 2016-17
LEXINGTON, Ky. – College basketball's proudest, most passionate fan base flexed its muscles in 2016-17, leading the country in average home attendance once again.
 
UK led all schools in the NCAA with an average of 23,461 fans per home game, according to national attendance figures released by the NCAA on Tuesday. It's the 19th time in the last 22 seasons Kentucky has led the country in average home attendance. Since Rupp Arena opened for the 1976-77 season, UK has ranked either first or second in average home attendance every season.
 
The Wildcats have averaged more than 23,00 fans at Rupp Arena in seven of John Calipari's eight seasons at Kentucky.
 
Playing 17 home games in 2016-17, 398,850 fans attended games in Rupp Arena. UK was one of only three schools with at least 300,000 fans at its home games.
 
A total of 706,331 fans watched the Wildcats play at home, on the road and at neutral sites in 2016-17, more than any other school. Kentucky set the NCAA record in 2013-14 with 922,653 total fans.
 
The Southeastern Conference had the third-highest attendance among the 32 NCAA Division I conferences. A total of 31,859,477 fans watched student-athletes in Divisions I, II and III in college basketball this past season.
 
For the latest on the Kentucky men's basketball team, follow @KentuckyMBB on Twitter, Facebook, Instagram, Snapchat and on the web at UKathletics.com.