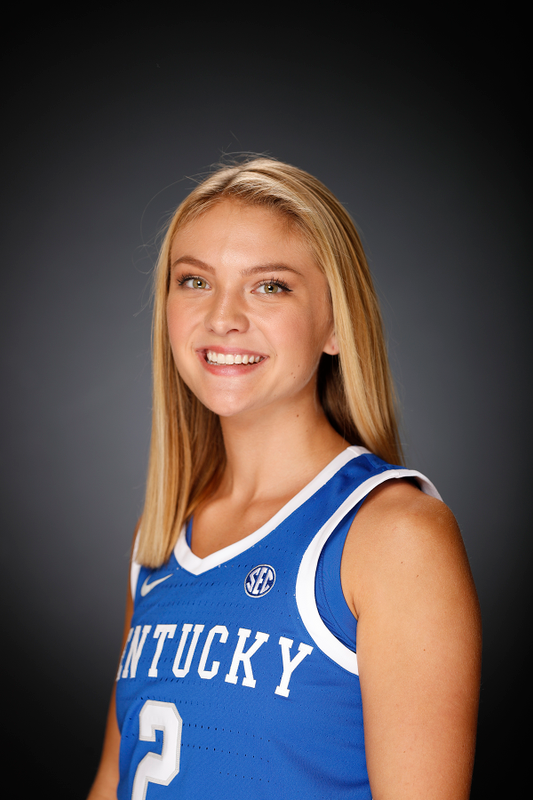 2
Paige

Poffenberger
position

Guard

height

5-8

class

Senior

Hometown

Morgantown, W.Va.
Quick guard who showed up at tryouts in great shape in 2016 … Had some offers out of high school, but elected to come to Kentucky for academics before earning a spot on the team … A National Merit Scholar. 
SEC Academic Honor Roll (2017)
2018-19 (Junior)
Medically retired from the game of basketball but remained on the team. 
2017-18 (Sophomore)
Played in 14 games averaging 5.1 minutes per game … Set a career high in free-throws made with four vs. Georgia and tied her career high in assists and offensive rebounds with one each vs. Arkansas … Scored a point in six games … Had a season-high four points on four made free throws against Georgia adding two rebounds … Scored her first basket of the season against Marshall, adding a rebound and a steal. 
2016-17 (Freshman)
Played in 21 games, averaging 5.9 minutes per game … Scored 19 total points on the season with 15 rebounds and six steals … Best game came vs. Texas A&M where she scored five points with one steal and one 3-pointer … Posted a season-high four rebounds at Alabama in just six minutes … Saw more and more playing time during the season because of her defensive intensity … Saw considerable minutes against New Hampshire on Nov. 17, scoring her first basket and adding three rebounds in 13 minutes … Made her first career 3-pointer in the SEC home opener against Missouri on Jan. 5.
High School
Impressive high school career helping the Morgantown Mohigans to three straight Class AAA state titles where she was coached by Jason White … Had nine points in the state championship game as a senior … Scored 19 points in Morgantown's 63-43 victory over Parkersburg in the Region 1 final her senior season … Was named all-state third team and All-Ohio Valley Athletic Conference second team as a senior … As a junior, she helped Morgantown limit opponents to just 30.3 points per game, which was a Class AAA State Tournament record, while the Mohigans' margin of victory in the state tournament that season was 23 points, also a state record … Averaged 9.3 points per game her senior season with 4.8 assists per game, 3.8 steals per game and hit 40.0 from the field, including 39.1 from 3 … All her averages her senior season were her career bests as she averaged 7.1 points per game her junior season and 4.3 points per game her sophomore season … Also had 2.9 assists per game and 1.8 steals per game as a junior and 1.7 assists per game and 1.5 steals per game as a sophomore … Active off the court as well as the Student Council Vice President and member of the National Honor Society … Is a National Merit Scholar who chose Kentucky academically over Vanderbilt and West Virginia … Participated in over 450 hours of community service during high school. 
Personal
Place of Birth: Morgantown, W.Va. … Parent(s): Alan and Traci Poffenberger … Siblings: One brother, Carson … Major: Biology … Shooting Hand: Right. 
Read more