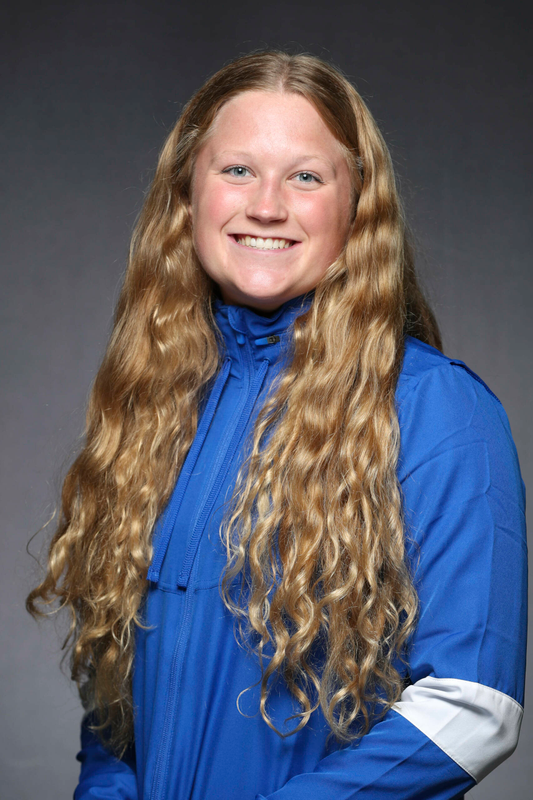 Maddie

Welborn
position

Freestyle/Backstroke

class

Sophomore

Hometown

Katy, Texas

Major

Human Health Sciences

High school

Seven Lakes High School
Top Times (SCY):
50 Freestyle: 23.43 (Winter Junior West Championships, 12/12/19)
100 Freestyle: 50.73 (Ohio State Winter Invite, 2/13/22)
200 Freestyle: 1:48.77 (Ohio State Winter Invite, 2/12/22)
500 Freestyle: 4:54.55 (Ohio State Winter Invite, 2/11/22)
200 Backstroke: 1:58.44 (Ohio State Winter Invite, 2/13/22)

Top Times (LCM):
50 Freestyle: 26.93 (TYR 18&U Spring Cup, 5/1/21)
100 Freestyle: 58.07 (NCSA Championships, 8/6/19)
200 Freestyle: 2:05.36 (NCSA Championships, 8/7/19)
400 Freestyle: 4:26.85 (NCSA Summer Championships, 8/9/19)
2021-22 (Freshman): Finished second in the 200 free (1:48.77), third in the 500 free (4:54.55) third in the 200 back (1:58.67) and eighth in the 50 free (23.78) at the Ohio State Winter Invite while earning four best times … Finaled in three events at the midseason Ohio State Invitational … Had seven top-8 finishes throughout the dual meet season … Placed third in the 500 free (5:01.41) and fourth in the 1000 free (10:25.92) against Cincinnati … Took seventh in the 200 free (1:51.54) versus Tennessee … Finished fifth in the 1000 free (10:30.90) in a tilt with Ohio … Raced to sixth in the 500 free (5:04.89) and seventh in the 50 free (24.17) in the season opener with Indiana and Indiana State, marking her Wildcat debut.

Prior to UK: Six-time Texas 6A State Championship finalist, earning bronze in the 200 freestyle as a senior … Owns the school record in the 200 freestyle … Also competed for Katy Aquatics where she was a Junior National qualifier … Swam for the same club and attended the same high school as UK teammate Beth McNeese … Won three events at the 2020 Gulf Short Course Championships … Five-time finalist at the NCSA Championships in 2019 … NISCA and USA Swimming Scholastic All-American.  

Personal: Daughter of Jane and Jason Welborn … Has one sister, Emily.
Read more