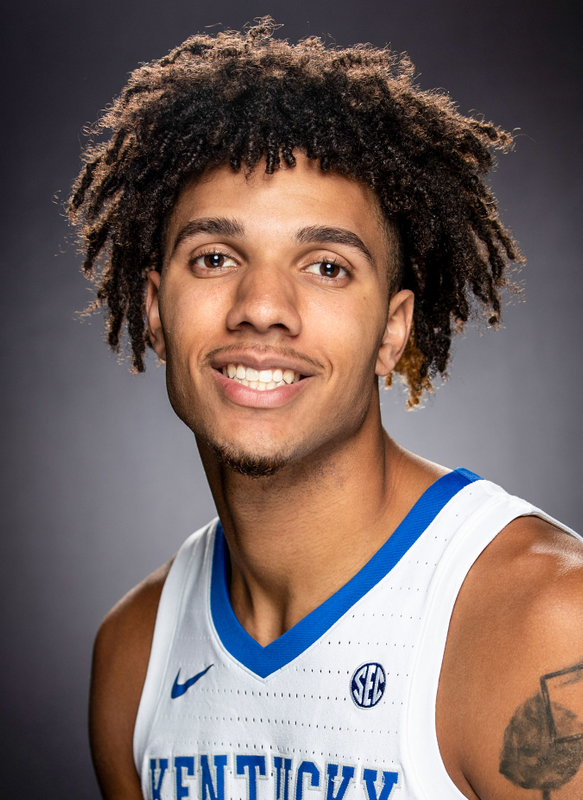 11
Dontaie

Allen
position

Guard

height

6-6

Weight

198

class

Redshirt Freshman

Hometown

Falmouth, Ky.

High school

Pendleton County
2021-22
Redshirt Sophomore: Saw action in 18 games averaging 6.7 minutes per outing … Had five points, three rebounds and a block in the overtime win over Mississippi State, providing a spark off the bench for the Wildcats … Scored nine points and added six rebounds in 19 minutes against Central Michigan … Tallied a season-high 14 points and added a career-best seven boards in the win over North Florida … Scored eight points and had a career-best two blocks in the home opener against Robert Morris.
2020-21
Redshirt Freshman: Member of UK's Student-Athlete Advisory Committee … Appeared in 22 games with one start in 2020-21 after sitting out his first season at Kentucky rehabilitating from a knee injury suffered in high school … Became a spark off the bench for the Wildcats in key moments, especially in conference play … Quickly developed into an elite shooter who could catch fire at a moment's notice and carry the team … Finished second on the team with 31 3-pointers on 39.7% shooting from long range … Of the players with 50 or more field-goal attempts, led the team in effective field-goal percentage at 54.5% … Averaged 5.4 points … Two most memorable performances came vs. Mississippi State, combining to score 46 points vs. the Bulldogs on 16-of-28 shooting with a combined 13 3-pointers in the two games, leading UK to a double-overtime victory in the first game and nearly guiding the Wildcats to a double-digit come-from-behind win in the second round of the Southeastern Conference Tournament … Sensational in the SEC Tournament game vs. MSU … After scoring a combined eight points in his previous nine appearances, erupted for a career-high-tying 23 points on 8-of-15 shooting with six 3-pointers … With his team down by 15 early in the second half, scored 20 points and made five of his six 3-pointers after halftime to put UK in front late in the game before falling to the Bulldogs … Scored 12 points, made four 3-pointers, and came up with two steals and two assists in the loss at No. 9/8 Alabama … Six points in 15 minutes in the win vs. LSU … Made his first career start at Georgia … Recorded eight points with two made treys in the loss at Auburn … Posted eight points and a career-high six rebounds in the home loss to Alabama … Scored 14 points with a pair of key 3-pointers and important free throws late in the game in the home victory vs. Vanderbilt … Enjoyed one of the all-time breakthrough performances with 23 points on 8-of-13 shooting, including 7 of 11 from 3-point range, to fuel a nine-point comeback in the double-overtime victory at Mississippi State, all career highs … Had played just one minute over the previous three games and 20 career minutes … Became just the sixth freshman in school history to make seven or more treys in a game … Nearly all of his 3-pointers vs. MSU helped turn the game around, including three during the second-half comeback run, one during the first overtime to take the lead and eventually force overtime, and a dagger in the second overtime … Named SEC Freshman of the Week on Jan. 4 following the performance vs. Mississippi State … Made his collegiate debut with four points and a 3-pointer in the season-opening rout of Morehead State.
2019-20
Freshman: Used his first season as a redshirt year to recover from a knee injury he suffered in the midst of his senior year of high school … Began practicing with the team in January.
HIGH SCHOOL
Ranked in the top 75 by Rivals (No. 68)  … Rated as the No. 92 prospect by the Recruiting Services Consensus Index … Became the first in-state signee for Kentucky since 2013 …  Eighteenth Kentucky player in program history to earn Kentucky Mr. Basketball honors … Also named All-State First Team … Capped his high school career with 3,255 career points, which ranked 11th all-time in state history … Also snared 1,228 career rebounds, the 22nd-best mark in the state's record books at the conclusion of his career … Averaged 42.9 points and 14.2 boards during his senior season … Limited to 13 games after suffering a torn ACL in his left knee on Dec. 22, 2018 … Dropped 50 or more points in six of his first 12 games as a senior … During his junior campaign, averaged 31.8 points and 11.4 rebounds per game while shooting 59.1% from the floor and 39.6% from 3-point range … Tabbed a Pangos All-American.
PERSONAL
Born Nov. 5 in Florence, Kentucky … Parents are April and Tony Thomas … Has three siblings, Tredyn, Saniah and Jalen … Cousin of NFL quarterback Russell Wilson … Major is communication … Favorite activity away from the court is watching basketball or playing NBA2K … Chose No. 11 because it's his favorite number (No. 1), twice … Biggest basketball honor is being named Mr. Kentucky Basketball … His most prized possession is his shoe collection.
Read more