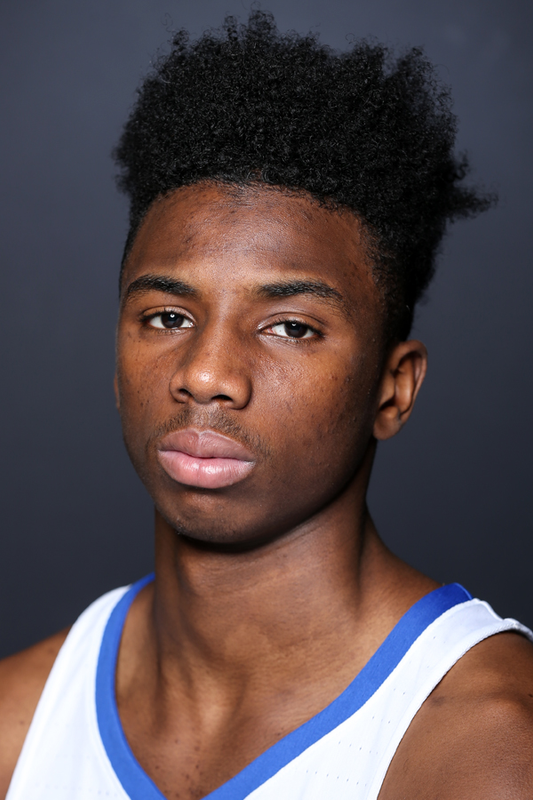 4
Hamidou

Diallo
position

Guard

height

6-5

Weight

190

class

Freshman

Hometown

Queens, N.Y.

High school

Putnam Science Academy
Follow @hamidoudiallo on Twitter | Follow @hami.diallo on Instagram
2017-18
Redshirt Freshman: Selected 45th by the Brooklyn Nets and traded to the Oklahoma City Thunder in the 2018 NBA Draft… Averaged 10.0 points and 3.6 rebounds per game while starting in all 37 games during his redshirt freshman season … Scored in double figures in 16 games, topping the 20-point plateau three times … Named the Southeastern Conference Freshman of the Week following a 20-point, three-steal effort vs. Virginia Tech where he also knocked down a career-high four 3-pointers … Hauled in at least three boards in 24 games … Led the Wildcats in scoring in four games, rebounds in three games, blocks five times, steals six times and assists twice … Finished the season ranking fourth on the team in points (371), sixth in rebounds (135) and third in blocks (31) … Scored 22 points, one off of his career high, in UK's second-round NCAA Tournament win over Buffalo … Knocked down a career-high nine shots and added eight rebounds, two blocks and a steal in that victory … Swatted a career-high three shots, while also contributing eight points and three rebounds, in the NCAA Tournament win over Davidson … Scored seven points vs. Georgia in the quarterfinals of the SEC Tournament, including a huge 3-pointer when the Dawgs cut the lead to 11 in the second half … Had 11 points, two boards and two assists in the home finale win over Ole Miss … Scored 13 points at Texas A&M … Had 13 points, three rebounds and a pair of assists in the come-from-behind win at No. 7/7 West Virginia … Poured in 18 points in a home win over Texas A&M … Registered his first career double-double with 10 points and a career-high 10 boards in the SEC opener against Georgia … Scored in double figures in seven straight beginning against UIC on Nov. 26 … Had back-to-back games with 20 or more points when he scored a career-high 23 vs. Monmouth in Madison Square Garden followed by 20 points in the win over Virginia Tech … … Had 19 points against both UIC and Harvard in consecutive outings … Totaled a career-high 10 boards while adding eight points in the win over Troy … Began the season with 18 points against Utah Valley, 16 against Vermont and 14 against Kansas at the State Farm Champions Classic. 
2016-17
Freshman: Participated in the 2017 FIBA U19 World Cup with USA Basketball … Averaged 10.9 points and 3.9 rebounds in 18.4 minutes a game for the United States in seven games … Midyear enrollee who joined the team in January after graduating from Putnam Science Academy in Connecticut in May … Did not play in 2016-17 … Became a key component in practice once he learned the system.
HIGH SCHOOL
A top-10 prospect in the class of 2017 by many national pundits … 247 Sports ranked him as the No. 11 overall player, while Scout listed him at No. 11 … He was the No. 1 shooting guard by both 247 Sports and Scout … During his final season for Putnam, he led the Mustangs to a 38-3 overall record and an appearance in the state semifinals … He is a two-time all-state honoree and averaged 19.0 points, 6.0 rebounds and 3.0 assists in his senior season … He averaged 17.0 points and 4.0 rebounds as a junior … Named MVP of the Hoophall Classic and the Dematha Classic … A key member of the USA Men's U18 National Team that won gold at the 2016 FIBA Americas U18 Championship in Chile in July … He averaged 7.6 points and 4.6 rebounds per game for Team USA … Suited up for the NY RENS in the EYBL … Also played soccer … Honor-roll student.  
PERSONAL
Born July 31 in Queens, New York … Major is undeclared/exploratory studies in agriculture … He is the son of Marima and Abdoulaye Diallo … Has three siblings: Alpha, Boubacar and Marima … His definition of a true hero is a person who fights for others … He enjoys playing board games, cards, pool and ping pong when he's not on the court … His most memorable moment as a player was winning the gold medal for Team USA at the 2016 FIBA Americas U18 Championship … The most influential person in his life is his mother … Chose Kentucky over UConn, Kansas, Indiana, Syracuse and Arizona. 
Read more