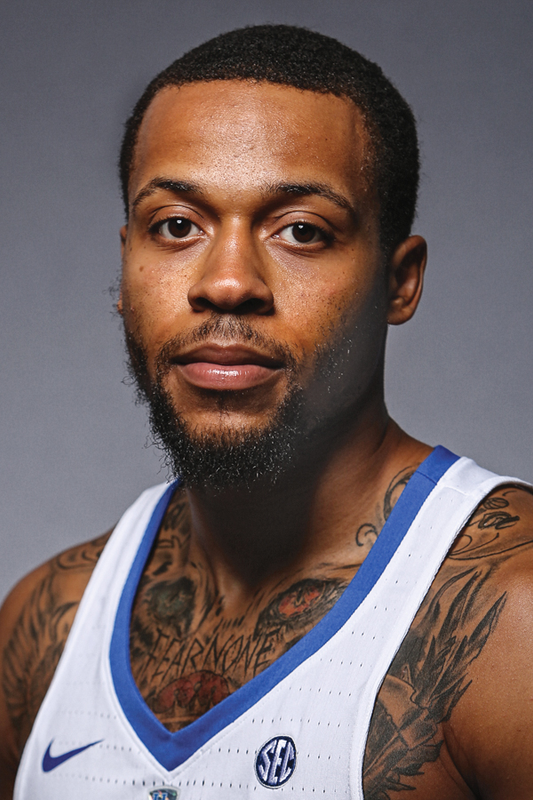 13
Isaiah

Briscoe
height

6-3

Weight

210

class

Sophomore

Hometown

Newark, N.J.

High school

Roselle Catholic
Follow @ZayBriscoe on Twitter | Follow @zaaay_ on Instagram
2016-17
Sophomore: Started all 36 games in which he appeared … Missed two games due to injury … Named to Sports Illustrated's All-Glue Team for his leadership and intangibles … Tabbed the Southeastern Conference Player of the Week on Jan. 2, after registering the third triple-double in program history with 19 points, 11 assists and 10 rebounds at Ole Miss … Set career-high marks in field-goal percentage, 3-pointers, 3-point field-goal percentage, free-throw percentage, rebounds, assists, blocks and points … Averaged career-highs with 12.1 points, 5.4 rebounds and 4.2 assists per game … He was the only player in the SEC to average those numbers … His 5.4 rebounds and 4.2 assists a game were the second best on the team in both categories … Reached double-figure scoring in 23 games and six times he topped 20 points … Registered 25 games with three or more assists … Led the team in scoring in four games and in assists on 16 occasions … His 4.2 assists per game is the fifth best in a season under John Calipari …  Ranks in the top 10 in the Calipari era for assists (third), rebounds (sixth), field goals (seventh), assists per game (seventh), steals (eighth), career points (ninth) and assist-to-turnover ratio (ninth)  … Led the team with eight assists and also added four rebounds, three steals and seven points vs. North Carolina in the NCAA Tournament … Had 17 points and eight rebounds vs. Northern Kentucky in the opener of the NCAA Tournament … Poured in 20 points and added six boards, two assists and two steals against Georgia in the SEC Tournament … Had a double-double at Alabama with 11 points and 11 rebounds … Scored 23 points and had 11 rebounds in a double-double effort in the come-from-behind overtime win over Georgia at home … The 23 points matched a career high … Had 11 points and a career-high 14 rebounds at Tennessee … Was 3 for 3 from behind the arc en route to 13 points, seven assists and a steal in a victory over Texas A&M … Set a career high with 23 points in a win at Vanderbilt … Also added seven rebounds and five assists … Began the year by scoring in double figures in nine games, including three 20-point efforts … Had 20 points, seven assists, four rebounds and three steals in the dominating win over Arizona State in the Bahamas … Scored then-career highs of 21 points in back-to-back wins over Canisius and Michigan State … Had a career-high four steals in a win over Duquesne … Began the season with 17 points in the opener vs. Stephen F. Austin.
2015-16
Freshman: Played in 34 games, with 33 starts … Missed two games due to injury … Earned SEC Freshman of the Week honors once … Led all Kentucky guards in rebounding with 5.3 boards per game … Scored in double figures in 18 games, behind only Jamal Murray and Tyler Ulis … Averaged 9.6 points and 3.1 assists per game … Also posted a 1.6 assist-to-turnover ratio … Ranked ninth in the SEC in minutes per game at 32.2 … Ranked among top-10 performers in John Calipari era in total assists, assist-to-turnover ratio and assists per game … Recorded two double-doubles … Dished out three or more assists in 15 of the final 23 games … Led team in assists seven times, behind only Ulis … Considered an elite on-ball defender … Posted a double-double with 13 points and 11 rebounds in his first NCAA Tournament game vs. Stony Brook … Recorded 10 points, six assists and five rebounds in the SEC Tournament championship win over No. 17 Texas A&M … Posted 12 points and seven boards vs. Georgia in the SEC Tournament semifinals … Dished out six assists in the SEC Tournament quarterfinal win over Alabama … With a 5-for-6 night from the free-throw line, scored 13 points in the victory at Florida … Grabbed a team-high 10 rebounds in the home win vs. Tennessee … Scored in double figures in three straight games vs. Missouri, at Kansas and at Tennessee, averaging 12.3 points during the stretch … Flirted with a double-double with 10 points and eight rebounds at Tennessee … Made a career-high six free throws at No. 4 Kansas en route to 12 points … Stuffed the stat sheet in the home victory against Missouri with 15 points, six assists and six rebounds … Posted 14 points, five assists and four rebounds at home vs. Mississippi State … Recorded 12 points, five rebounds and four assists at Alabama … Notched a career-high four steals in UK's SEC opener vs. Ole Miss … Scored in double figures in three straight games vs. Illinois State, at UCLA and vs. Eastern Kentucky, averaging 16.0 points during that stretch … Logged a career-high 20 points in the loss at UCLA … Balanced all-around game in the victory over Illinois State with 18 points, seven rebounds and three assists … Scored in double figures in four straight games to start his career … Did a little bit of everything in the win vs. Boston U., posting 11 points, seven rebounds, five assists and three steals … Scored 15 points vs. Wright State, which would end up as his second-highest total of the season … Instrumental in the Champions Classic victory over defending national champion and No. 5 Duke with 12 points … Posted a double-double with 11 points and a career-high 12 rebounds in his first career game … Missed the season opener vs. Albany with an injury. 
HIGH SCHOOL
A 2015 USA Basketball U19 Team selection … Was named a USA Today All-USA First Team selection and a Parade Magazine All-American … He also participated in the McDonald's All American Game and the Jordan Brand Classic … Helped Team USA to a gold medal at the 2014 FIBA Americas U18 Championship … Also suited up for the USA at the 2015 Nike Hoop Summit… Led team to its second consecutive state Non-Public B championship, averaging 20.8 points, 5.5 rebounds and 4.0 assists as a senior … Averaged 22.1 points, 4.0 assists, 3.9 rebounds and 1.8 steals per game during his junior season … Last summer, he helped lead the New Jersey Playaz to the title in the Nike Elite Youth Basketball League … His father, George Briscoe, played basketball for Stockton College and is in the school's Hall of Fame … His sister, Iasia Hemingway, played basketball at Georgia Tech and Syracuse and plays professionally overseas … Ranked the No. 9 overall player by Rivals and 247Sports.com, the No. 13 overall pick by ESPN and the No. 15 overall player in the class by Scout.
PERSONAL
Son of Henrietta Hemingway… Born April 13, 1996, in Newark, New Jersey … Chose Kentucky over Arizona, Connecticut and St. John's … Has two sisters, Iasia and Iesha, and a brother, George … Sister Iasia played basketball at Syracuse … Is a cousin of Cleveland Cavaliers' guard Kyrie Irving … Picked No. 13 because it's a "bad-luck" number and he likes to be different … Most memorable moment on the court is winning the 17U Peach Jam … If he wasn't a player, he would be an agent … His biggest influence in life are his parents … Wanted to be a firefighter when he was growing up.
Read more