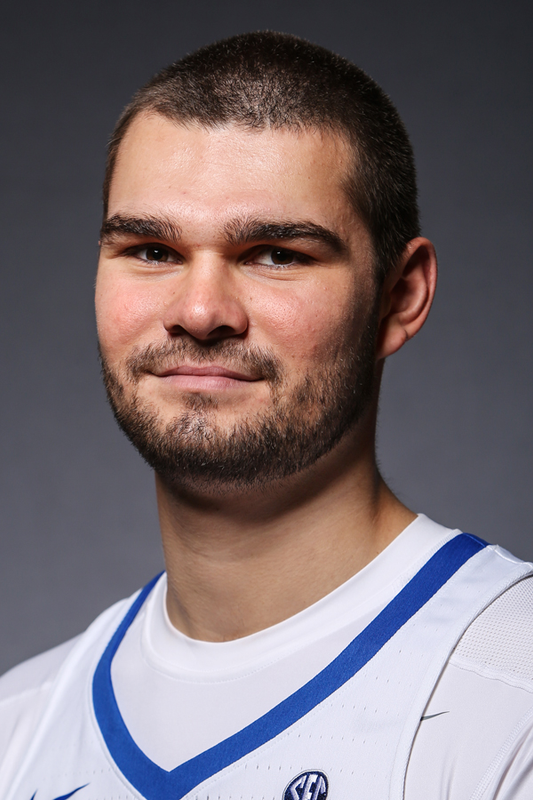 15
Isaac

Humphries
height

7-0

Weight

255

class

Sophomore

Hometown

Sydney, Australia

High school

La Lumiere School
Follow @IsaacHumphries7 on Twitter | Follow @IsaacHumphries7 on Instagram
2016-17
Sophomore: SEC Academic Honor Roll member … Dean's List in Spring 2017 … Appeared in all 38 games in 2016-17 with one start … Notched career highs in nearly every statistical category, including minutes, points, rebounds, assists, blocks and steals … Averaged a career-high 2.8 points and 2.8 rebounds in 8.3 minutes per game … Kentucky went 24-1 in games in which he scored … Hauled in four or more rebounds in 12 games … Played the game of his UK career against No. 6/8 and eventual national champion North Carolina, nearly willing the Wildcats to a win … Scored a career-high 12 points to go along with five rebounds in a season-high 21 minutes vs. the Tar Heels … Eight of Humphries 12 points vs. UNC came on a 10-2 UK run that gave the Wildcats a 64-59 lead with 5:10 to play … Scored four points and grabbed two rebounds in eight solid minutes at Alabama … Made the most of a start vs. Alabama at home with four points and seven rebounds … Posted six points, four rebounds and two blocks in the home victory over No. 24/24 South Carolina … Grabbed three or more rebounds in 14 of the season's first 16 games … Hauled in seven rebounds at Vanderbilt … Recorded eight points and six rebounds in 13 minutes at home vs. Texas A&M … Played a then-season high 20 minutes vs. No. 7/6 North Carolina in the CBS Sports Classic win in Las Vegas … Blocked two shots in four of five games from Nov. 25 to Dec. 11 … Just missed out on his first career double-double with nine points and nine rebounds vs. Cleveland State … Opened the season with one of his best career games, posting nine points, eight rebounds, a season-high three blocks and a season-high three steals in 19 minutes vs. Stephen F. Austin.
2015-16
Freshman: SEC First-Year Academic Honor Roll member … Dean's List in Spring 2016 … Appeared in 22 games in his freshman season with one start … Proved to be a valuable backup off the bench … Played 10 or more minutes nine times … Appeared in 12 straight games before a DNP to end the season … Posted four points with three rebounds in the win at Florida … Made his first career start at home vs. Alabama and produced four points, four rebounds, a block and an assist in 21 minutes … Logged career highs in points (six) and rebounds (12) with two blocks in 20 critical minutes at Texas A&M … Recorded three points, six rebounds and two blocks at home vs. Tennessee … Blocked two or more shots in four of five games during a stretch from Feb. 6 to Feb. 20 … Swatted a career-high four shots in 14 minutes in the home victory vs. Georgia … Recorded four points, six rebounds and two blocks in the Feb. 6 win against Florida … Played a career-high 27 minutes at UCLA, posting four points and six rebounds … Provided a huge lift off the bench in victory over No. 5 Duke with two points, three rebounds and two blocks … Scored five points to go along with three boards in the win over NJIT … Solid career debut vs. Albany with four points and two rebounds. 
HIGH SCHOOL
Originally a member of the 2016 class before reclassifying to 2015 … As a member of the 2016 class, he was rated a top-50 prospect by most major recruiting services … A native of Sydney, Humphries was a vital piece of the Australian U17 National Team that won the silver medal at the 2014 FIBA U17 World Championship … Helped guide the Australians to the championship game … He led the team in scoring (18.9 points per game), rebounding (11.6 rebounds per game), blocked shots (3.3 blocks per game) and field-goal percentage (.576) … Had a 41-point, 19-rebound effort in a victory over former UK teammate Jamal Murray's Canadian U17 National Team … In the championship game vs. the United States, he recorded eight points and seven rebounds … Played prep ball in 2014-15 at La Lumiere School in La Porte, Indiana … Was ranked as high as No. 34 in the Rivals 2016 rankings before reclassifying to 2015 … Scout lists him as the ninth-best center in its new 2015 rankings. 
PERSONAL
Son of Michaela Humphries … Born Jan. 5, 1998, in Sydney, Australia … Has a sister, Claudia, and a brother, Sam … Most memorable moment as a basketball player is coming back from 22 down at the World Championships in Dubai … Chose No. 15 because it has always been his number in international competition … If he wasn't a basketball player, he would be in the performing arts … His mom has been the greatest influence in his life.
Read more