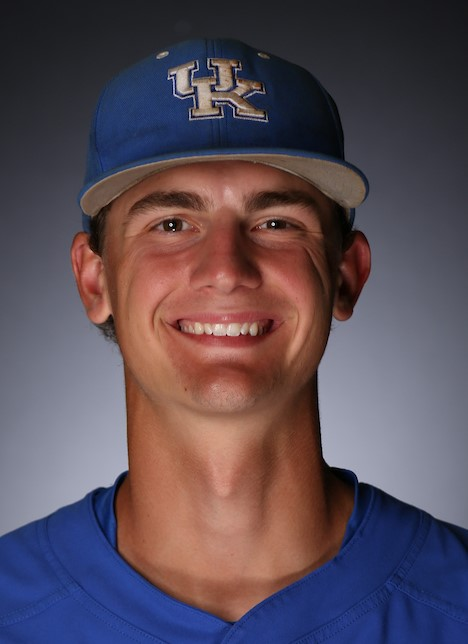 30
Sean

Hjelle
height

6-11

Weight

225

class

Junior

Hometown

White Bear Lake, Minn.
• 2018 Preseason First-Team All-America (Collegiate Baseball)
• 2018 Preseason Second-Team All-America (D1 Baseball)
• 2018 Preseason Third-Team All-America (Perfect Game/Rawlings)
• 2018 MLB Draft Prospect, No. 20 (Baseball America)
• 2018 MLB Draft Prospect, No. 28 (Perfect Game/Rawlings)
• 2018 MLB Draft Prospect, No. 34 (MLB Pipeline)
• 2018 MLB Draft Prospect, No. 47 (D1 Baseball)
• 2018 MLB Draft College Prospect, No. 17 (D1 Baseball)
• 2018 College RHP Prospect, No. 7 (D1 Baseball)
• SEC Pitcher of the Year (2017)
• Collegiate Baseball Second-Team All-America (2017)
• ABCA South All-Region Second-Team (2017)
• First-Team All-SEC (2017)
• SEC Pitcher of the Week (3/20/17)
• Perfect Game/Rawlings National Pitcher of the Week (3/20/17)
• SEC Academic Honor Roll (2017)
• UK Student Athletic Council President (2017-18)
Outlook
2017 SEC Pitcher of the Year…11 wins, fourth-most in a single-season at UK…Absolute bulldog on the mound…Height gives him unique plane on the mound…Tremendous curveball…Velocity was a tick or two up in the fall…Gets better as the game goes along…Smells blood in the water and attacks hitters…Great pace on the mound.
2017
Appeared in 18 games…Started 17 games, going 11-4 with a 3.89 ERA on the season…Pitched 108.2 innings, giving up 99 hits, walking 33 and striking out 102…Opponents hit .243 against him…Ranked fifth nationally in wins (11) and 11th in games started (17)…Became UK's first SEC Pitcher of the Year…Went 7-1 with a miniscule 1.90 ERA in 10 SEC starts…Opponents hit just .186 and struck out 61 times against him in 66.1 innings during league play…Arguably his biggest win of the season came in his one relief appearance where he struck out five in 3.1 perfect innings as the Cats defeated NC State on 6/5 to reach first-ever Super Regional…Pitched first career complete game shutout at Texas A&M on 3/17…Earned SEC Pitcher of the Week after becoming the first SEC pitcher to shutout Texas A&M in College Station since it joined the league in 2013…Cats won their SEC opener with him on the mound in eight of 10 series…Struck out a career-high 10 vs. LSU in the SEC Tournament on 5/25…Etched his name into UK single-season records charts for most starts (3rd), most wins (4th) and most innings (5th)…His 17 starts were the most in a season for a UK player since Nathan Kent (18) in 1999…His 108.2 innings pitched were most since Brandon Webb (112.2) in 2000…The 102 strikeouts he recorded were most since Alex Meyer (110) in 2011…Will enter 2018 season with third-best career winning percentage in UK history (.750).
 
2016 SUMMER
Appeared in eight games with the Elmira Pioneers of the Perfect Game League…Made eight starts, posting a 3-1 record with a 3.06 earned run average in 44.0 innings…Gave up just 31 hits and struck out 42…Was sensational in last three starts, giving up one run, eight hits and striking out 23 in 24.0 innings…Threw a complete game shutout in the PGL playoffs, giving up just two hits and striking out six. 
2016
Served as Kentucky's closer for much of the season…Had eight saves, tying for third on the school's all-time single-season list with Alex Phillips (2012) and Paul Morse (1993) behind Trevor Gott's 12 saves in 2013…The eight saves are a UK freshman record and rank 11th on the UK career saves list…Was named Co-SEC Freshman of the Week after entering in the ninth inning and tossing four scoreless innings in the Cats' series-clinching extra-inning victory over No. 2 South Carolina…Ranked third on the pitching staff in wins with a record of 4-1…Struck out 29 batters in just 21 2/3 innings…Appeared in 21 games…Did not yield an earned run in 16 of those appearances and only gave up more than one earned run twice.
HIGH SCHOOL
Baseball and basketball star at Mahtomedi High School … Coached 
in baseball by John Hardgrave … Earned three letters in baseball and four in basketball … Led team to a pair of Section 4 Championships … First-team All-State in 2015 and was a finalist for Mr. Baseball … A great student, was on the scholar honor roll in each year … Hardgrove says, "It's a whole different angle that's he's throwing from and he's a pretty consistent arm slot. The amazing thing about Sean is his athleticism. I mean, his feet are so quick and he fields his position extremely well, and he's got all the tools." … As a junior, went 8-2 with a 1.23 ERA, leading the club to a second consecutive state tournament berth.
PERSONAL
Full name is Sean Anthony Hjelle … Pronounced "Jelly"…Son of Mark and Sue Hjelle … Born in Fridley, Minn. … Major is Secondary Education-Social Studies Education…Has two sisters, Mara (27) and Erica (25) … Nickname is Jelly…Mara played basketball at Wayne State and also professionally in Finland and Germany…Favorite MLB team is the Pittsburgh Pirates…Favorite MLB player is Hall of Famer Roberto Clemente…Wears No. 30 in tribute to two uncles who died from cancer, one of whom was born on the 13th and the other on the 17th, totaling 30. 
Read more