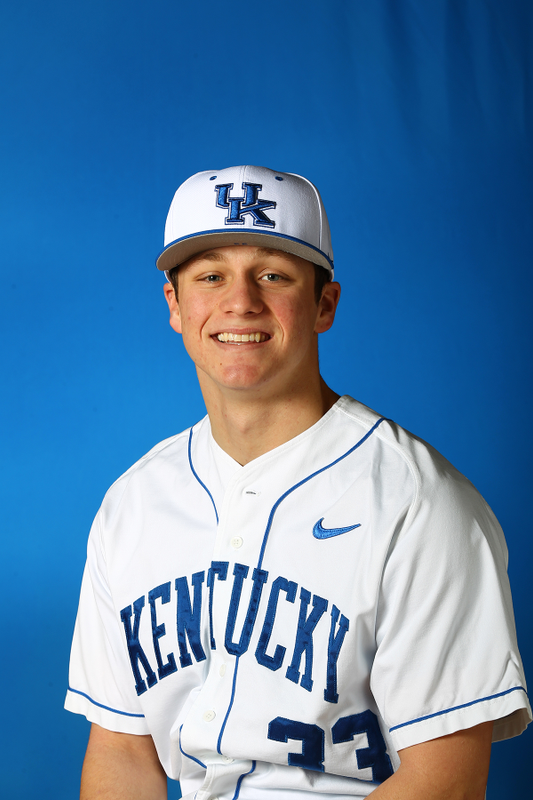 33
Zack

Brown
height

6-2

Weight

200

class

Junior
• 2015 SEC Pitcher of the Week (4/27/15)
• SEC Academic Honor Roll (2015)
• SEC Freshman Academic Honor Roll (2014)
• 38th round draft pick in 2013 MLB Draft (Cubs)
Outlook
One of the top starting pitchers in college baseball … A flame-throwing right-hander with good feel for his secondary pitches … A bulldog competitor with great athleticism and an ability to shut down the running game … After serving in spot duties as a freshman, emerged as a stud during 2015, leading UK with a 3.48 ERA as UK's Friday-night ace … Threw three complete games, including two complete-game shutouts … Dominated No. 5 Florida in Gainesville to earn SEC Pitcher of the Week honors … Fired a complete-game shutout in a must win at Missouri on the final weekend of the year … Slated to spend the summer in the Cape, or with the USA Collegiate National Team, but after a career-high workload (93 innings), rested the summer in Lexington. 
2015 
UK's Friday-night ace, made 15 appearances and 14 starts, with a 6-6 record and a team-leading 3.48 ERA … Threw three complete games and two complete-game shutouts … Tossed 93 innings, allowing 87 hits and 38 walks, striking out 71 … Allowed opponents to hit .249 … Threw complete game shutouts vs. Northern Kentucky and at Missouri … Was named the SEC Pitcher of the Week after firing seven shutout innings at No. 5 Florida, the SEC's most potent offense … Before allowing 10 runs in seven innings vs. No. 6 Vanderbilt, had a 2.81 ERA … Had a 5-4 record and a 3.78 ERA in 10 SEC starts, throwing two complete games in 69 innings, surrendering only 68 hits … Had a 2.62 ERA in five non-conference outings … Went 4-2 with a 3.68 ERA in six starts at Cliff Hagan Stadium, a 2-3 record and a 3.26 ERA in six road starts … In nine games UK won, had a 6-0 record and a 0.91 ERA … Had a 0-1 record with a 3.09 ERA in Feb., a 2-1 record with a 2.22 ERA in March, a 2-2 mark with a 3.29 ERA in April and a 2-2 record with a 5.26 ERA in May … With his start rained out a day in advance, worked a shutout inning in relief in his season debut … Suffered a loss at No. 16 UC Santa Barbara in his first start of the year … Returned to the moudn to fire six innings and allowing just one earned run vs. Northeastern … Tossed his first career complete-game shutout vs. Northern Kentucky, striking out 11 … Suffered a hard-luck loss at South Carolina … Allowed one earned run vs. No. 20 Mississippi State … Allowed two earned runs in 6.2 innings at No. 1 LSU … Allowed five earned runs vs. No. 1 Texas A&M … Worked consecutive scoreless starts vs. Tennessee and at No. 5 Florida … After a complete-game shutout at Missouri on the final weekend of the year, came back on short rest to start UK's play-in game in the SEC Tournament, suffering a loss after allowing three runs in 3.1 innings … Played for the Amsterdam Mohawks in the Perfect Game Collegiate League, teaming with UK teammates Marcus Carson, Connor Heady and JaVon Shelby … Made eight appearances and seven starts for Amsterdam, owning a 3-2 record and a 3.75 ERA … Worked 36 innings, allowing 28 hits and 17 walks, striking out 34.
2014
Was a weapon for the UK pitching staff in his collegiate debut, appearing in 19 games with five starts … Finished with a 1-1 record and a 5.65 ERA, working 28.2 innings, walking 11 and striking out 18 … Inherited 10 runners, allowing just three to score … Appeared in eight SEC games, starting the regular-season finale at Georgia … Worked 6.2 innings in SEC play, walking one and striking out four … Pitched in nine night games with three starts, owning a 2.93 ERA in 15.1 innings, walking eight and striking out 12 … Inherited 10 runners, allowing only three to score, all coming in a bases-loaded jam vs. Missouri … Held opponents to a .229 average with runners on base, a .222 average with runners on and two outs and a .167 average with runners in scoring position and two outs … Appeared in 11 games with four starts in non-league play, working 22 innings, walking 10 and striking out 14 … Made his collegiate debut in UK's blowout win over St. Joe's on the second weekend, working around a walk and recording his first strikeout … Made his home debut vs. Wright State … Allowed two runs – one earned – in an inning vs. Eastern Michigan … Worked a shutout inning in a win over Ball State … Made his SEC debut in getting the final out of the series opener at Alabama … Tossed a shutout frame vs. No. 1 South Carolina, a 13-5 win, getting three outs on just six pitches … Allowed two runs at No. 5 Vanderbilt, getting one out, also allowing a run vs. No. 8 Louisville … Had a breakout game at No. 9 Louisville, working 2.1 shutout, one-hit innings in a hostile atmosphere, walking two and striking out three … Allowed three hits and three runs without getting an out at Texas A&M, as the Aggies won the finale to salvage the series … Made his first career start vs. the nation's top ranked offense, Tennessee Tech, allowing three runs in three innings as the wind blew out at an unprecedented rate, with all three runs allowed on solo homers … Got an out in a win over No. 12 Ole Miss, then working a shutout frame vs. Auburn … Made second career start at Murray State in Paducah, Ky., working 2.2 shutout innings, while working on a strict pitch count in an effort to make him available for the final weekend of the year at Georgia … Made his first career SEC start at UGA, working three innings, allowing four runs on seven hits, suffering his first career loss … With UK's pitching staff gassed after winning the first two games of the SEC Tournament, made his second career start vs. an SEC foe … Tossed 3.2 innings, allowing just one run, in an eventual instant classic that lasted 12 innings … After UK fought its way out of the loser's bracket in the NCAA Louisville Regional, was called on to start an elimination game vs. Kansas … Worked five innings, allowing four runs for his first career win, with three of the runs scoring in his final inning of work.
High School 
Named to first-team all-state, to the north-south all-star game and all-district as a senior … Awarded team MVP as a junior and senior … Holds school record for ERA in a season with a 0.54 ERA … Two-time all-conference selection … Earned four letters for coach Jeremy Richey at Seymour High School.
Personal
Full name is Zachery Ryan Brown … Born Dec. 15, 1994 in Seymour, Ind. … Son of Bob and Cathy Brown … Has an older brother, Tyler (23).
Read more