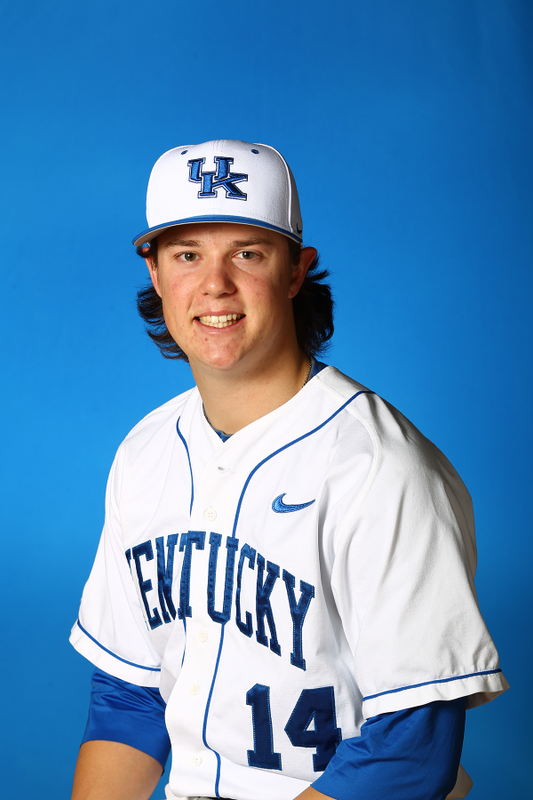 14
Dustin

Beggs
height

6-2

Weight

200

class

Senior

Previous School

Georgia Perimeter College
• 2016 Tony Gwynn Classic Most Outstanding Pitcher
• Named to midseason Golden Spikes Award watch list
• Named Academic All-District and third-team Academic All-American
• 32nd round pick in 2015 MLB Draft (Marlins)
• SEC First-Year Academic Honor Roll (2015)
• 17th round pick in the 2014 MLB Draft (Cardinals)
• 2014 third-team NJCAA All-America (SP)
Outlook
UK's returning Saturday starter, led the Wildcats in wins (seven), strikeouts (75) and innings pitched (93.2) … A 32nd round selection in the 2015 MLB Draft, elected to return to Kentucky for senior season … Throws a bevy of pitches, including owning above-average command of his fastball, breaking ball and change-up … Is a good athlete and a tremendous competitor … Is excellent at controlling the running game, with a dynamic pick-off move … Has an infectious personality and good leadership abilities. 
2016
Started 14 games on the season, serving as Kentucky's Saturday starter for the second straight season…Posted a 9-2 record, including a 5-2 mark against SEC opponents…Had a 3.01 ERA, walking just 16 batters while striking out 80…Pitched a complete game, three-hit shutout against No. 2 South Carolina on May 7…Held three SEC opponents to zero earned runs (April 9 vs. Alabama, May 7 vs. South Carolina, May 20 vs. Missouri)…Struck out 10 batters twice (Feb. 27 vs. San Diego State and April 9 vs. Alabama)…Nine wins in a season is tied for sixth-most in UK single-season history…Beggs' .727 career winning percentage is fourth in school history…His 3.32 career ERA is eighth in school history…Led SEC in runners picked off with nine.
2015
Stepped right into the Kentucky weekend rotation and had one of the best seasons in recent UK history, owning a 7-4 record and a 3.65 ERA in 14 starts … Made three consecutive Friday night starts to open the season before serving as UK's Saturday starter for the remaining 11 starts … Led UK in wins (seven), strikeouts (75) and innings pitched (93.2) … Allowed 82 hits and 20 walks, holding opponents to a .234 average … Worked eight quality starts, with a 6-0 record and 2.25 ERA in those 60 innings, walking nine and striking out 52 … Had a 5-3 record and a 4.02 ERA in 10 SEC starts, tossing 69.1 innings, allowing 17 walks and striking out 55 … Was 4-1 with a 4.35 ERA in six home starts and 2-3 with a 3.89 ERA in six road starts … Was 7-0 with a 2.31 ERA in eight of UK's wins started … Was 1-1 with a 2.08 ERA in Feb., 2-1 with a 3.76 ERA in March, 3-0 with a 2.45 ERA in April and 1-2 with a 6.53 ERA in May … UK went 8-6 in his starts … Allowed 12 earned runs in his final two starts, over 13.1 innings … Without his final two starts, had a 7-3 record and a 2.88 ERA in 93 innings … Worked 5.1 one-run innings in his UK debut … Suffered a loss at Southern Cal, allowing three runs in 4.2 innings … Didn't allow an earned run in 7.1 innings vs. Nebraska-Omaha … Tossed seven three-run innings vs. Northern Kentucky … Suffered a hard-luck loss at South Carolina, allowing four runs in 6.1 innings … Picked up win over No. 20 Mississippi State with six innings, allowing three runs … Tossed seven innings, allowing just one run at No. 1 LSU … In a seven-inning game the following week vs. No. 1 Texas A&M, allowed three runs in five innings … Worked at least eight innings in his next four starts … Best outing of his career came vs. No. 6 Vanderbilt, fanning 12 in 8.1 innings.
Junior College
Led all of junior college baseball in 2014 with 125 strikeouts, sporting a 11-4 record and a 1.65 ERA at Georgia Perimeter College … Worked 103.2 innings, walking only 13 … Added five saves … Had a 0.78 ERA in conference games and ranked 14th in the NJCAA with his 1.65 ERA … A third-team junior college All-America selection … Earned first-team all-conference and all-region honors … As a freshman totaled a 6-1 record and a 2.31 ERA, striking out 50 in 46.2 innings … Finished his career with a 17-5 record … Coached by Brett Campbell at Georgia Perimeter College … Led club to the conference regular-season championship in both seasons. 
High School
Played for coach Jake Hill at Centennial High School, earning letters his junior and senior season … Won the team Excaliber Award, Cy Young, Silver Slugger and MVP honors at Centennial as a senior … Was named the region player of the year in 2012. 
Personal
Full name is Dustin August Beggs … Son of Rick and Nancy Beggs … Born on June 14, 1993 in Colorado Springs, Colo. … Has an older sister, Sarah (33) and an older brother, Tyler (24) … Dad played junior college baseball in California and grandfather was drafted by the Pittsburgh Pirates. 
Read more