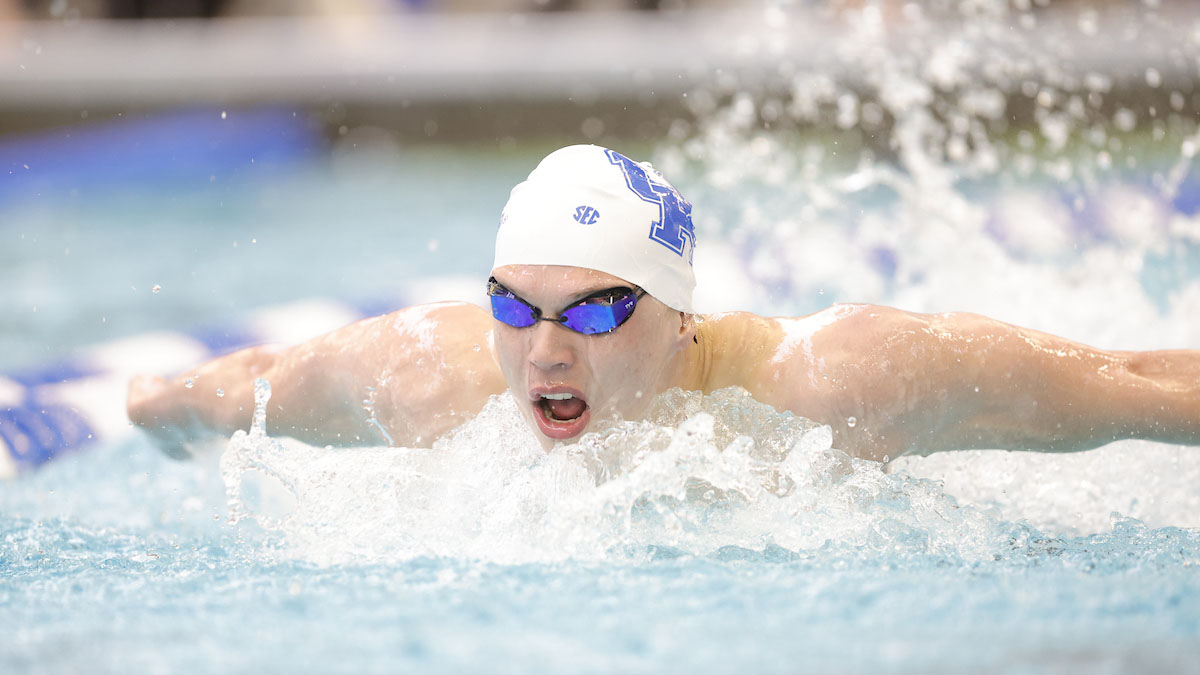 Wildcats Conclude Successful Trip to Phillips 66 Nationals
INDIANAPOLIS – Kentucky swimming wrapped up a productive week at the 2023 Phillips 66 National Championships on Saturday, ending the five-day meet with new program records in five long course events, seven new Olympic Trials cuts and 12 personal best swims.
In all, 11 Wildcats took part in the event, run by USA Swimming at the Indiana University Natatorium.
The UK men's trio of Ryan Merani, Levi Sandidge and Nick Caruso were among the most noteworthy performers for the Cats.
Merani, who is entering his sophomore year next fall, broke out in a big way, achieving three Olympic Trial cuts, three personal bests and two program records. The Maryland native started off his week by winning the C-final of the 200 butterfly, before going on to set Kentucky records in both the 400 IM (4:21.12) and 200 IM (2:01.72).
Sandidge joined his classmate with some outstanding swimming, highlighted by his fifth-place finish in the 1500m freestyle, the highest finish by a Wildcat in any event this week. His time of 15:09.75 not only was a new personal best, it also broke the previous UK record by more than 20 seconds. Sandidge would end the meet on a similar note to how he started, placing 12th in the 800m freestyle with a personal best, 8:01.96 to briefly hold the Kentucky record and secure another entry at the 2024 Olympic Trials.
Sandidge's 800m record was soon snatched by the Wildcats' Caruso, who became the first in program history to break the eight-minute barrier, touching the wall in 7:58.80 to finish 8th. That swim capped a week which also included a program record for Caruso in the 400m freestyle, where the Florida native finished 17th after winning the C-final in 3:51.20.
On the women's side, soon to be senior Bridget Engel was stellar in the breaststroke events, racing to personal bests in both the 50m and 200m, while registering Olympic Trials standards in the 100m and 200m events. Engel placed inside the top-20 in all three of her swims, led by a 12th place showing in the 50m breast.
Denise Phelan, who completed her freshman year this spring, also clocked two new personal best times, resetting her own standards in the 100m and 200m breaststroke. Torie Buerger also posted a new career best mark in the 50m backstroke, while finishing inside the top 30 in the 200m back.
Full Kentucky results from the week can be seen below.
Men's 1500 Freestyle
5. Levi Sandidge (15:09.75)1
24. Nick Caruso (15:35.47)
Women's 800 Freestyle
41. Megan Drumm (8:53.09)
43. Caroline Benda (8:54.14)
Men's 200 Butterfly
17. Ryan Merani (1:58.51)1
50. Jackson Mussler (2:00.63)*
Women's 200 Breast
17. Bridget Engel (2:30.30)1
22. Denise Phelan (2:34.34)
36. Olivia Mendenhall (2:42.08)*
Women's 200 Back
28. Grace Frericks (2:14.68)*
29. Torie Buerger (2:14.84)*
Men's 200 Back
32. Jackson Mussler (2:03.35)
Men's 400 IM
18. Ryan Merani (4:21.12)1
37. Levi Sandidge (4:27.03)*
Women's 50 Breast
12. Bridget Engel (31.48)1
24. Denise Phelan (32.39)*1
Women's 50 Back
37. Torie Buerger (29.64)*1
Women's 400 Free
50. Megan Drumm (4:26.87)*
Men's 400 Free
17. Nick Caruso (3:51.20)1
Women's 100 Breast
14. Bridget Engel (1:09.33)
25. Denise Phelan (1:10.26)1
Women's 100 Back
40. Torie Buerger (1:02.22)*
Men's 200 IM
Ryan Merani (2:01.72)#1
Women's 1500 Free
33. Caroline Benda (16:55.15)
Men's 800 Free
8. Nick Caruso (7:58.80)1
12. Levi Sandidge (8:01.96)1
*Prelims
#Time Trial
1 Personal best