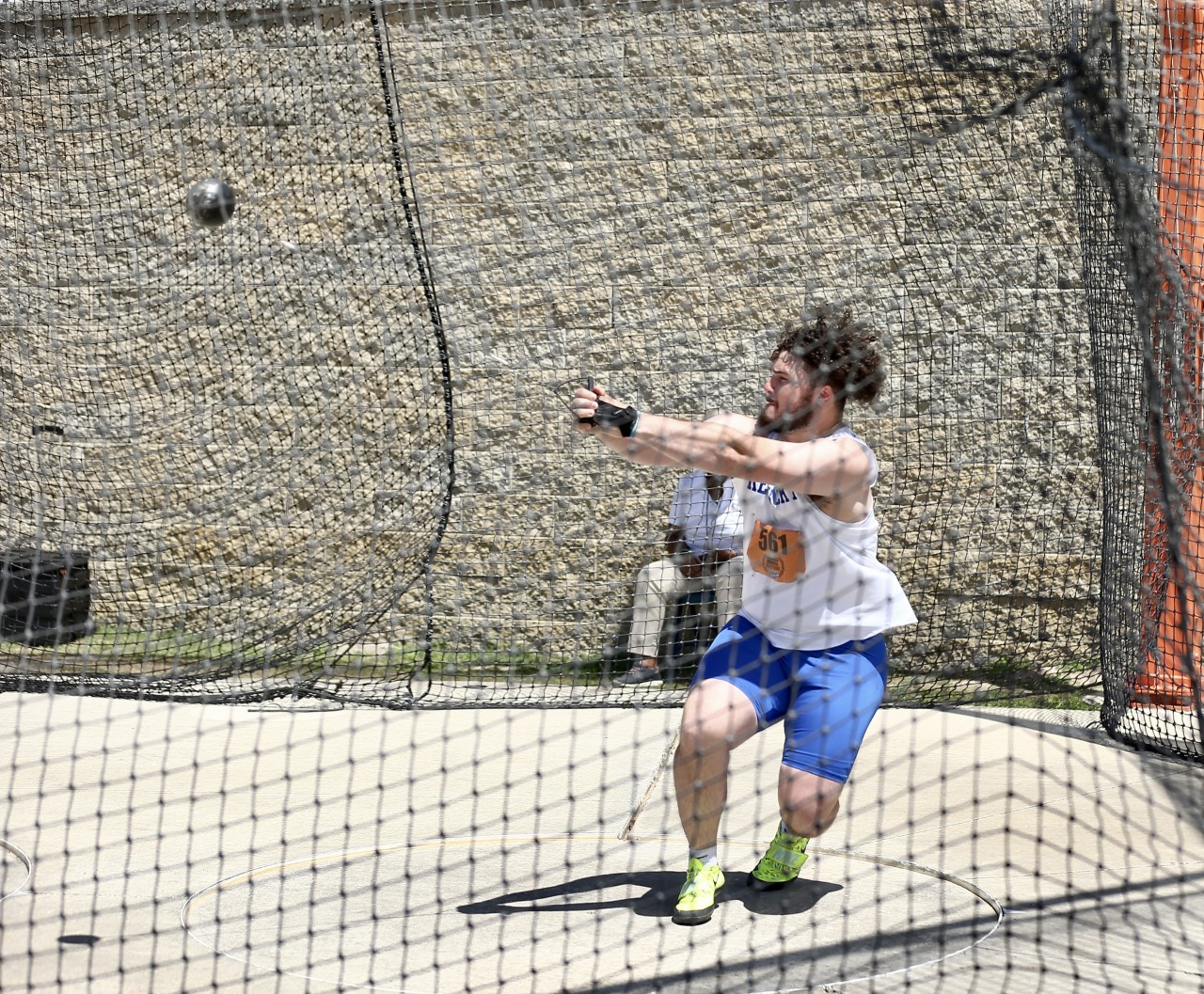 April 14, 2023 - 09:47 PM
UKTF Resumes Outdoor Season At Tom Jones Memorial
GAINESVILLE, Fla. — Kentucky track & field resumed the outdoor season today with the Tom Jones Memorial hosted by the University of Florida in the James G. Pressly Stadium at Percy Beard Track.
It was the first time the program has competed since the Texas Relays and Stanford Invite in the final week of March.
Personal Bests
Logan Coles got the Wildcats off to a dream start in the men's hammer throw after he won the competition with a personal best throw of 210'1"/64.05 meters. Coles, who just a week ago set the fifth-best mark in program history at the Bobcat Invitational, improved his mark to solidify his spot on the all-time program list.
Anthaya Charlton, Victoria Perrow, and Colleen Branch all hit wind-legal personal bests in the women's 200 meter dash. Charlton finished in 34th with a time of 23.47 (1.2), Perrow finished in 38th with a time of 23.61 (0.4) and Branch placed in 67th with a time of 24.14 (1.8).
Ally Kruger had a strong finish in the 1,500 meters to place second in her heat and 12th overall with a personal best time of 4:26.34.
On the men's side, both McLean Griffin and Alex Alston set personal bests in the 1,500 meter run as Griffin set a time of 3:51.02 to place 24th while Alston set a personal best time of 3:57.00 in his event debut to place 44th.
Notables
Keaton Daniel was runner up in the men's pole vault with a vault of 17'7.75"/5.38 meters.
Josh Sobota placed third in the men's shot put with a throw of 64'6.25'/19.67 meters.
Michael Browning placed fourth in the men's hammer throw with a toss of 190'7"/58.11 meters.
Jordan Turner placed fifth in the men's long jump with a jump of 25'4"/7.72 (2.1) meters.
Masai Russell placed third in the women's 400-meter hurdles with a time of 55.39, just three milliseconds off her personal best of 55.36 seconds.
Robert Springfield III came millimeters from matching his personal best in the men's long jump as his jump of 24'8.25"/7.53 meters was just shy of his best at 7.57 meters. Springfield III captured a fourth-place finish in the event for the Wildcats.
Kentucky Track and Field will conclude the Tom Jones Memorial tomorrow starting at 10 a.m. ET.
Follow Kentucky Track and Field and Cross Country on Facebook, Instagram, Twitter, and at UKathletics.com.
Tom Jones Memorial: Friday, April 14: ALL TIMES IN EASTERN TIME
Men's Hammer Throw Open
1:00 p.m.
Prelim/Final
1. Logan Coles: 210'1"/64.05m | PB | 5th UK all-time performers list

4. Michael Browning: 190'7"/58.11m

13. Dennis Ohene-Adu: 167'9"/51.15m

Men's High Jump Open
2:00 p.m.
Final
T-7. Donsten Brown: 6'6.25"/1.99m
Men's Pole Vault
2:00 p.m.
Final
2. Keaton Daniel: 17'7.75"/5.38m

T-12. Jacob Sobota: 16'4"/4.98m

16. Dalton Shepler: 16'4"/4.98m

Men's Long Jump Invite
3:00 p.m.
Prelim/Final
5. Jordan Turner: 25'4"/7.72m (2.1)
Women's Long Jump Open
5:00 p.m.
Prelim/Final
20. Meg Wilson: 17'2.75"/5.25m
Women's 200m
5:00 p.m.
Final
9. Karimah Davis: 22.68 (3.6)

34. Anthaya Charlton: 23.47 (1.2) | PB

38. Victoria Perrow: 23.61 (0.4) | PB

52. Tamiia Fuller: 23.82 (3.6)

67. Colleen Brach: 24.14 (1.8) | PB

Men's 200m
5:35 p.m.
Final
32. Langston Jackson: 21.07 (1.2)

41. Myles Anders: 21.30 (1.6)

Men's Shot Put Invite
6:15 p.m.
Prelim/Final
3. Josh Sobota: 64'6.25'/19.67m
Women's 400-Meter Hurdles
6:15 p.m.
Final
3. Masai Russell: 55.39

33. Yasmin Brooks: 1:00.09

Men's 400-Meter Hurdles
6:35 p.m.
Final
30. Beck O'Daniel: 52.96
Men's Long Jump Open
7:00 p.m.
Prelim/Final
4. Robert Springfield III: 24'8.25"/7.53m
Women's 1500 Meters
7:25 p.m.
Final
12. Ally Kruger: 4:26.34 | PB

43. Mollie Roden: 4:44.39

Men's 1500 Meters
7:55 p.m.
Final
24. McLean Griffin: 3:51.02 | PB

44. Alex Alston: 3:57.00 | PB
Tom Jones Memorial: Saturday, April 15: ALL TIMES IN EASTERN TIME
Men's Discus Invite
10:00 a.m.
Prelim/Final
Josh Sobota
Men's Discus Open
11:00 a.m.
Prelim/Final
Dennis Ohene-Adu
Women's Pole Vault
11:00 a.m.
Final
Kaitlyn Cain

Payton Phillips

Siobhan Szerencsits

Women's High Jump
12:00 p.m.
Final
Mallory Mullen
Women's 100m Hurdles
12:00 p.m.
Prelim
Shadajah Ballard

Yasmin Brooks

Women's 4×100 Relay
1:30 p.m.
Final
Kentucky "A"
Men's 4×100 Relay
1:40 p.m.
Final
Kentucky "A"
Women's 800 Meters
1:55 p.m.
Final
Bryanna Lucas

Phoebe McCowan

Sydney Steeley

Jenna Schwinghamer

Men's 800 Meters
2:15 p.m.
Final
Alex Justus

Justin Swann

Women's 100 Meters Hurdles
2:35 p.m.
Final
Shadajah Ballard

Yasmin Brooks

Women's 400 Meters
2:55 p.m.
Final
Megan Moss
Women's Shot Put Open
3:00 p.m.
Prelim/Final
Simisola Akinrinsola
Men's 400m
3:25 p.m.
Final
Brian Faust

Wayne Lawrence Jr.

Kennedy Lightner

Brandon Miller

Women's 100m
4:00 p.m.
Final
Colleen Branch

Tamiia Fuller

Men's Shot Put Open
4:15 p.m.
Prelim/Final
Dennis Ohene-Adu
Men's 100m
4:30 p.m.
Final
Myles Anders

Jordan Anthony

Kennedy Lightner

Women's 4×400 Relay
5:35 p.m.
Final
Kentucky "A"
Men's 4×400 Relay
6:00 p.m.
Final
Kentucky "A"