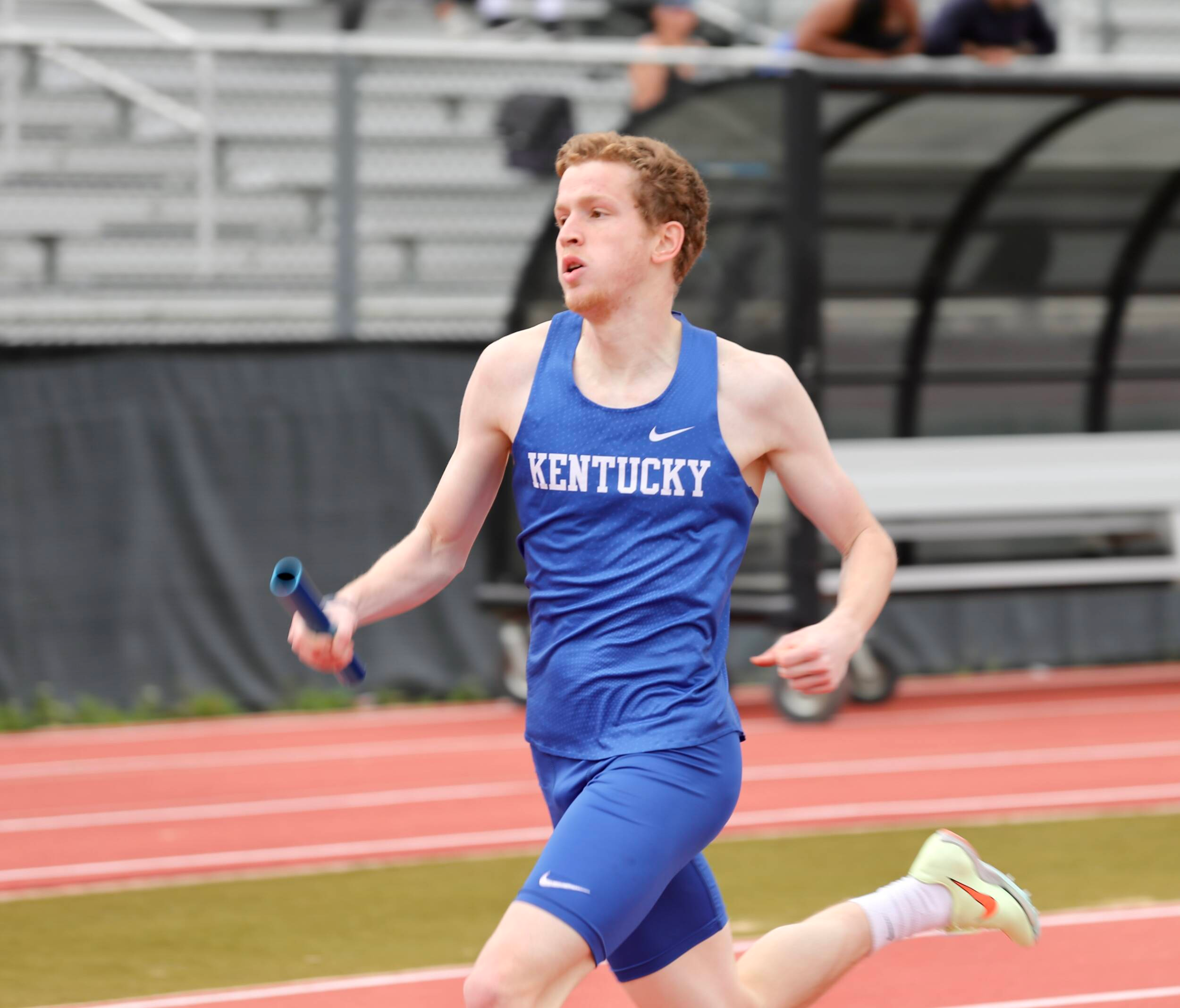 March 28, 2023 - 04:42 PM
UKTF to Compete at Texas Relays and Stanford Invitational
LEXINGTON, Ky. — Kentucky track & field is set to attend both the 95th Clyde Littlefield Texas Relays in Austin, Texas from Wednesday, March 29 to Saturday, April 1, and the Stanford Invitational in Palo Alto, California on Friday, March 31, and Saturday, April 1.
Kentucky's sprinters, hurdlers, and field event competitors will participate at the Texas Relays while the distance runners will compete at the Stanford Invitational.
Texas will host the Texas Relays in Mike A. Myers Track & Soccer Stadium beginning at 11:30 a.m. ET/10:30 a.m. CT on Wednesday with the first day of competition in the heptathlon. Wednesday's heptathlon events include the 100-meter hurdles, high jump, shot put, and 200 meter dash.
Stanford University will host the Stanford Invitational at the Cobb Track and Angell Field beginning at 1:00 p.m. ET/10:00 a.m. PT on Friday with the men's hammer throw. The schedule is tentative and subject to change.
The Texas Relays will be broadcast live on the Longhorn Network. Live results can be found at texassports.com/feature/2023-texas-relays.
The Stanford Invite will be broadcast on FloTrack. Live results can be found at rt.trackscoreboard.com/meets/33123/events.
Follow Kentucky Track and Field and Cross Country on Facebook, Instagram, Twitter, and at UKathletics.com.
 
Texas Relays: Heptathlon Wednesday, March 29: ALL TIMES IN CENTRAL TIME
Hept. 100 Hurdles
10:30 a.m.
Final
Annika Williams
Hept. High Jump
10:30 a.m.
Final
Annika Williams
Hept. Shot Put
10:30 a.m.
Final
Annika Williams
Hept. 200m
10:30 a.m.
Final
Annika Williams
Heptathlon Total
Annika Williams:
 
Texas Relays: Heptathlon Thursday, March 30: ALL TIMES IN CENTRAL TIME
Hept. Long Jump
10:00 a.m.
Final
Annika Williams
Hept. Javelin
10:00 a.m.
Final
Annika Williams
Hept. 800m
10:00 a.m.
Final
Annika Williams
Heptathlon Total
Annika Williams:
Texas Relays: Thursday, March 30: ALL TIMES IN CENTRAL TIME
Men's Hammer Throw
2:00 p.m.
Prelim/Final
Logan Coles
Women's 400H
4:30 p.m.
Prelim
Yasmin Brooks
Men's 400H
5:00 p.m.
Prelim
Beck O'Daniel
Texas Relays: Friday, March 31: ALL TIMES IN CENTRAL TIME
Women's 100H
9:35 a.m.
Prelim
Masai Russell

Yasmin Brooks

Shadajah Ballard

Women's 100m
9:35 a.m.
Prelim
Anthaya Charlton

Victoria Perrow

Iantha Wright

Men's 100m
9:35 a.m.
Prelim
Myles Anders

Jordan Anthony

Langston Jackson

Women's 4×100 Meter Relay
9:35 a.m.
Prelim
Masai Russell, Anthaya Charlton, Victoria Perrow, Karimah Davis, Shadajah Ballard, Colleen Branch, Tamiia Fuller, Iantha Wright
Men's 4×100 Meter Relay
9:35 a.m.
Prelim
Langston Jackson, Brandon Miller, Kennedy Lightner, Jordan Anthony, Myles Anders, Brian Faust, Wayne Lawrence Jr.
Men's 4×400 Meter Relay
9:35 a.m.
Prelim
Wayne Lawrence Jr., Brandon Miller, Kennedy Lightner, Brian Faust, Brandon Nyandoro, Beck O'Daniel, Jordan Anthony, Justin Swann
Men's Long Jump
10:00 a.m.
Prelim/Final
Jordan Turner

Robert Springfield III

Men's Shot Put
10:00 a.m.
Prelim/Final
Dennis Ohene-Adu
Women's Triple Jump
12:30 p.m.
Prelim/Final
Sophie Galloway
Men's Triple Jump
3:00 p.m.
Prelim/Final
Luke Brown
Men's Discus
4:00 p.m.
Prelim/Final
Josh Sobota
Men's 1600 Sprint Medley Relay
4:30 p.m.
Final
Jordan Anthony, Brandon Miller, Brian Faust, Justin Swann, Wayne Lawrence Jr., Langston Jackson, Kennedy Lightner, Brandon Nyandoro
Women's 400H
5:35 p.m.
Final
Yasmin Brooks
Men's 400H
5:40 p.m.
Final
Beck O'Daniel
Texas Relays: Saturday, April 1: ALL TIMES IN CENTRAL TIME
Women's 4x200m Relay
12:00 p.m.
Final
Karimah Davis, Dajour Miles, Shadajah Ballard, Tamiia Fuller, Iantha Wright, Colleen Branch, Megan Moss, Reynei Wallace
Men's 4x200m Relay
12:00 p.m.
Final
Jordan Anthony, Kennedy Lightner, Brandon Miller, Langston Jackson, Brian Faust, Myles Anders, Wayne Lawrence Jr.
Women's Pole Vault
12:00 p.m.
Final
Siobhan Szerencsits
Men's 4x100m Relay
1:30 p.m.
Final
Langston Jackson, Brandon Miller, Kennedy Lightner, Jordan Anthony, Myles Anders, Brian Faust, Wayne Lawrence Jr.
Women's 4x100m Relay
1:30 p.m.
Final
Masai Russell, Anthaya Charlton, Victoria Perrow, Karimah Davis, Shadajah Ballard, Colleen Branch, Tamiia Fuller, Iantha Wright
Women's 100H
2:20 p.m.
Final
Masai Russell

Yasmin Brooks

Shadajah Ballard

Women's Long Jump
3:00 p.m.
Prelim/Final
Anthaya Charlton
Men's Pole Vault
3:00 p.m.
Final
Keaton Daniel
Men's 100m
3:25 p.m.
Final
Jordan Anthony

Langston Jackson

Myles Anders

Women's 200m
3:45 p.m.
Final
Karimah Davis
Men's 200m
3:45 p.m.
Final
Jordan Anthony

Kennedy Lightner

Brandon Miller

Men's Shot Put
4:00 p.m.
Prelim/Final
Josh Sobota
Men's 4×400 Relay
4:05 p.m.
Final
Wayne Lawrence Jr., Kennedy Lightner, Brandon Miller, Brian Faust, Justin Swann, Brandon Nyandoro, Beck O'Daniel, Jordan Anthony
Women's 4×400 Relay
4:05 p.m.
Final
Karimah Davis, Masai Russell, Christal Mosley, Dajour Miles, Megan Moss, Tamiia Fuller, Colleen Branch, Shadajah Ballard, Iantha Wright, Reynei Wallace
Stanford Invitational: Friday, March 31 – Saturday April 1: ALL TIMES IN PACIFIC TIME
Women's 800m
1:55 p.m.
Final
Bryanna Lucas

Deanna Martin

Phoebe McCowan

Jenna Schwinghamer

Sydney Steely

Men's 800m
2:16 p.m.
Final
Alex Justus, Justin Swann
Women's 1500m
TBA
Final
Deanna Martin

Phoebe McCowan

Jenna Schwinghamer

Sydney Steely

Men's 1500m
TBA
Final
Dylan Allen

Alex Justus

Harper Moore

Women's 5000m
TBA
Final
Tori Herman
Women's 1000m
TBA
Final
Kaylie Kenne
Men's 1000m
TBA
Final
Aaron Withrow
Men's 3000m Steeplechase
TBA
Final
Alex Alston

McLean Griffin

Jackson Watts