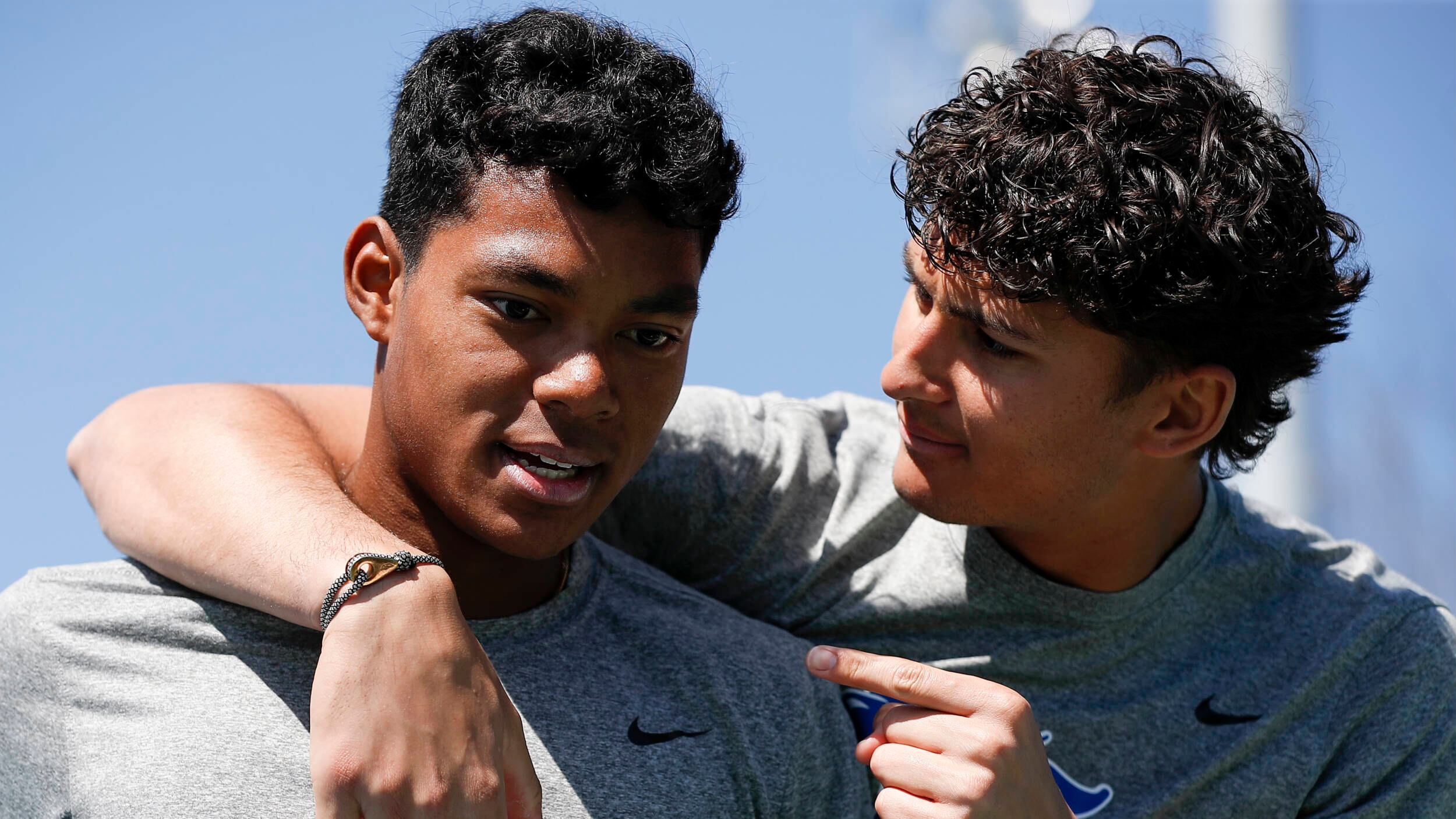 March 26, 2023 - 04:51 PM
No. 6 Kentucky Claims Top-15 Showdown Over No. 12 Mississippi State
LEXINGTON, Ky. – No. 6 Kentucky (19-2, 7-1 SEC) claimed a critical SEC showdown over No. 12 Mississippi State (16-4, 4-3 SEC), clinching a 4-2 victory inside the friendly confines of Hilary J. Boone Varsity Tennis Center. The Wildcats have now won seven straight matches against Southeastern Conference opposition, marking the longest such streak in at least the last decade.
On a beautiful day on the Boone's outside courts, the Wildcats were led by undefeated days from Liam Draxl and Charlelie Cosnet. Draxl, alongside Joshua Lapadat, claimed another singles victory, moving their team leading records to 16-3 (7-1 SEC).
At the center of Kentucky's recent success, the Wildcats continued their winning doubles way, recording their seventh straight point in doubles action. The Cats have won the opening point in every match of their win streak. No. 25 Alafia Ayeni and Taha Baadi extended their now six match winning streak with a clinical 6-2 win on the top court. In the match's only ranked doubles matchup, the Bulldogs were able to level the score, as No. 74 Jovanovic/Lumsden knocked off the 38th-ranked doubles pairing of JJ Mercer and Joshua Lapadat. With the doubles line tied at one, the third doubles match found itself in a tiebreak. The duo of Draxl and Jaden Weekes buckled down in the decider, providing Kentucky with a 1-0 advantage in the dual.
The Wildcats singles attack carried over the momentum from doubles, winning four of the six first sets. Charlelie Cosnet returned to winning form in a major way, taking down his Bulldog opponent in a straight-set match that lasted just over an hour.
State would respond, however, and claim the match's next two points. Weekes fell in straight sets at No. 5 singles, while No. 27 Ayeni suffered his first loss since March 2 at No. 2 singles.
No. 22 Draxl would defend his home court and put the 'Cats back on top. Draxl raced out to early leads in both sets and found breaks with ease, as he knocked off Jovonovic, 6-3, 6-2.
The clinching point would be secured by Lapadat, a junior from London, Ontario. Playing at his usual No. 3 singles spot, Lapadat cruised to a 6-3, 6-3 straight-set win to give the Wildcats their sixth top-25 win of 2023.
The lone remaining match was played out, allowing Mississippi State to claim one final point. Baadi raced out to a first set win on court four, but fell in a tight second set. In the deciding set, Baadi found himself in a tiebreaker, but could not scratch out the win, falling 6-1, 4-6, 6-7 (5)
Next weekend, the Wildcats will embark on a crucial two-match SEC road swing, facing off against No. 7 Georgia and No. 20 Tennessee. The matchup with the Bulldogs will pit the top two teams in the SEC standings against each other, with play from Athens commencing at 5 p.m. EST on Friday, March 31. On Sunday, Kentucky will travel up I-75 to square off against the Volunteers in Knoxville. The border battle will get underway at 4:00 p.m. EST on April 2. Fans can follow along with live stats and live stream for both matches.
RESULTS
Doubles
No. 25 Alafia Ayeni/Taha Baadi (UK) def. Ramskogler/Sanchez Martinez (MSU) 6-2
No. 74 Jovanovic/Lumsden (MSU) def. No. 38 Joshua Lapadat/JJ Mercer (UK) 7-5
Liam Draxl/Jaden Weekes (UK) def. Lazo/Novansky (MSU) 7-6 (5)
Singles
No. 22 Liam Draxl (UK) def. Jovanovic (MSU) 6-3, 6-2
Lumsden (MSU) def. No. 27 Alafia Ayeni (UK) 7-6 (5), 6-2
No. 44 Joshua Lapadat (UK) def. Sanchez Martinez (MSU) 6-3, 6-3
Novansky (MSU) def. Taha Baadi (UK) 1-6, 6-4, 7-6 (5)
Ramonsky (MSU) def. Jaden Weekes (UK) 6-3, 6-2
Charlelie Cosnet (UK) def. Lazo (MSU) 6-2, 6-1
Order of Finish:
Doubles—1, 2, 3
Singles—6, 5, 2, 1, 3, 4
For the latest on UK Men's Tennis, follow the Wildcats on Twitter and Instagram at @UKMensTennis.