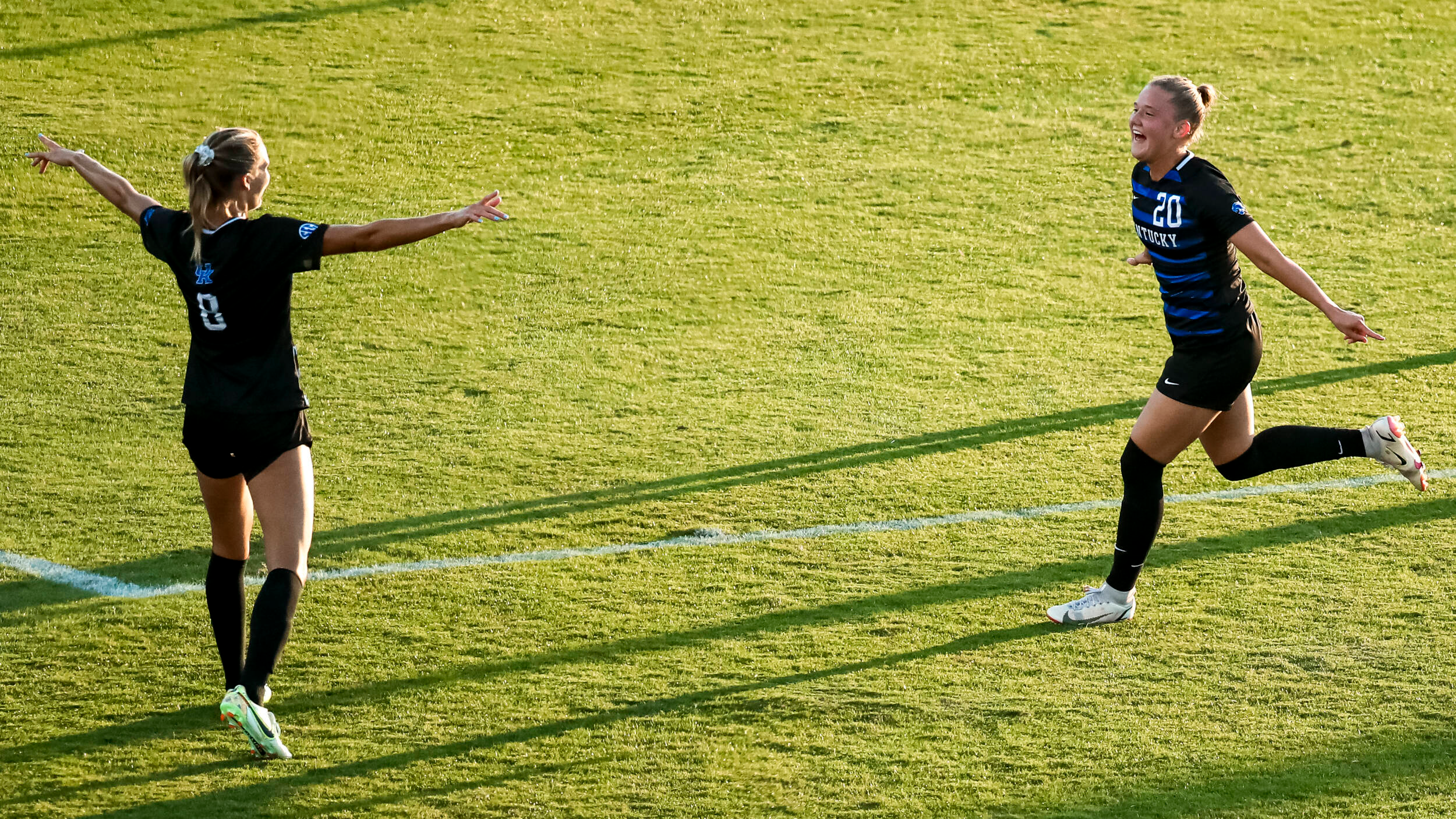 September 10, 2022 - 08:09 AM
Kentucky Welcomes Eastern Michigan for Senior Day Showdown
LEXINGTON, Ky. – In the final non-conference match of the 2022 season, Kentucky meets Eastern Michigan on Sunday for a 1 p.m. kick-off at the Wendell and Vickie Bell Soccer Complex.
Sunday's affair will also serve as UK's Senior Day with the Wildcats set to honor their 10 Class of 2022 members during a pregame ceremony at approximately 12 p.m. Student athletes to be recognized include: Hailey Farrington-Bentil, Taylor Hattori, Maggy Henschler, Josie Knight, Rafferty Kugler, Jordyn Rhodes, Hannah Richardson, Peyton Rimko, Steph Stull and Caroline Trout.
Kentucky (6-1-0) is looking to win a seventh non-conference contest for the first time since 2015. With a victory, the Wildcats would also equal their win total from the 2021 season, when the Cats finished with a mark of 7-10-2. For the season, Kentucky is outscoring its opponents 21-4. The 21 goals are tied for the seventh most in the country and mark the highest total by an SEC team thus far.
UK is fresh off a 4-1 result against Wright State this past Thursday, a game which saw junior Úlfa Úlfarsdóttir register two goals while seniors Jordyn Rhodes and Maggy Henschler also found themselves in the scoring column. Senior forward Hannah Richardson picked up two assists on the night, bringing her season total to six, tied for the second most in Division I entering the weekend. Úlfarsdóttir leads the team with 11 points this season, having already set new career benchmarks in points, goals (four) and assists (three).
Eastern Michigan (1-3-2) is finishing off a road trip which began with a 1-0 loss to Morehead State this past Thursday. The Eagles lone win so far in 2022 came against Illinois State back on Aug. 21. Sophomores Meagan Lukowski and Maddie O'Farrell each have scored twice this season, leading a pack of six goal-scorers. Junior goalkeeper Rebecca Przybylo has started five of the team's six matches in net, making 23 saves and conceding eight goals.
The Wildcats and Eagles have never met prior to Sunday, making EMU the third opponent this season which UK is facing for the first time.
The match will air on SECN+, with admission to the Bell Soccer Complex free of charge for all fans.
For the latest on UK Women's Soccer, follow the Wildcats on Twitter and Instagram at @UKWomensSoccer, on Facebook and on the web at UKathletics.com.