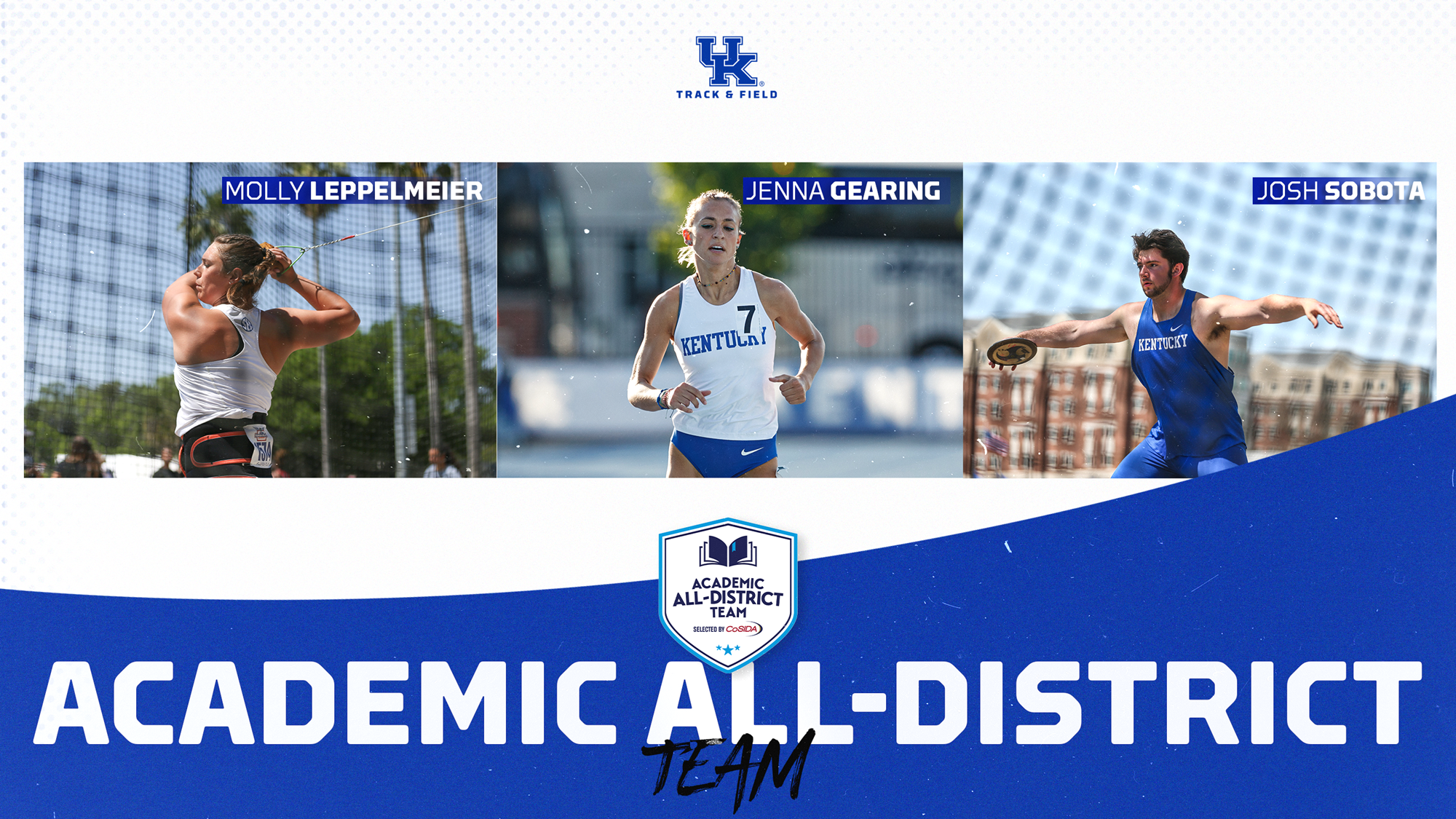 Gearing, Leppelmeier, Sobota Selected to CoSIDA Academic All-District Team
LEXINGTON, Ky. – Kentucky track & field's Jenna Gearing, Molly Leppelmeier and Josh Sobota have been selected to the CoSIDA Academic All-District teams for district three, while both the men's and women's track and field/cross country teams have also been named Academic All-District. 
Both the men's and women's teams earned this distinction through team cumulative grade point averages over 3.1, featuring a 3.57 GPA for women's cross country and 5.53 for men's cross country. 
The 2021-22 Academic All-District Men's and Women's Track & Field/Cross Country Teams, selected by CoSIDA, recognize the nation's top student-athletes for their combined performances in athletic competition and in the classroom. 
First-team Academic All-District honorees advance to the CoSIDA Academic All-America ballot. First-, second- and third-team Academic All-America® honorees will be announced in June. 
Leppelmeier, who recently graduated with a master's in computer science, has shown versatility in the throwing pits and in life. She earned a 4.0 GPA in her computer science master's degree program, as well as her computer science undergraduate degree program, all while competing in three of four outdoor throwing disciplines – shot put, discus and hammer throw – and both indoor throwing disciplines – shot put and weight throw. 
Leppelmeier was on the 2021 CoSIDA Academic All-America third team while also becoming a 2021 All-American in the hammer throw. She is second all-time for UK in the hammer throw, weight throw and shot put, and 10th in discus, while coming off a recent fourth place finish in shot put at SEC Championships. 
Sobota was named a 2021 CoSIDA Second Team Academic All-American, making his return to the Academic All-District team for the third year in a row. He is a senior management major with a 3.85 GPA. As a three-time All-American, twice in shot put and once in discus, Sobota is the indoor school record holder (66'3.25″/20.20m) in the shot put and second all-time in the shot put outdoors (65'9.75″/20.06m). He is also ninth all-time for UK in the discus (191'9″/58.44m). 
Sobota recently placed fourth at SEC Championships in both shot put and discus, and qualified for NCAA Outdoor Championships in shot put with an outdoor personal best (65'9.75″/20.06m). 
Gearing recently graduated with a certificate in sport fitness & recreation management and with a 4.0 GPA after graduating with a bachelor's degree in sports communications with a 3.84 GPA at Clemson in 2020. 
Gearing is an All-American in the DMR, running in the fifth place DMR (11:02.41) at this year's NCAA Indoor Championships. It was Kentucky's best DMR finish in nine years. She is also a 2020 SEC Cross Country silver medalist, a 2021 NCAA Cross Country All-Region runner and a 2022 SEC DMR bronze medalist. In the UK all-time top 10, Gearing ranks second in the mile (4:38.13), fifth in the 1,500m (4:17.25), third in the outdoor 800m (2:03.81) and ninth in the 3,000m (9:18.04). 
Follow Kentucky Track and Field and Cross Country on Facebook, Instagram, Twitter and at UKathletics.com.