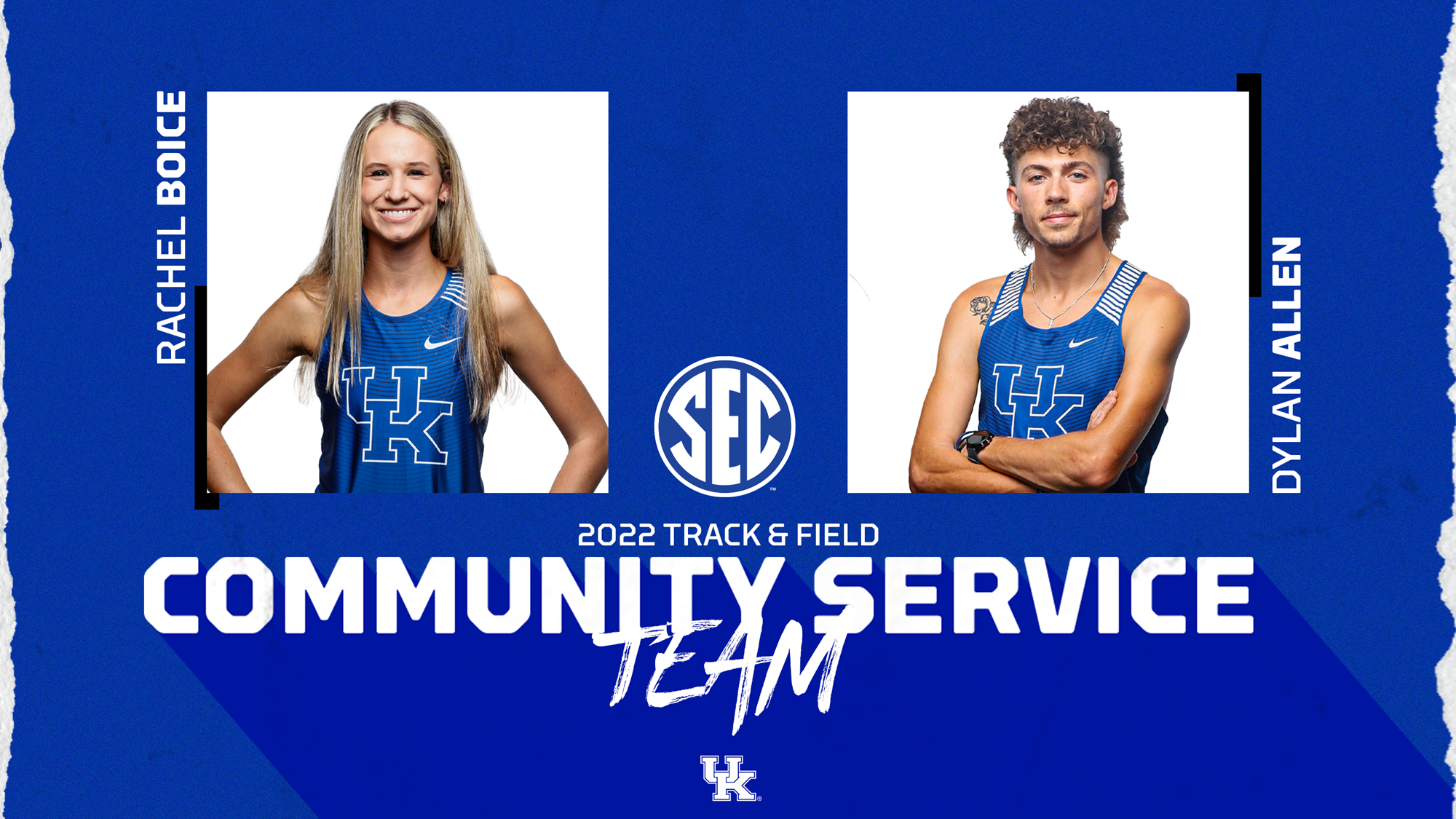 Dylan Allen, Rachel Boice Selected to 2022 SEC T&F Community Service Team
LEXINGTON, Ky. – Kentucky track and field senior distance runners Dylan Allen and Rachel Boice have been selected to the Southeastern Conference Community Service Team for track and field for the second consecutive year. 
Allen, a senior from Louisville, has been involved with several organizations during his time at Kentucky. During the 2021-22 school year he volunteered at Kentucky Horse Park, Dare to Care and the Special Olympics. For Dare to Care, he sorted food boxes for the homeless, directed runners for Kentucky Horse Park and volunteered to help with a Special Olympics bowling event.  
In previous years, he has worked as a blood donor screener for the American Red Cross, spent time with patients at the Kentucky Children's Hospital, sorted food and packed boxes at the Dare to Care Food Bank, assisted with food service at the Salvation Army, and has volunteered as a transcriber of old documents for the Smithsonian Institution. 
Allen was one of the top men's distance runners for UK this season, running the top mile time of all Wildcats (4:00.24) for 10th place in the finals at SEC Indoor Championships. He also ran personal bests in six events during the 2021-22 cross country and track seasons: 6K, 10K, 3,000m, mile, 800, 5,000m. Allen ranked fourth all-time for UK in the 1,500m, eighth in the mile and 10th in the 3,000m. 
Boice, a recent graduate from Crestwood, designed and led a biology learning center and laboratory for Haitian students at the St. Francis School of Technology during the 2020-21 school year. She created learning stations and experiments for students from the third through the 13th grades, made PowerPoints and spreadsheets for the students, and led Zoom meetings to teach and monitor the progress of the labs.  
During the 2021-22 school year, Boice has volunteered to help at Liberty Elementary cross country practices, played games and did zoom calls with Kentucky Children's Hospital patients and volunteered for a Special Olympics bowling event. She also has also volunteered with Kentucky Children's Hospital, Lexington elementary schools, Active Women's Health Initiative, Best Buddies of Lexington, Adopt-a-Family program and more. 
Boice has earned three personal bests this season and competed at all three SEC Championship meets. Her personal bests came in the 5K, the mile and the 1,500m along with seven top 10 finishes. She recently graduated from Kentucky with a degree in biology and ranks fifth for UK all-time in the 3,000m steeplechase (10:33.94). 
Follow Kentucky Track and Field and Cross Country on Facebook, Instagram, Twitter and at UKathletics.com.