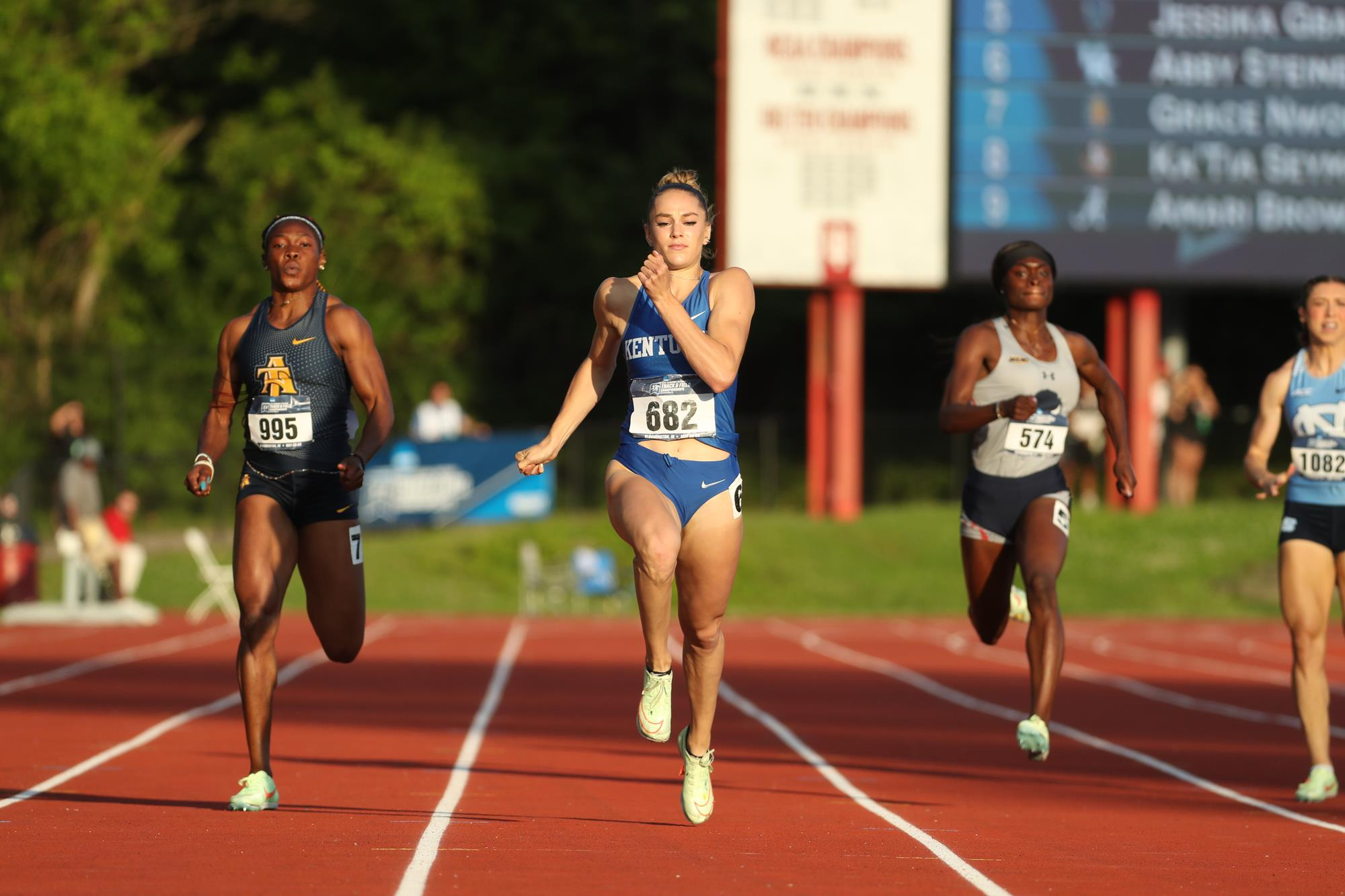 UKTF to Send 19 to NCAA Championships
BLOOMINGTON, Ind. – Kentucky women's track and field added nine more NCAA Championships qualifiers on the final day of NCAA Division I East Preliminary Championships at Indiana University to bring UKTF's total qualifiers to 19. 
The nine women's team qualifiers on day four joined Jade Gates who qualified on day two and the nine men's qualifiers from the first and third days. 
Each of the 19 qualifiers placed in the top 12 of their respective events to be one of the 24 to compete in Eugene, Oregon from June 8-11. 
The Wildcats set nine personal bests throughout four days of competition. 
Day Four 
The Wildcats had an impressive final day on the track in Bloomington, capped off by three of the four members of the collegiate record 4x400m earning the top qualifying spot for NCAAs with a time of 3:26.90. 
The team of Karimah Davis, Megan Moss, Dajour Miles and Alexis Holmes also earned the facility record. 
Abby Steiner went three-for-three in her events, running the top time of the 200m quarterfinal (22.01w, +2.1). Her 200m time was just over the wind-legal limit, and if it was .01 lower it would have been the second fastest time in collegiate history, a track record and a school record. 
Steiner ran the second fastest time of 100m quarterfinals, clocking 11.04. 
The 4x100m featuring Steiner, Shadajah Ballard, Masai Russell and Davis ran 42.95, the second fastest time of the first round, to punch their ticket to Eugene. 
Russell flew through her quarterfinals races, finishing the 400m hurdles with the second fastest time of the field and a personal best (55.36), and running the third fastest time of 100m hurdles quarterfinals (12.89) into a 1.2 m/s headwind. 
Holmes also impressed, keeping her streak of under 52-second times with a 51.24 run to cement herself as an NCAA 400m qualifier outdoors for the first time in her career. 
Perri Bockrath shined in the 3,000m steeplechase, qualifying with a school record time of 9:52.00, beating out her own school record she set two weeks prior at SEC Championships by just under a second. This will be Bockrath's first individual NCAA berth of her career. 
Freshman Sophie Galloway shocked the triple jump field by qualifying for NCAA Championships in the No. 8 spot, the only true freshman in the field to make it. Her jump of 42'9.5″/13.04m set UK's freshman record, was fourth all-time for UK and a personal best. This was just her seventh meet as a Wildcat, having transferred to Kentucky in January and missing the indoor season. 
Davis will join Steiner in the 200m in Eugene, running an outdoor personal best and 8th fastest time in UKTF history (22.84) to qualify in the 200m for the first time in her career. 
Moss, a 2020 Olympian for the Bahamas, will return to Eugene for the second year in a row as an individual qualifier in the 400m, running a personal best 52.07 for the qualification. 
Jenna Gearing narrowly missed out on qualifying for NCAA Championships in the 800m with a time of 2:04.62, placing 14th. Sophomore Jenna Schwinghamer placed 20th (2:06.61) while junior DeAnna Martin placed 23rd (2:07.22). 
Tori Herman placed 15th in the 5,000m (16:05.45) and 17th in the 1,500m (4:15.85). 
Freshman Areti Filipidou was the top finisher for Kentucky in the discus, placing 27th (162'9″/49.61m), while Molly Leppelmeier placed 34th (156'0″/47.56m). 
Day Three 
The men's 4x400m was the highlight of the day, finishing with the fourth fastest time of the field (3:03.28) and winning their heat to automatically qualify for NCAA Championships. The relay featured St. Hillaire, Lang, Lightner and Faust. 
St. Hillaire and Faust also secured spots in the 400m semifinal at NCAAs, finishing seventh (45.63) and 11th (45.94) in quarterfinals. St. Hillaire earned an automatic qualifying spot by placing third in his heat while Faust qualified based off his time, which was also an outdoor personal best for the Purdue transfer. 
The men's 4x100m featuring Heath Jr., Lang, Smith and St. Hillaire earned an automatic qualification by placing third in their heat with a time of 39.33 with the seventh fastest time overall among the field. 
Kenroy Williams earned his second outdoor nationals-berth in a row in the 400m hurdles (50.96). 
Lang took the final qualifying spot in the 200m with a time of 20.71 (-2.5), earning a spot in the event at NCAAs for the second year in a row. Lightner also competed in the event, placing 19th with a time of 21.00 (-2.5). 
Sobota and Rahman Minor narrowly missed qualifying for NCAAs by placing 14th in discus and 15th in high jump, respectively. Sobota will make the trip to Eugene to compete in shot put. 
Rodney Heath Jr. ran 10.34 in the 100m quarterfinal to finish 18th while Lang ran 10.38, finishing 21st. 
Day Two 
Gates is headed to Eugene for the first time in her career after an impressive 215'5″/65.66m on her first hammer throw of the day, qualifying with the ninth-best throw of the competition. Molly Leppelmeier also competed in hammer throw, narrowly missing NCAA qualification by one spot with a mark of 209'11″/63.98m. 
Abby Steiner earned the 200m facility record for the Robert C. Haugh Complex with a 22.19-second run, taking the top qualifying spot for Saturday's quarterfinals. 
Her 100m run of 10.99 with a 2.5 m/s tailwind was under the existing facility record, but the tailwind made the run ineligible for the record. It was also the top time of the first round. 
However, the senior from Ohio did run the facility record in the 200m and will compete in both event quarterfinals on Saturday. 
Alexis Holmes ran the second fastest 400m in the first round with a time of 51.64 and will be joined by teammate Megan Moss in Saturday's quarterfinal, who also qualified for the event in the No. 7 spot with a season best time of 51.14. 
Masai Russell took the third qualifying spot in the 100m hurdles with a time of 12.84 into a 1.5 m/s headwind, automatically qualifying by winning her heat. She also competed in the 400m hurdles and won her heat to automatically qualify (57.98). 
The trio of 800m runners, Jenna Schwinghamer, Jenna Gearing and DeAnna Martin, all qualified for Saturday's quarterfinals. Schwinghamer had the fastest time of the bunch, running 2:04.65 in second place in her heat, earning the automatic qualification. Gearing was next, qualifying based off time as the fourth finisher (2:05.45) in the third heat. Martin took the final qualifying spot of the field (2:06.01). 
Siobhan Szerencsits and Annika Williams both narrowly missed qualifying in pole vault and long jump, respectively, finishing 17th and 15th in the first round. Szerencsits cleared an outdoor season best of 13'9.75″/4.21m. 
Day One 
Daniel punched his ticket to Eugene with a vault of 7'4.25″/5.29m and will compete for the chance to medal at NCAAs for the second year in a row. 
Sobota threw for an outdoor personal best and qualifying mark of 65'9.75″/20.06m in the shot put, making this his second year in a row qualifying for NCAAs in the event. It was also his third best shot-put throw of his career. 
St. Hillaire and Brian Faust impressed in the men's 400m first round with the ninth (46.12) and 12th (46.22) fastest times of the group, respectively. 
Williams ran 50.55 for the eighth fastest time out of 48 qualifiers and will run in Friday's quarterfinal. Beck O'Daniel finished 35th with a time of 52.41. 
Tai Brown ran 13.69 with a 2 m/s tailwind, placing third in his heat and automatically qualifying for Friday's quarterfinal. 
Lang qualified for quarterfinals in both the 100m and the 200m. His 200m time of 20.39w (+2.3) earned him the eighth fastest spot among the 48 competitors and qualified in the 100m with a time of 10.27. 
Heath Jr. joined Lang in qualifying for 100m quarterfinals, finishing third in his heat to automatically qualify with a time of 10.38. 
Matt Peare narrowly missed qualification in the pole vault, finishing 13th after coming up just short in a jump off. 
Meet Information 
Thirty-four Wildcats, 19 from the women's team and 16 from the men's team, made the trip to Bloomington and are competing for an NCAA Championships berth. The women are set to conclude the competion on Saturday. 
East preliminaries feature the top 48 in the eastern region in each event with the top 12 in each event qualifying for NCAA Championships in Eugene, Oregon. The rules are the same for the western preliminaries: the top 12 move on to Eugene. 
Live results can be found at flashresults.ncaa.com and Indiana University is running a live stream of the event on their website. 
The first event on Friday is the men's discus and the last is the men's 4x400m at 8:45 p.m. Saturday's schedule is the same but with women's events. 
Below is a list of student-athletes competing in the meet along with the events they qualified for. 
Women: 
Shadajah Ballard – 100m, 100m hurdles, 4x100m 

Perri Bockrath – 3,000m steeplechase 

Karimah Davis – 200m, 4x100m, 4x400m 

Areti Filipidou – discus 

Sophie Galloway – triple jump 

Jade Gates – hammer throw 

Jenna Gearing – 800m 

Tori Herman – 1,500m, 5,000m 

Alexis Holmes – 400m, 4x400m 

Darci Khan – 100m hurdles 

Molly Leppelmeier – shot put, discus, hammer throw 

Deanna Martin – 800m 

Dajour Miles – 200m, 4x400m 

Megan Moss – 400m, 4x400m 

Masai Russell – 100m hurdles, 400m hurdles, 4x400m 

Jenna Schwinghamer – 800m 

Abby Steiner – 100m, 200m, 4x100m, 4x400m 

Siobhan Szerencsits – pole vault 

Annika Williams – long jump 
Men 
Tai Brown – 110m hurdles 

Logan Coles – hammer throw 

Keaton Daniel – pole vault 

Brian Faust – 400m, 4x400m 

Rodney Heath Jr. – 100m, 4x100m 

Langston Jackson – 4x100m 

Lance Lang – 100m, 200m, 4x100m, 4x400m 

Kennedy Lightner – 200m, 4x400m 

Rahman Minor – high jump 

Beck O'Daniel – 400m hurdles 

Matt Peare – pole vault 

Jacob Smith – 200m, 4x400m 

Josh Sobota – shot put, discus 

Robbie Springfield III – long jump 

Dwight St. Hillaire – 400m, 4x100m, 4x400m 

Kenroy Williams – 400m hurdles 
Karimah Davis also qualified as a part of the 48 in the east region in the 100-meter dash, St. Hillaire in the 200m, Lightner in the 400m and Jenna Gearing in the 1,500m but they will not be running those events in Bloomington. 
Follow Kentucky Track and Field and Cross Country on Facebook, Instagram, Twitter and at UKathletics.com.