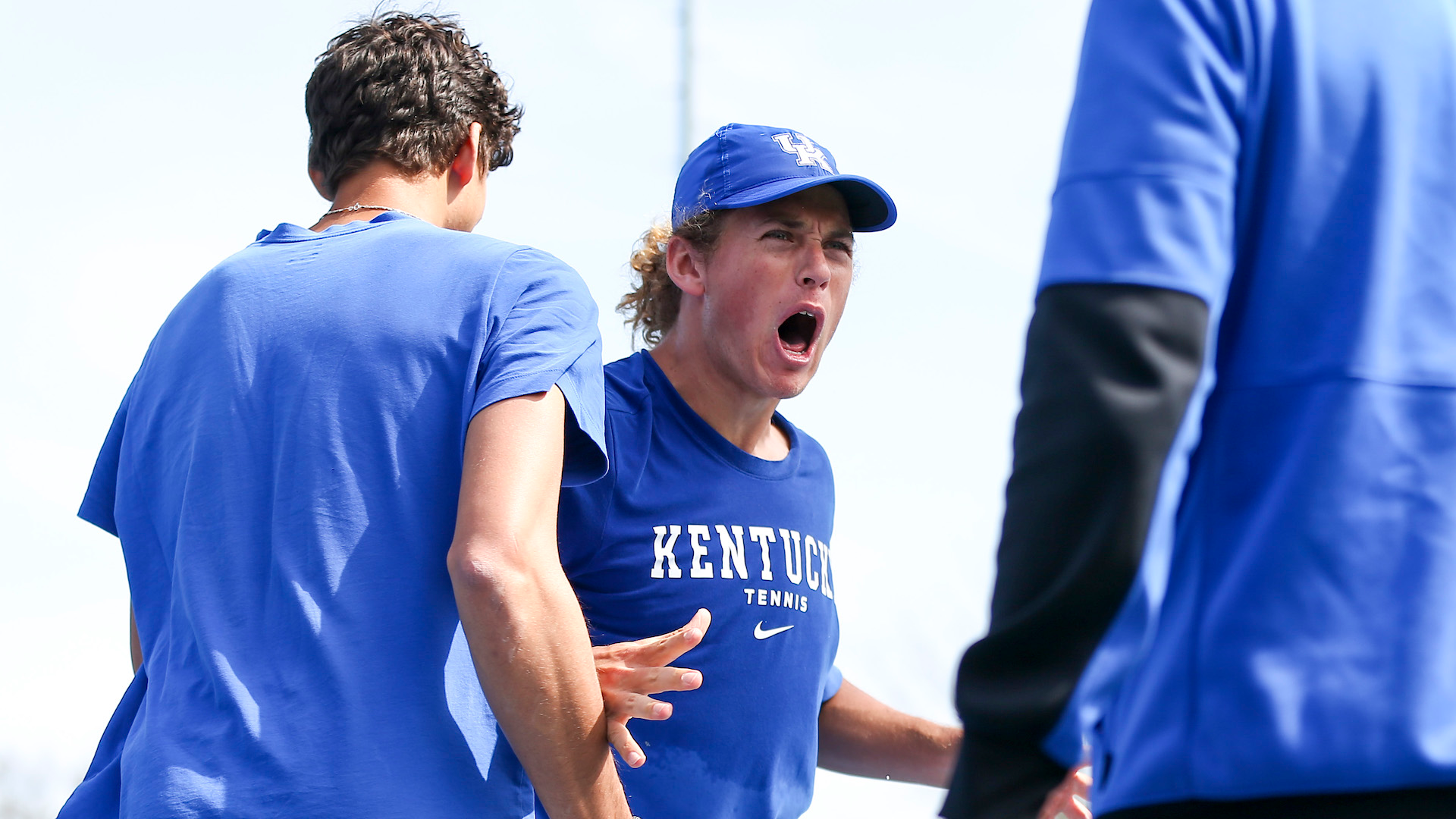 Eight-Seed Kentucky Hosts DePaul in First Round of NCAA Tournament
LEXINGTON, Ky. – The Kentucky Wildcats (21-7) men's tennis team is set to begin their NCAA Tournament run on Friday against the DePaul Blue Demons (13-12) at 1 p.m. ET at the Hilary J. Boone Tennis Complex. 
 
East Tennessee State (20-6) and Northwestern (19-10) are also in the Lexington regional, which was awarded to UK after being named the No. 8 overall seed. ETSU and NU will face off prior to the Wildcats and Blue Demons at 10 a.m. The winners of the two matches will meet in the second round at 1 p.m. on Saturday for a spot in the Sweet 16.
 
Live streaming for Friday's match can be found here. Live stats will be provided here.
 
#UKRising in the rankings
By receiving an at-large selection, Kentucky earned its 29th tournament bid in program history on Monday during the NCAA selection show. The Wildcats were picked as one of the top 16 teams in the country by the selection committee, which allowed UK to host the first and second rounds at its home facility for the second straight year. 
 
In the team rankings, Kentucky moved to No. 9 in the Intercollegiate Tennis Association's ranking while the United States Tennis Association has the Wildcats at No. 7. 
 
Junior Liam Draxl earned his highest singles ranking this season, with the ITA now having him at No. 4 with a 13-6 record. By slotting as the fourth-ranked singles player, Draxl ties the highest ranking of any UK player this season. The Newmarket, Ontario native was recently one of two UK athletes selected to play as an individual in the NCAA Tournament, also earning the fourth overall seed.
 
Joining Draxl in the NCAA Singles Tournament is Gabriel Diallo. Fellow junior Diallo now stands at No. 21 in singles, who is at 30-6 on the year and 16-3 in dual matches.
 
Captain Millen Hurrion moved up nine spots in the singles rankings this week, now at No. 83. The fifth-year holds the second most dual-match wins and ranked wins on the team this season at 17-6 and 7-6 respectively.
 
Rounding out the Wildcats ranked in singles is sophomore Joshua Lapadat at No. 113. He has been as consistent as they come this year, going 19-2 in the spring season, including a perfect 11-0 in Southeastern Conference play and 15-1 at the five spot.
 
In doubles, Hurrion and Francois Musitelli take over as the team's highest ranked pair at No. 55. Together, they have manned court one and accumulated a 5-5 record this season. No. 60 Draxl and Hurrion make their eighth appearance in the doubles rankings together this season as well.
 
Scouting the Blue Demons
DePaul went 13-12 this season en route to a second-straight Big East Tournament championship, going undefeated in conference play. The squad has played two ranked opponents this year in No. 49 Charlotte and No. 34 Notre Dame but lost to both teams. DePaul went 1-8 in road matches this year and 6-4 in neutral site affairs. 
 
Junior Vito Tonejc has held down the top spot for DePaul during its dual matches this season, going 20-3 and earning his second consecutive Big East Player of the Year award. He split his four matches against opponents in the Intercollegiate Tennis Association singles rankings, going 2-2. 
 
Marino Jakic is the lone Blue Demon who was featured in the singles rankings this year, clocking in at No. 124 on December 8, 2021. The freshman finished 14-11 in dual matches, including a 11-10 record while playing on court two. 
 
In doubles, Jakic and Toneic have been the team's most frequent tandem at the top spot. They finished 12-9 in the spring, beating two ranked opponents. 
 
Ticket information
Tickets to both the first and second rounds are on sale now and fans are encouraged to purchase tickets in advance. Youth and senior tickets are priced at $8, adults will be $10 per ticket and children ages two and under will receive free admission. Full-time UK students may show their valid UK student ID at the ticket trailer outside of the Hilary J. Boone Tennis Complex on match day for a free ticket. All seating is general admission. Tickets can be purchased here.
 
All pre-purchased tickets will be available via Mobile Delivery. Ticket purchasers will be able to access their tickets electronically through My UK Account or the UK Athletics app after purchase using the email they purchased the tickets with. Additional mobile ticket information may be found online at UKAthletics.com/mobiletickets. 
 
Additional information 
Parking will be available in the lot directly across from the tennis facility, in the E-lot and in Lot C-16 near Cliff Hagan Stadium. Additional parking can be found in the green lot of Kroger Field. PS7 is pay-to-park on Friday and will be free Saturday.
 
UK Athletics' clear bag policy will also be in effect with each fan being permitted to carry one large clear bag. Non-compliant bags, empty or not, may not be carried inside. Backpacks and drawstring/cinch bags are not permitted. Additional information regarding the clear bag policy may be found online at UKAthletics.com/clearbag.
 
Fans should continue to check UKAthletics.com and official social media accounts for the most up-to-date information, including weather updates.
 
Schedule
Friday, May 6
10 a.m. – Northwestern vs. ETSU
1 p.m. – Kentucky vs. DePaul
 
Saturday, May 7
1 p.m. – Match 1 winner vs. Match 2 winner
 
For the latest on the Kentucky men's tennis team, follow @UKMensTennis on Twitter and Facebook, @kentuckymenstennis on Instagram, and on the web at UKAthletics.com.