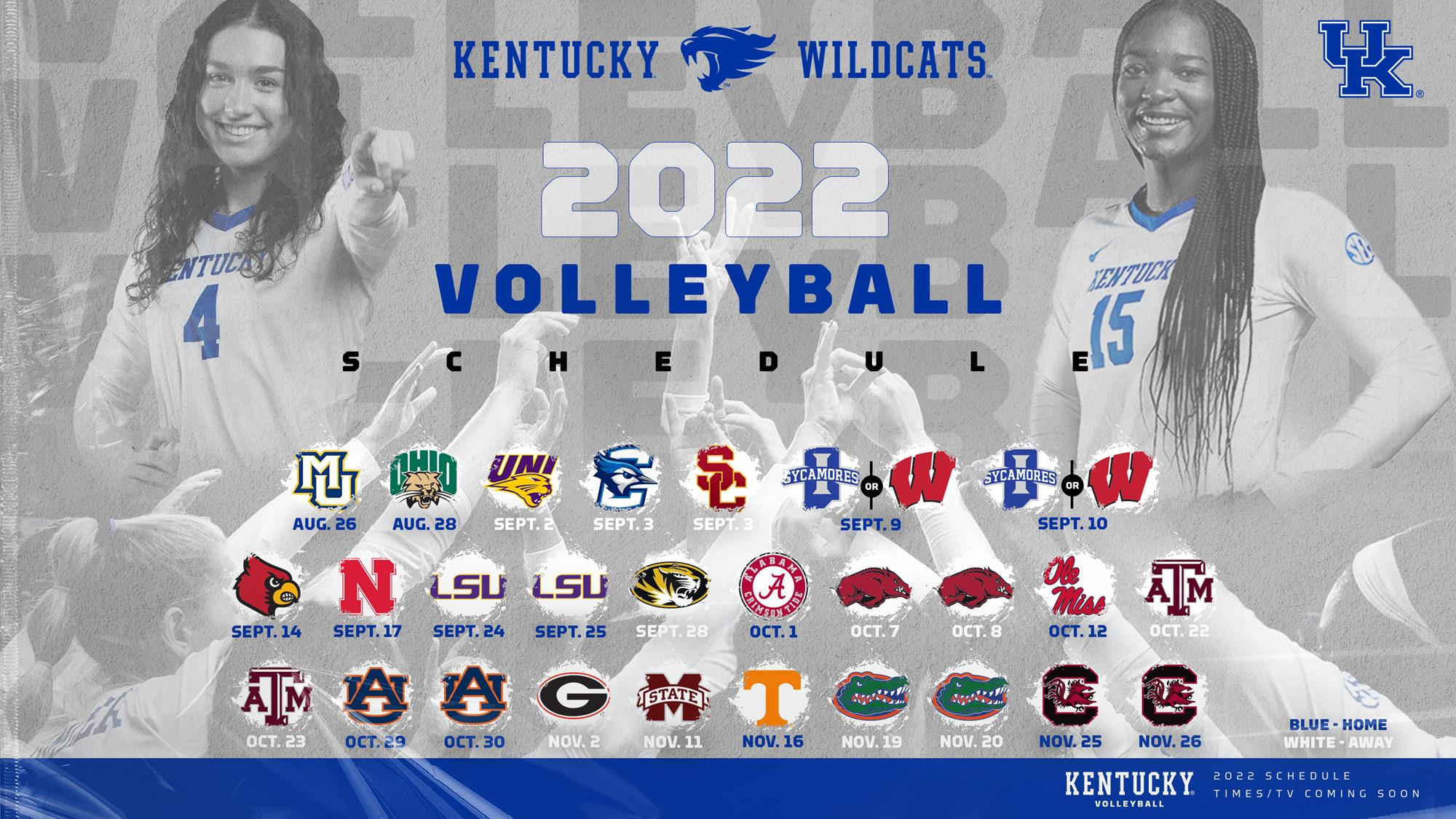 Kentucky Volleyball Announces 2022 Dates and Opponents
UPDATE TO STORY – Nebraska @ Kentucky has been moved to Sunday, Sept. 18 due to TV scheduling. 
LEXINGTON, Ky.– The Kentucky Volleyball program announced the dates and opponents of its 2022 schedule Thursday afternoon, featuring nine non-conference match-ups and 18 Southeastern Conference matches.
 
Kentucky will open the 2022 season inside Memorial Coliseum against Marquette and Ohio University on Aug. 26 and 28. Those two matches are part of a six-match home non-conference slate of matches that Big Blue Nation will get to see inside Memorial this season.
 
Defending national champion Wisconsin will play Kentucky either Sept. 9 or Sept 10 with the Wildcats playing host to Indiana State on the other day of that weekend.
 
The annual Battle of the Bluegrass between UK and Louisville will return to Lexington on Wednesday, Sept. 14 before annual powerhouse Nebraska pays a visit to Lexington three days later on Sept. 17.
 
The 2022 Southeastern Conference schedule kicks off Sept. 24 against LSU in Lexington for the first of two matches in two days, as the SEC will use a similar scheduling model to 2021 with teams playing six two-match series, and six single-match games against one opponent.
 
In addition to LSU, Alabama, Ole Miss, Auburn, Tennessee and South Carolina will play Kentucky in Memorial Coliseum this season. The Wildcats will travel to Mizzou, Arkansas, Texas A&M, Georgia, Mississippi State and Florida during league play.
 
Information on tickets will be announced later in the summer, so fans are asked to check UKathletics.com for the most up-to-date information for renewals and new season ticket opportunities.
 
Times and television assignments will be announced later this summer.
 
2022 Kentucky Volleyball Dates and Opponents
Aug. 26 – MARQUETTE
Aug. 28 – OHIO
Sept. 2 – vs. Northern Iowa (Omaha)
Sept. 3 – at Creighton
Sept. 3 – vs. USC (Omaha)
Sept. 9 – WISCONSIN or INDIANA STATE
Sept. 10 – WISCONSIN or INDIANA STATE
Sept. 14 – LOUISVILLE
Sept. 18 – NEBRASKA
Sept. 24 – LSU*
Sept. 25 – LSU*
Sept. 28 – at Missouri
Oct. 1 – ALABAMA*
Oct. 7 – at Arkansas*
Oct. 8 – at Arkansas*
Oct. 12 – OLE MISS*
Oct. 22 – at Texas A&M*
Oct. 23 – at Texas A&M*
Oct. 29 – AUBURN*
Oct. 30 – AUBURN*
Nov. 2 – at Georgia*
Nov. 11 – at Mississippi State*
Nov. 16 – TENNESSEE*
Nov. 19 – at Florida*
Nov. 20 – at Florida*
Nov. 25 – SOUTH CAROLINA*
Nov. 26 – SOUTH CAROLINA*
 
Follow along with the Wildcats on Twitter, Facebook and Instagram, and on the web at UKathletics.com.