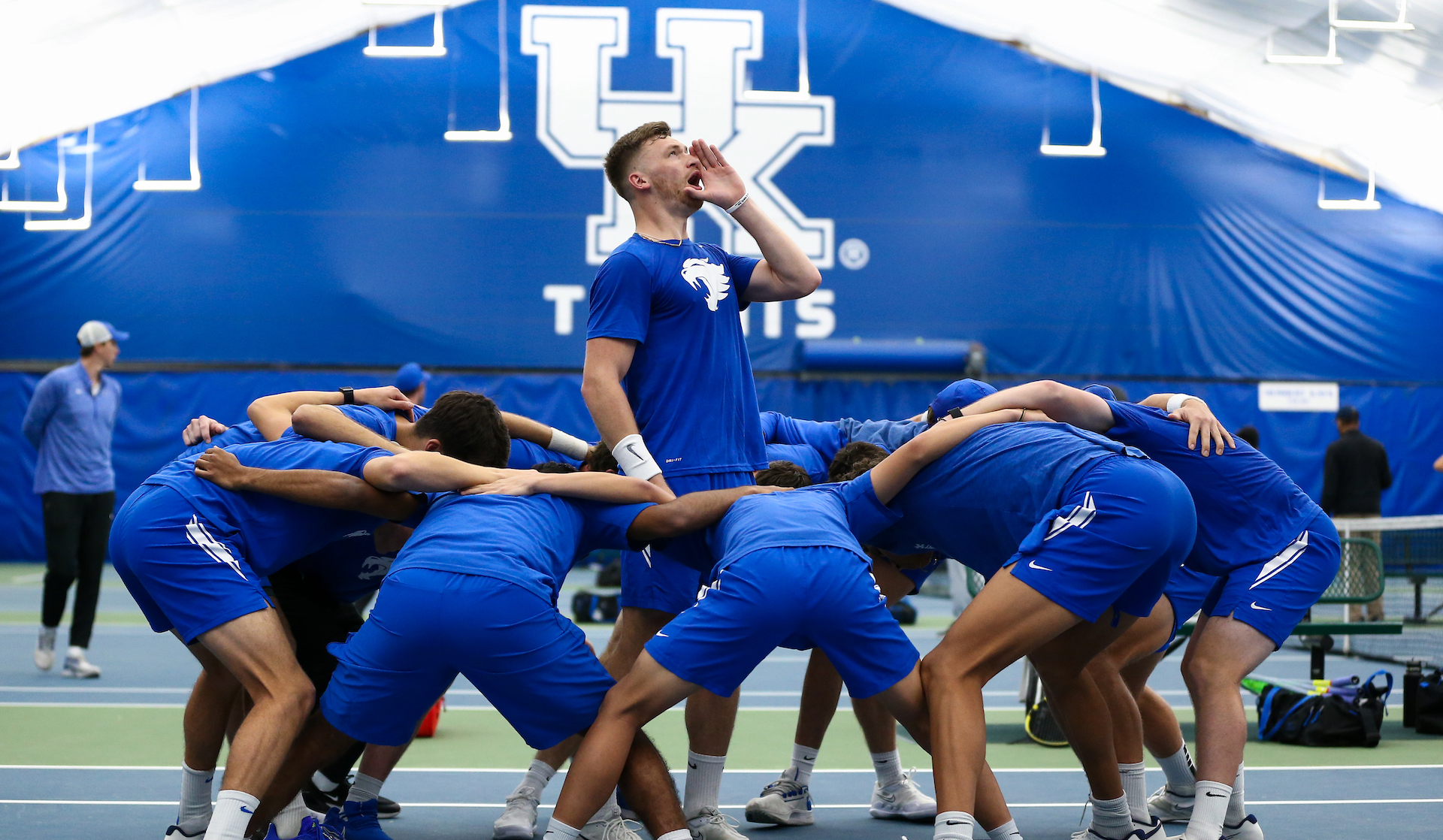 March 20, 2022 - 05:59 PM
Hurrion Leads Kentucky to First Win Over Texas A&M Since 2016
LEXINGTON, Ky. – Team captain Millen Hurrion picked up his second-straight singles win over a ranked opponent as the No. 13 Kentucky Wildcats overpowered the No. 22 Texas A&M Aggies on Sunday afternoon, winning the match by a 6-1 score at the Hilary J. Boone Tennis Complex.
 
With the victory, UK moves to 13-4 overall and 4-1 in Southeastern Conference play. The Aggies drop to 14-8 on the year and picked up its first SEC loss, now sitting at 3-1 in its conference matches. The match marked the first time Kentucky defeated Texas A&M since it last did so on April 8, 2016, also on its home court. 
 
"I've just been working really hard, trying to get the point in singles for my boys," said Hurrion. "Everyone showed out today, so I'm really happy, in my last year, to beat A&M. It hasn't been like this for a few years."
 
The Weymouth, England, native impressed from start to finish, opening the match with a 6-1 win in doubles with partner Francois Musitelli. By taking down Aggies' Kenner Taylor and Noah Schachter, the tandem picked up their first win together and went 1-1 on the weekend.
 
The remaining doubles matches were close after the one spot finished up. Both Joshua Lapadat and JJ Mercer as well as Liam Draxl and Alexandre Leblanc were locked in battles, with each match score at 5-4. Lapadat and Mercer were the ones to pull away, picking up a team-high ninth victory in doubles and securing the doubles point for the first time in the team's last four matches.
 
The score was tied at one after the first match in singles competition wrapped up, though. Redshirt junior Jonathan Sorbo was unable to find any momentum but fought hard in his first completed match of the season, falling to Luke Casper 6-2, 6-1.
 
That was the last time Texas A&M would put any points toward their team total, however. From there, it was all blue and white. 
 
No. 37 Lapadat took the momentum from doubles and pushed it straight into his singles match. The sophomore was in control from start to finish, going 3-1 in his matches this weekend and beating Giulio Perego 6-2, 6-1. Lapadat has won seven singles matches in a row, sitting at 20-5 on the year and is now the third Wildcat to reach 20 singles wins, joining No. 10 Gabriel Diallo and No. 60 Musitelli. 
 
Fifth-year Hurrion also put together a masterful first set in his match against No. 98 Raphael Perot. After falling behind 3-4 in the second set, the captain won three straight games to win the match and earn back-to-back wins over ranked singles competition.
 
With the match at 3-1 in Kentucky's favor, courts one, three and four were in heated contests to clinch the match. 
 
No. 60 Musitelli was in a close 6-5 match in the first set on court four but managed to pull away and avoid a tiebreaker. The Dijon, France native locked in and controlled the second set, picking up his second straight match-clinching point by beating Matthis Ross 7-5, 6-2. 
 
Hurrion, Lapadat and Musitelli all lead the team in singles wins this spring with 11 each. 
 
Reigning Intercollegiate Tennis Association Player of the Year Draxl started hot in his match against Schachter but found himself down in the first set 6-5. The fire in the Newmarket, Ontario native kept ablaze as he willed his way into a tiebreaker set. 
 
Each point was a grind, but Draxl prevailed and carried that energy to the second set, pulling out a remarkable 7-6(9-7), 6-3 win. The junior improved to 8-2 on the year in singles and went a perfect 3-0 in matches this weekend.
 
That left No. 10 Diallo to close out the afternoon on court three, who tied up his match by dominating the second set after dropping the first in a tiebreaker. With the win already clinched for Kentucky, Diallo and Guido Marson played the third set as a first to 10, win by two super tiebreaker to finish the day.
 
The Montreal native opened the final set slowly, falling behind 6-2 before finding his groove. Diallo managed to stay focused and did not give up, pulling it within two but still trailing 8-6. Five out of the last six points were in favor of Diallo, as he managed to pick up an inspiring 6-7(7-2), 6-1, 11-9 win and stay a perfect 8-0 in the spring season.
 
After a two match homestand, Kentucky will play its next two SEC matches on the road this coming weekend. The Wildcats will first travel to Nashville, Tennessee, for a Friday tilt against No. 29 Vanderbilt at 6 p.m. ET and close out the weekend on Sunday at 2 p.m. against No. 31 Ole Miss.
 
#13 Kentucky 6, #22 Texas A&M 1
 
Singles competition
1. Liam Draxl (UK) def. Noah Schachter (TAMU) 7-6 (9-7), 6-3
2. Millen Hurrion (UK) def. #98 Raphael Perot (TAMU) 6-1, 6-4
3. #10 Gabriel Diallo (UK) def. Guido Marson (TAMU) 6-7 (7-2), 6-1, 11-9 
4. #60 Francois Musitelli (UK) def. Matthis Ross (TAMU) 7-5, 6-2
5. #37 Joshua Lapadat (UK) def. Giulio Perego (TAMU) 6-2, 6-1
6. Luke Casper (TAMU) def. Jonathan Sorbo (UK) 6-2, 6-1
Order of finish: 6, 5, 2, 4*, 1, 3
 
Doubles competition
1. Millen Hurrion/Francois Musitelli (UK) def. Kenner Taylor/Noah Schachter (TAMU) 6-1 
2. JJ Mercer/Joshua Lapadat (UK) def. Stefan Storch/Matthis Ross (TAMU) 6-4
3. Alexandre LeBlanc/Liam Draxl (UK) vs. Pierce Rollins/Giulio Perego (TAMU) 5-4, unfinished
Order of finish: 1, 2*
 
For the latest on the Kentucky men's tennis team, follow @UKMensTennis on Twitter and Facebook, @kentuckymenstennis on Instagram, and on the web at UKAthletics.com.
 
– GO CATS –
For more information contact:
Ryan Cullinane (rrcu222@uky.edu) – (859) 257-8309