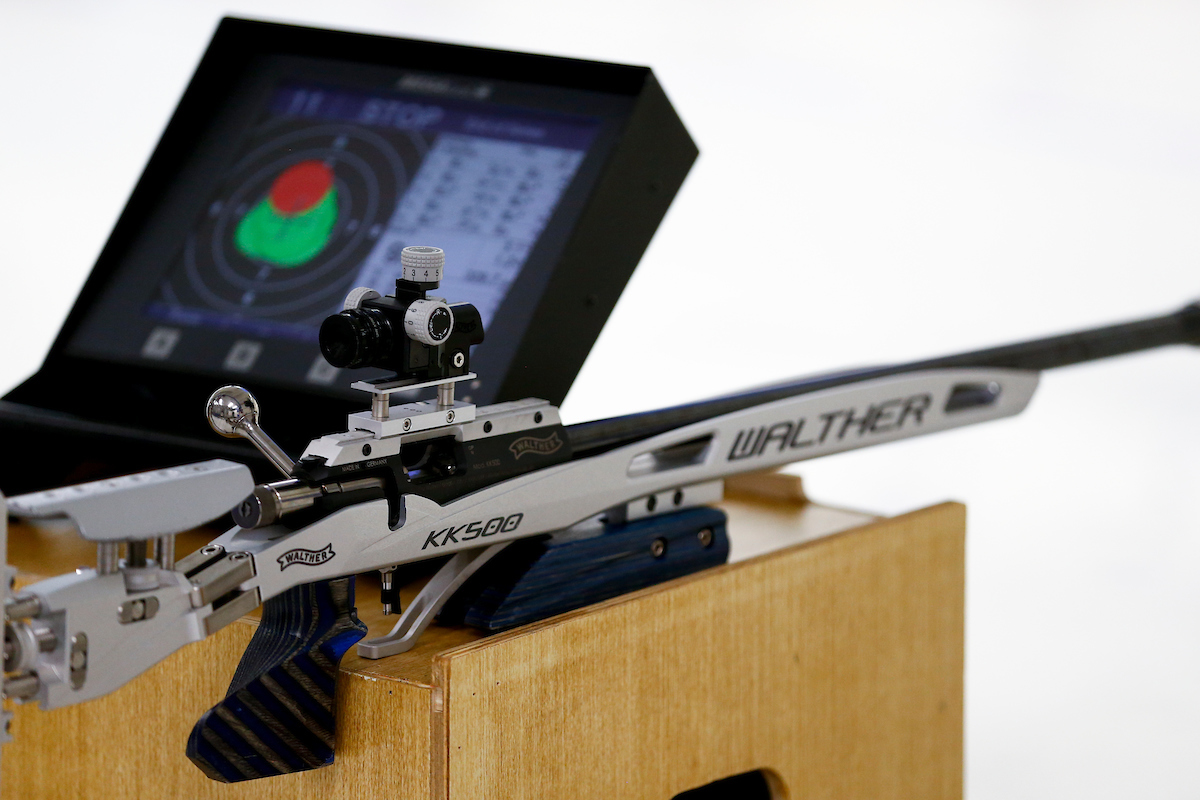 LEXINGTON, Ky. – University of Kentucky rifle stars Will Shaner, Mary Tucker and Richard Clark have earned All-America honors from the Collegiate Rifle Coaches Association for their tremendous seasons leading Kentucky to its fourth NCAA national championship, it was announced Friday.
Shaner and Tucker each earned first-team All-America honors in aggregate, smallbore and air rifle, while Clark was third-team aggregate and second-team in smallbore and air rifle. Shaner was named the CRCA Senior of the Year, while Tucker was tabbed the CRCA Most Valuable Shooter.
This is the fourth straight year that Shaner has been first-team CRCA All-America in all three categories and the third straight year that Tucker has earned first-team honors in all three disciplines. Clark was honorable mention All-America in air rifle by the CRCA as a sophomore. Shaner and Tucker also received first-team All-Great America Rifle Conference honors in all three disciplines this season with Shaner taking home the conference's senior of the year award as well. Clark was named second-team All-GARC in air rifle and combined and was honorable mention in smallbore.
Shaner had a great showing recently in the NCAA Championships, winning the national individual championship in smallbore. Shaner posted a 592 in smallbore and 595 in air rifle at the NCAA Championships, helping Kentucky to the national team title. On the season, Shaner sat second on the team with a 1186.454 aggregate average, earning a 589.818 in smallbore and 596.636 in air rifle. The native of Colorado Springs, Colorado, set a career high smallbore score this season when he posted a 596 at Army, while he has tied his career best air rifle score of 599 twice. Last season, Shaner was the NCAA Air Rifle Individual National Runner-Up while earning Collegiate Rifle Coaches Association All-America honors in smallbore, air rifle and overall. Last summer, he became the first American male to win gold in men's 10m air rifle, setting an Olympic record score (251.6) in Tokyo.
Tucker was the CRCA Shooter of the Year each of the last two seasons on top of CRCA First Team honors both years in all three areas. She led Kentucky this season averaging 590.182 in smallbore, 597 in air rifle and an aggregate of 1187.182. At the NCAA Championships, Tucker earned second place in both the smallbore and air rifle individual championships while she was awarded the most valuable performer trophy overall. She has accomplished her season-high smallbore score of 594 twice as she is one of five athletes in the NCAA to record a 594 or higher in smallbore this season. Tucker shot her second perfect 600 in air rifle this season as she is one of six athletes in the NCAA to accomplish the feat. The native of Sarasota, Florida, is one of four athletes in the NCAA To score a 1194 or higher aggregate this season. Last season, Tucker was the NCAA Smallbore, Air Rifle and Combined Individual National Champion.
Clark had a monster season for Kentucky, averaging 585.538 in smallbore and 597.077 in air rifle for an aggregate average of 1179.615, which ranks third best on the UK squad. At the NCAA Championships, Clark posted a 589 in smallbore and 594 in air rifle. The native of Jackson, Michigan, has set career highs this year in both disciplines with a 592 in smallbore vs. Murray State and 598 in air rifle at Army. Last year at the NCAA Championships, he shot a 585 in smallbore and 594 in air rifle to help UK clinch the title. He was named All-GARC Smallbore Honorable Mention last season.
For more information on the Kentucky rifle team, visit UKathletics.com or follow UKRifle on Twitter, Instagram and Facebook.
CRCA Aggregate All-America
Will Shaner – First Team
Mary Tucker – First Team
Richard Clark – Third Team
CRCA Smallbore All-America
Will Shaner – First Team
Mary Tucker – First Team
Richard Clark – Second Team
CRCA Air Rifle All-America
Will Shaner – First Team
Mary Tucker – First Team
Richard Clark – Second Team
CRCA Senior of the Year – Will Shaner
CRCA Most Valuable Shooter of the Year – Mary Tucker