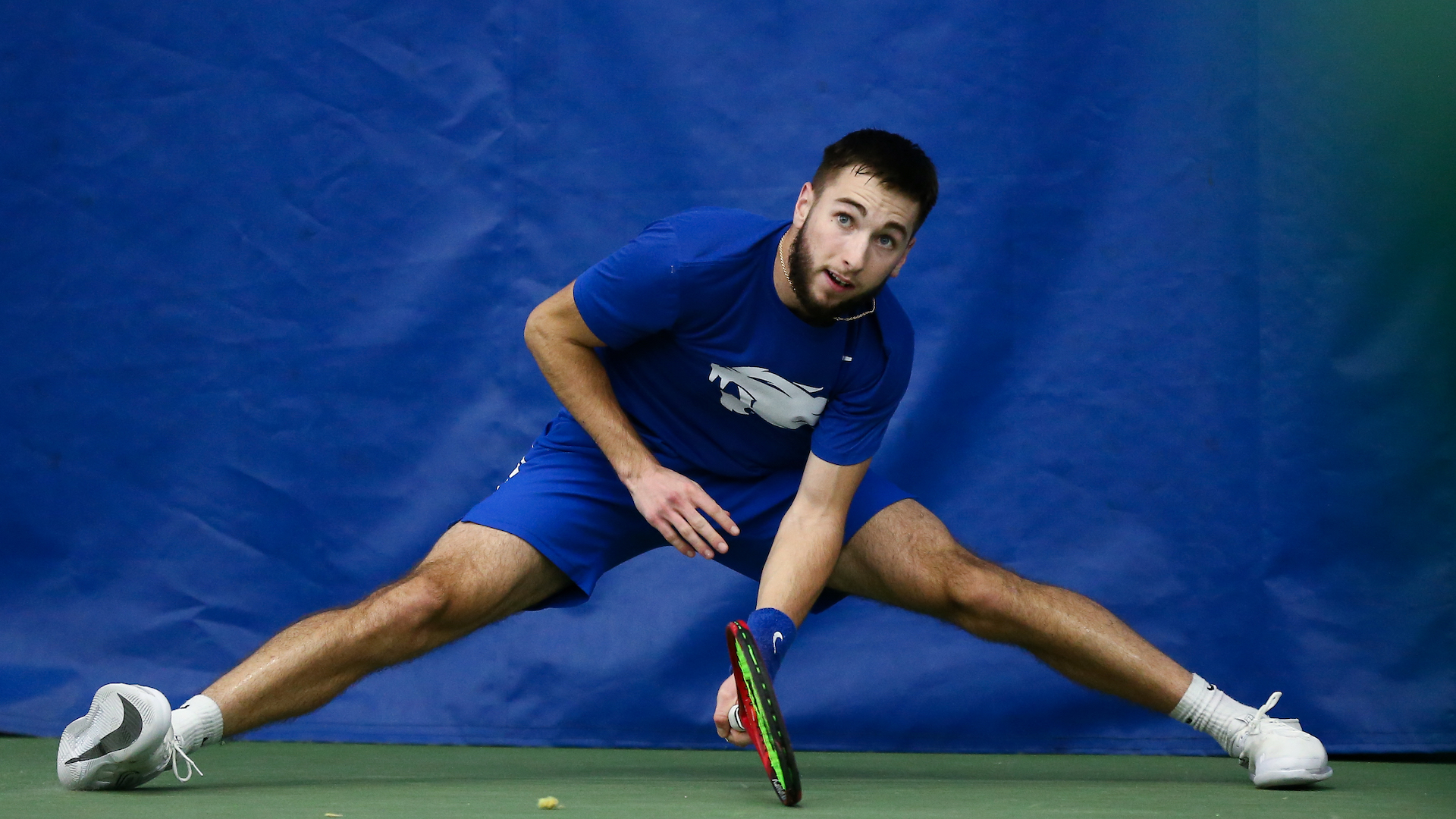 Lapadat, Musitelli Earn Ranked Wins as Kentucky Falls to Florida
LEXINGTON, Ky. – The ninth-ranked Kentucky Wildcats (10-4, 1-1 SEC) fought hard against the No. 5 Florida Gators but came up just short on Sunday afternoon, dropping their first match at the Hilary J. Boone Tennis Center this season by a 4-3 score.
 
Sophomore Joshua Lapadat and graduate student Francois Musitelli impressed in their matches against the defending national champions despite the loss, picking up wins against ranked competition in straight sets. Lapadat improved to 8-1 on the spring season and 2-0 in ranked matches, while Musitelli moves to 8-2 overall and 4-2 in such contests.
The Gators came out aggressive in their first road SEC match of the season. In doubles competition, Musitelli and Yasha Zemel were unable to take down UF's Duarte Vale and Nate Bonetto, dropping just their third match of the season, 6-1. Lapadat and JJ Mercer were unable to respond, with Andy Andrade and Mattias Siimar beating the UK tandem 6-3 to clinch the doubles point.
 
Captain Millen Hurrion was the first match in singles competition to complete, falling 6-2, 6-2 to Florida's No. 63 Sam Riffice. However, Kentucky responded with wins of its own to tie the match at two.
 
No. 9 Gabriel Diallo put the first point on the board for Kentucky. With the junior's win over Duarte Vale, he stayed unbeaten on the season in singles and earned his seventh win. 
 
Following Diallo was No. 69 Musitelli, who upset No. 36 Andy Andrade in a gritty 7-5, 7-6(8-6) victory. The Dijon, France, native is now 6-1 from the four spot.
 
Florida was able to regain a lead after Liam Draxl was defeated for just the second time. The reigning Intercollegiate Tennis Association Player of the Year fell after an impressive first set against No. 3 Ben Shelton, dropping the match 5-7, 6-3, 6-2.
 
Lapadat then earned the team's second individual ranked win of the day over No. 113 Josh Goodger, tying the match at three with just one singles match remaining. Mercer battled Nate Bonetto in a tight match but came just short by a 7-6(10-8), 7-5 score. 
 
After going 1-1 in its opening weekend of SEC play, UK will play next on March 13 at 2 p.m. ET for its first conference road test. The Arkansas Razorbacks will host the Wildcats as the team travels to Fayetteville, Arkansas, to play at the Billingsley Tennis Center. Most recently, Arkansas dropped its home match against Vanderbilt 5-2 on Sunday.
 
Florida 4, Kentucky 3
 
Singles
 
1. #3 Ben Shelton (UF) def. Liam Draxl (UK) 5-7, 6-3, 6-2
2. #63 Sam Riffice (UF) def. Millen Hurrion (UK) 6-2, 6-2
3. #9 Gabriel Diallo (UK) def. Duarte Vale (UF) 6-1, 4-6, 6-3
4. #69 Francois Musitelli (UK) def. #36 Andy Andrade (UF) 7-5, 7-6 (8-6) 
5. #90 Joshua Lapadat (UK) def. #113 Josh Goodger (UF) 7-6 (7-0), 6-1 
6. Nate Bonetto (UF) def. JJ Mercer (UK) 7-6 (10-8), 7-5
Order of finish: 2, 3, 4, 1, 5, 6*
 
Doubles
 
1. #26 Liam Draxl/Millen Hurrion (UK) vs. Sam Riffice/Ben Shelton (UF) 4-5, unfinished 
2. Andy Andrade/Mattias Siimar (UF) def. Joshua Lapadat/JJ Mercer (UK) 6-3
3. Duarte Vale/Nate Bonetto (UF) def. Francois Musitelli/Yasha Zemel (UK) 6-1
Order of finish: 3, 2*
 
For the latest on the Kentucky men's tennis team, follow @UKMensTennis on Twitter and Facebook, @kentuckymenstennis on Instagram, and on the web at UKAthletics.com.
 
– GO CATS –
For more information contact:
Ryan Cullinane (rrcu222@uky.edu) – (859) 257-8309