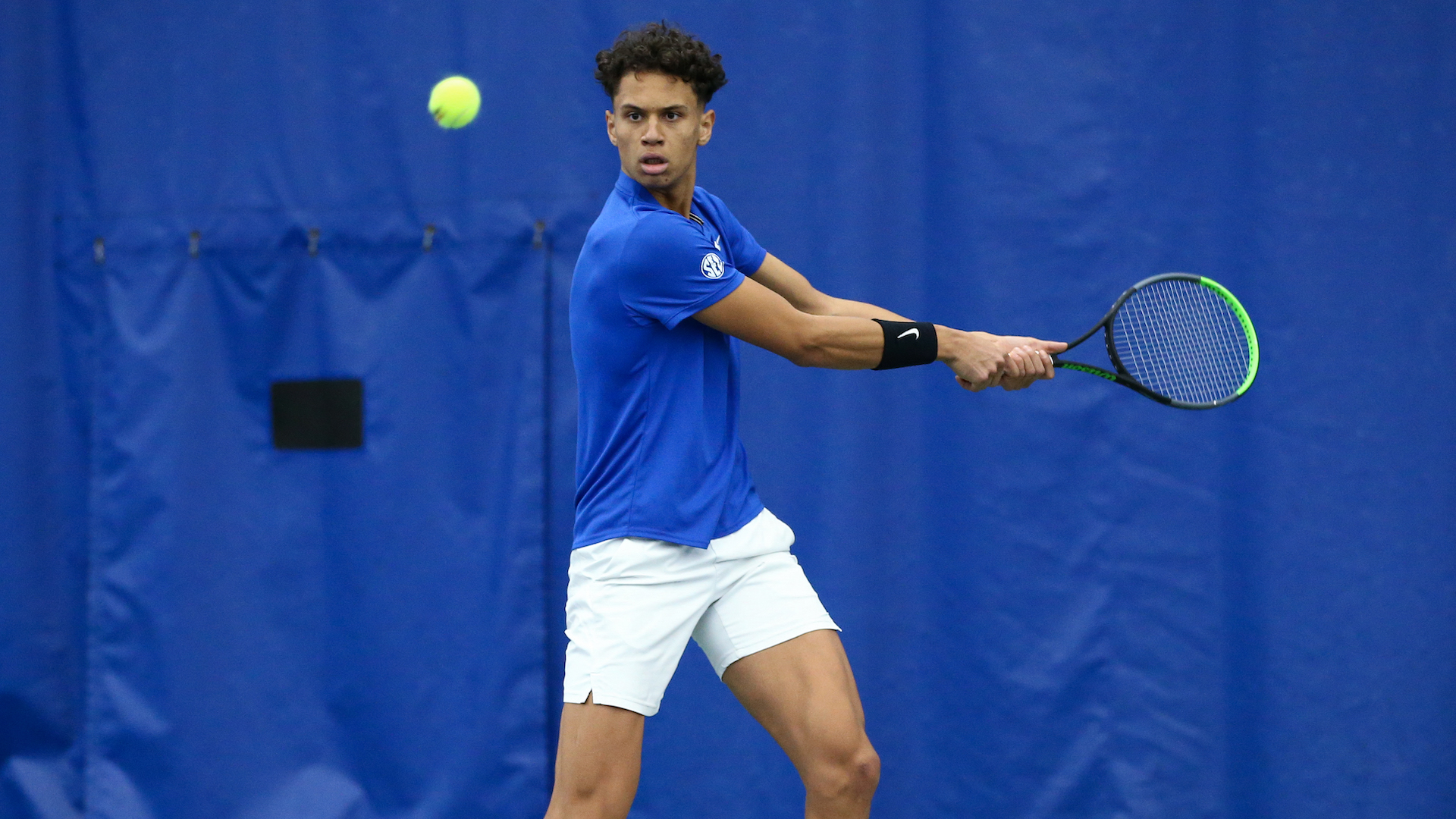 Kentucky Sweeps Alabama to Earn First Conference Win
LEXINGTON, Ky. – In its first outdoor match of the season, the No. 9 Kentucky Wildcats (10-3, 1-0 SEC) stayed as cold as the crisp Friday night air, sweeping the Alabama Crimson Tide (4-9, 0-1 SEC) in its first Southeastern Conference matchup, 7-0, at the Hilary J. Boone Tennis Complex. 
 
Three Wildcats won their singles matches in straight sets, led by Montreal native Gabriel Diallo who defeated German Samofalov by a 6-2, 6-2 score.
 
"Throughout the years, we've always had battles against Alabama, so I think it was a really good win. Now, all eyes on Florida on Sunday," said Diallo. 
 
UK opened the match in impressive fashion, quickly earning the doubles point behind Francois Musitelli and Yasha Zemel. The tandem won their match against Patrick Kaukovalta and Juan Martin, 6-2, just before Joshua Lapadat and JJ Mercer took theirs. After besting Enzo Aguiard and Joao Ferreira 6-1, Lapadat and Mercer picked up their team-high eighth victory in doubles competition.
 
Reigning Intercollegiate Tennis Association Player of the Year Liam Draxl came out and immediately applied the pressure to Filip Planinsek. Thanks to some stellar play from the junior, Draxl managed to earn the first point in singles for Kentucky, winning 6-1, 6-1 over Planinsek. No. 9 Diallo followed suit shortly after and put the match at 3-0 in favor of UK.
 
No. 69 Musitelli followed up a solid outing at the ITA Indoor Championships in Seattle with a match clinching point for the blue and white, defeating Juan Martin 6-3, 6-4. The graduate transfer improved to 7-2 on the season with the win.
 
After taking a monstrous first set that saw a tiebreaker score reach 11-9 in favor of the captain, Millen Hurrion was able to keep Enzo Aguiard at bay and won 7-6(11-9), 6-4. No. 90 Lapadat and Zemel rounded out the sweep for UK and concluded the team's first SEC tilt.
 
UK will next host the fifth-ranked Florida Gators in its 1 p.m. ET match to close out the weekend. Kentucky looks to pick up its first win against UF since 2017, which it also won at the Boone Center. Most recently, Florida swept No. 6 South Carolina 7-0 at its home facility in Gainesville, Florida on Friday evening. 
 
Kentucky 7, Alabama 0
 
Singles
 
1. Liam Draxl (UK) def. Filip Planinsek (UA) 6-1, 6-1
2. Millen Hurrion (UK) def. Enzo Aguiard (UA) 7-6 (11-9), 6-4
3. #9 Gabriel Diallo (UK) def. German Samofalov (UA) 6-2, 6-2 
4. #69 Francois Musitelli (UK) def. Juan Martin (UA) 6-3, 6-4
5. #90 Joshua Lapadat (UK) def. Joao Ferreira (UA) 2-6, 6-3, 6-1 
6. Yasha Zemel (UK) def. Zach Foster (UA) 6-4, 6-7 (4-7), 10-7
Order of finish: 1, 3, 4*, 2, 6, 5
 
Doubles
 
1. #26 Liam Draxl/Millen Hurrion (UK) vs. Filip Planinsek/German Samofalov (UA) 2-4, unfinished 
2. Joshua Lapadat/JJ Mercer (UK) def. Enzo Aguiard/Joao Ferreira (UA) 6-1
3. Francois Musitelli/Yasha Zemel (UK) def. Patrick Kaukovalta/Juan Martin (UA) 6-2
Order of finish: 3, 2*
 
For the latest on the Kentucky men's tennis team, follow @UKMensTennis on Twitter and Facebook, @kentuckymenstennis on Instagram, and on the web at UKAthletics.com.
 
– GO CATS –
For more information contact:
Ryan Cullinane (rrcu222@uky.edu) – (859) 257-8309