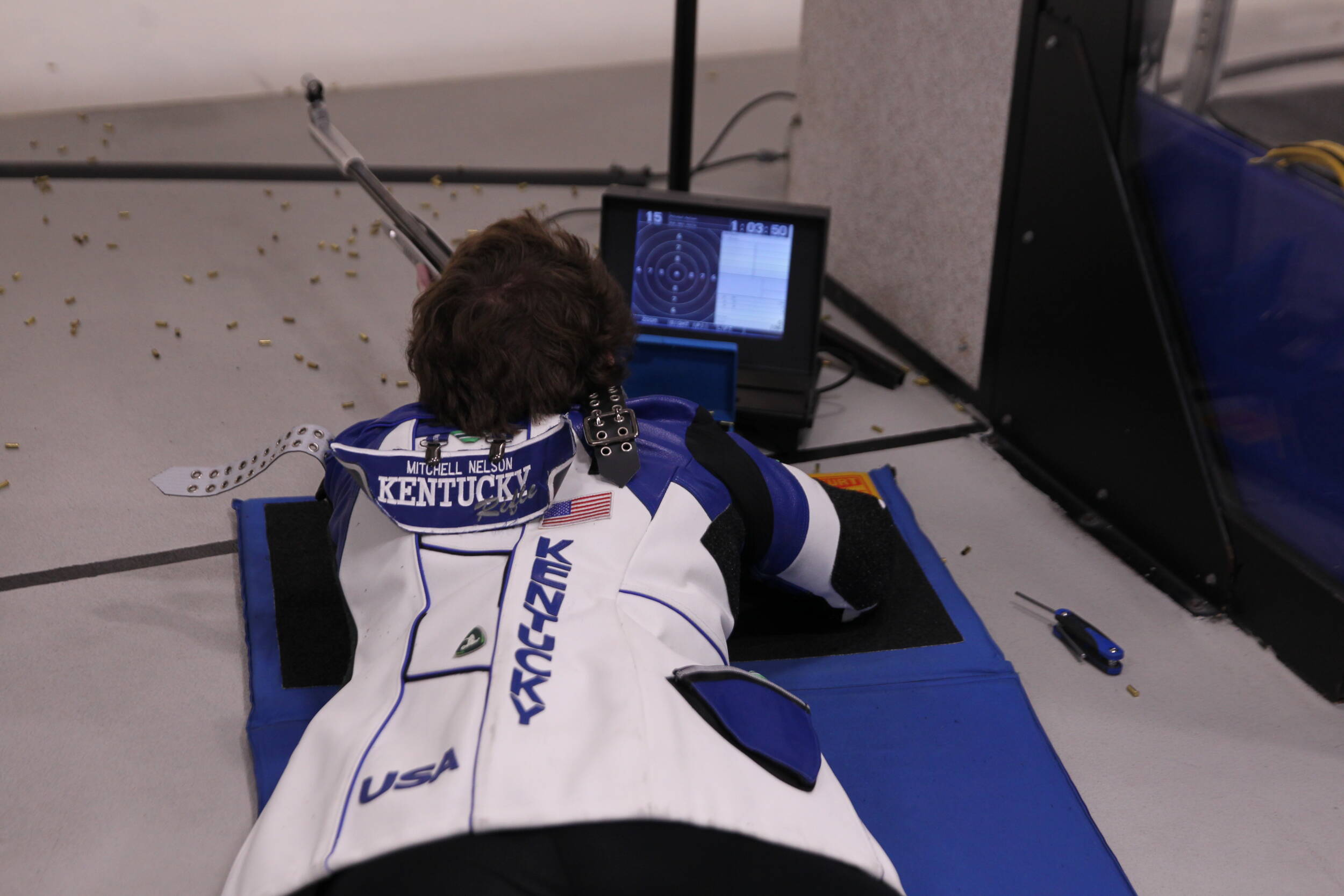 WEST POINT, New York – University of Kentucky junior Mary Tucker posted the highest individual smallbore score of the day as the Wildcats posted a team smallbore score of 2352 to sit atop the leaderboard after day one of the Great America Rifle Conference Championships in West Point, New York.
The two-day event began Friday with smallbore relays and will conclude Saturday with air rifle relays. Competition will resume Saturday at approximately 8 a.m. ET with an eight-finalist individual format to follow. Army, Akron, Memphis, Navy, NC State, Nebraska, Ole Miss and West Virginia are joining UK at the event. Live stats are available ukathletics.com.
Tucker paced the Wildcats on the day with a strong 593, which was the highest individual score Friday. Tucker posted a 199 in kneeling, 197 in prone and 197 in standing for the high total. Freshman Allison Buesseler posted a new career high in smallbore Friday with a 589, shooting a 197 in kneeling and prone and 195 in standing. Both Tucker and Buesseler made the smallbore individual final after all relays were complete. Tucker finished fifth in the final with Buesseler finishing seventh.
Senior Richard Clark and senior Will Shaner completed the team score for Kentucky. Both shooters performed in the second relay with Clark scoring a 586 while Shaner earned a 584. Jaden Thompson, who was also in the lineup for Kentucky, shot a 577. In non-countable competition, senior Mitchell Nelson shot a 584, junior Emmie Sellers a 572 and freshman Tori Kopelen a 574. Kopelen, fellow freshman Kayla Kalenza and junior Mason Hamilton, each shot air rifle as well Friday. Kopelen earned a 584, while Kalenza set a new career high with a 590 and Hamilton earned a 586.
West Virginia and Ole Miss – who each shared a piece of the GARC Regular-Season Championship title with Kentucky – sit in second and third, respectively. WVU scored a 2345 thanks to a 590 by Tal Engler and 588 by Akihito Shimizu. Ole Miss earned a 2343 behind Lea Horvath's 591 and Abby Buesseler a 586. Navy earned a 2333, Akron 2325, Army 2323, Memphis 2317 and NC State 2309.
Following the GARC Championships, Kentucky will compete in the NCAA Rifle Championship. The national event will take place from March 11-12 inside the United States Air Force Academy's Clune Arena in Colorado Springs, Colorado. Individual and team competition in smallbore is scheduled for Friday, March 11 while air rifle competition will be on Saturday, March 12.
For more information on the Kentucky rifle team, visit UKathletics.com or follow UKRifle on Twitter, Instagram and Facebook.