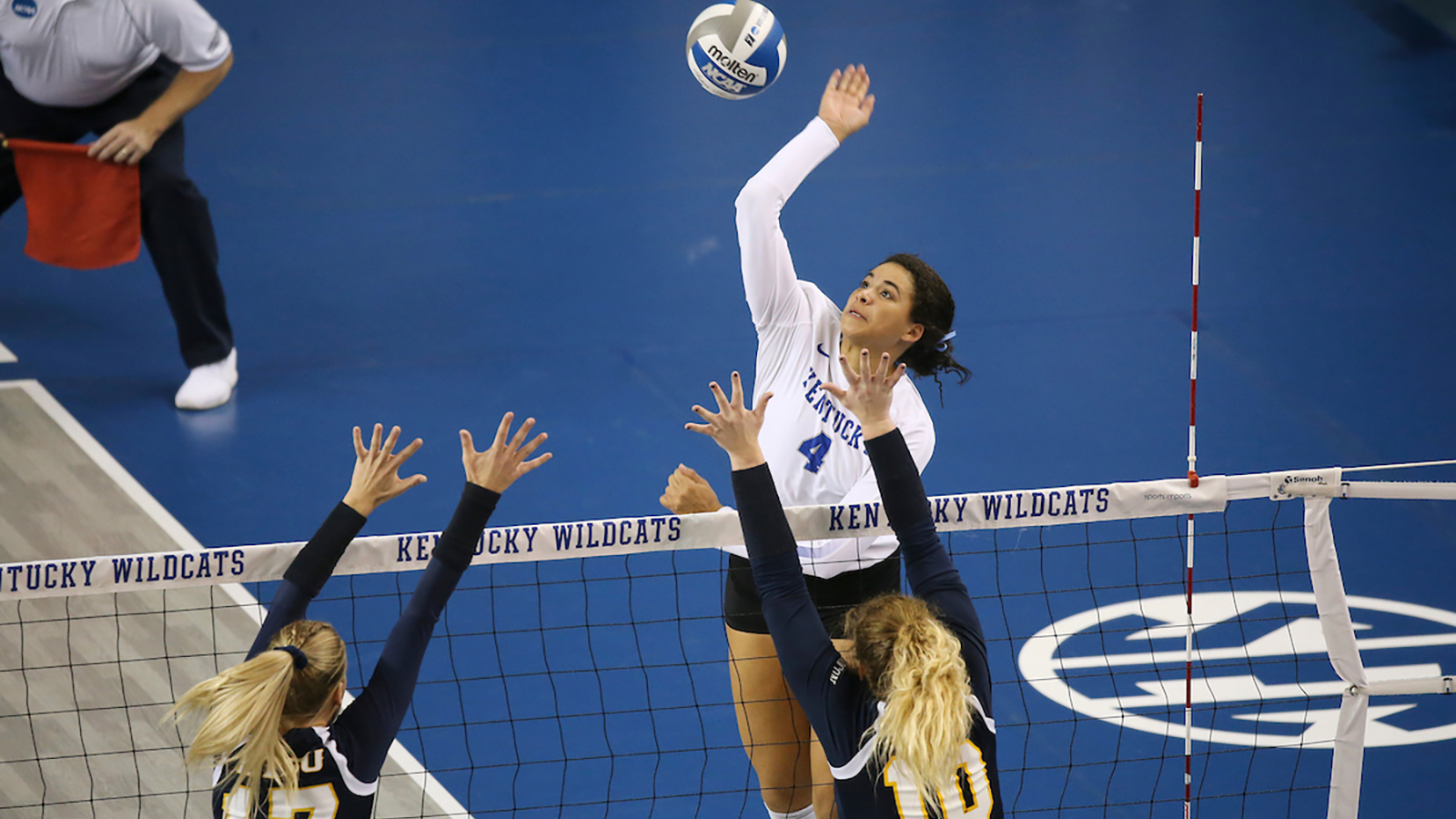 April 17, 2021 - 05:08 PM
Familiar Foes UK, WKU Set to Meet in Sweet 16
When the Kentucky volleyball team takes the court in the Sweet 16 of the NCAA Tournament on Sunday night, they will face a familiar foe on the other side of the net.
Western Kentucky beat 15th-seeded Washington State in the second round and will be the Cats' opponent Sunday night. Kentucky and WKU have met in exhibition matches a couple of times over the last four years and also played in the second round of the NCAA Tournament in 2017. UK head coach Craig Skinner knows how good the Hilltoppers are.
"Western Kentucky is a very good team, undefeated," Skinner said. "Certainly, got a battle ahead of us tomorrow night. Should be an interesting Sunday evening."
Kentucky advanced to the Sweet 16 by beating UNLV in three sets on Thursday. UK had five players with at least eight kills each in the match. Senior Avery Skinner and her younger sister, freshman Madi Skinner, led UK with 11 kills apiece, while Alli Stumler had 10. Senior setter Madison Lilley had 44 assists while senior libero Gabby Curry led all players with 10 digs in the match.
Skinner has the utmost respect for the Western Kentucky program and head coach Travis Hudson.
"People ask, what is it like to play Western, from the same state. If Western had only starting getting good the last couple of years, it might be (an advantage) but they've been really good for 25 years," Skinner said. "Travis and their coaching staff do a great job. They have a somewhat simple system, but a very effective system and they run it really well. It's just time to make plays and I think they'll feel the same way."
Skinner considers Hudson a friend and the two have a very good relationship.
"We've been friends for a long time," Skinner said. "We share a lot, talk a lot of volleyball. Mutual respect for each other and each other's programs. We've been on the phone numerous times over the years talking volleyball and strategy. I think we know each other really well. They know our program and how we do things, we know theirs. But he does it the right way. He works really hard, his players work really hard."
As for the 'Toppers talent, Skinner sees plenty of it.
"The two players that get the most points are (Paige) Briggs and (Lauren) Matthews, that's no secret to anybody," Skinner said. "Obviously, have to do a good job how to defend them. They do a really good job of balancing the net. Their other players, (Kayland) Jackson, (Katie) Isenbarger and (Avri) Davis, they all get involved, and their setter (Nadia Dieudonne) does a really good job of setting the right people at the right time."
The last time the teams met, in the 2017 NCAA Tournament, it was a classic match. WKU jumped out to a two sets to none lead only to see UK rally to win in five at Memorial Coliseum. The current UK seniors were freshmen and Skinner hopes that the memory of that match will help his team know what they face on Sunday.
"I definitely remember playing in that match," Skinner said. "That was exciting, big crowd. It was a fun match to play in, what a battle. Like I told Travis after that much, it really sucked that someone had to lose that match because I think both teams deserved the opportunity to advance. I think the biggest factor that our seniors take from that is the respect factor that we have for Western and how they play the game. I think that's probably the biggest takeaway and that's something we'll need to pull on from them to know what we're up against."
Familiar foes will meet again on Sunday with a trip to the Elite Eight on the line in Omaha.