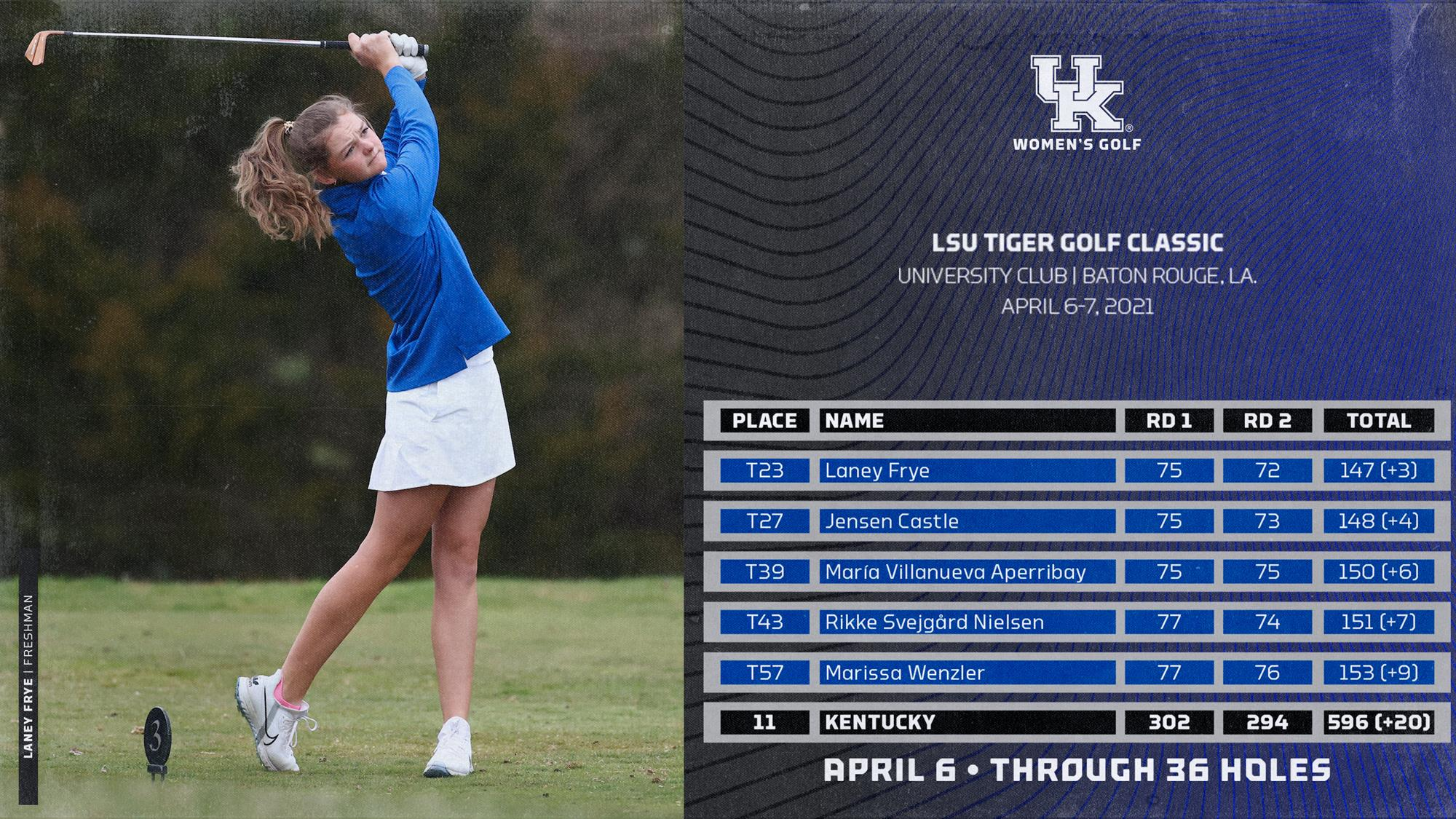 UK Women's Golf in 11th After 36 Holes at LSU Tiger Golf Classic
BATON ROUGE, La. – The Kentucky women's golf team is in 11th place after a full day of action at the LSU Tiger Golf Classic on Tuesday.
 
The Wildcats are at 20-over par overall after 36 holes of play in the 14-team field at the University Club (par 72, 6,350 yards) in Baton Rouge, Louisiana. UK fired a 14-over-par 302 in the opening round and came back in the afternoon with a solid score of 294, 6-over par.
 
Although they are a bit behind where they would like to be, the Wildcats are just eight shots removed from the top five in another competitive and Southeastern Conference-heavy field.
 
Kentucky's two most consistent players in 2020-21, freshman Laney Frye and sophomore Jensen Castle, led the team again Tuesday. Frye sits in a tie for 23rd at 3-over par and Castle is tied for 27th with a score of 4-over par.
 
"The first round got away from us a little bit today," UK head coach Golda Borst said. "We struggled making birdies and had too many big numbers. But we kept grinding and started to see some putts drop in round two.
 
"The team stayed disciplined and you have to do that out here. The opportunities will eventually come and putts will drop. I really believe we left the course with some good momentum and we are looking forward to getting back on the course in the morning."
 
Fourth-ranked LSU used its home course to its advantage on day one and leads the field at 9-under par, the only team in red numbers. The Tigers shot a 10-under-par 278 in the second round. Vanderbilt, at even par, and No. 6 Ole Miss, at 6-over par, round out the top three.
 
LSU's Carla Tejedo Mulet and Mississippi State's Hannah Levi lead the 78-player field with scores of 4-under par.
 
The event will wrap up Wednesday with the final 18 holes. All teams will tee off at 9:30 a.m. ET with a shotgun start. Live scoring will continue to be available at Golfstat.com.
 
Frye is working on yet another impressive showing. After opening with a 75 in the morning round, she carded a season-high five birdies on the second 18 to record an even-par 72 for her team-leading ninth round of par or better.
 
The only thing that undid Frye in the in second round were pair of double bogeys and a bogey. Frye will try for her fourth top-20 finish of the season in Wednesday's finale.
 
Castle is just a stroke behind at 4-over par. She got off to a fast start Tuesday with a pair of birdies on her opening nine holes but finished with a 75. Castle came back in the afternoon with five birdies to card a 73. Like Frye, the only thing that prevented her from going low were two double bogeys in addition to two bogeys.
 
Sophomore María Villanueva Aperribay is tied for 39th at 6-over par with a pair of 75s in both rounds. She rolled in two birdies in each of the first two rounds.
 
Senior Rikke Svejgård Nielsen rebounded from an opening-round 77 with a 74 on the second 18, including three birdies. She is tied for 43rd with a two-round total of 7-over par.
 
Sophomore Marissa Wenzler is tied for 57th with a score of 9-over par. Wenzler had a pretty good first round nearly completed but a triple bogey on the final hole derailed her a bit. She finished that 18 with a 77 and followed with a 76.
 
This week marks Kentucky's first appearance in the LSU Tiger Golf Classic since 2017. The tournament was a staple of the UK schedule for seven seasons until a recent break. It is also a reunion of sorts for Borst, who served as an assistant at LSU from 2007-10.
 
The 2021 event is once again SEC heavy. Twelve of the 14 teams are from the SEC with Florida State and Pepperdine filling out the field. With the SEC presence, the competition is once again difficult. The 14-team field features 12 teams in the Golfstat top 50 and eight in the top 25.
 
UK proved last event it can hang with the best teams in the country. In a similar SEC-dominated field at the Liz Murphey Collegiate Invitational last month, Kentucky finished in third place, behind only South Carolina and Ole Miss, who are ranked No. 1 and No. 6, respectively, in the latest rankings.
 
Tuesday's round will wrap up the regular season for the Wildcats. After eight regular-season events in the fall and spring, UK will turn its attention to the postseason. That begins April 14-18 at the SEC Championships in Hoover, Alabama. The NCAA Regionals, which UK appears to be a lock for with a current ranking of No. 35, are in May.
 
For the latest on the Kentucky women's golf team, follow the team on Twitter, Facebook, and Instagram, as well as on the web at UKathletics.com.