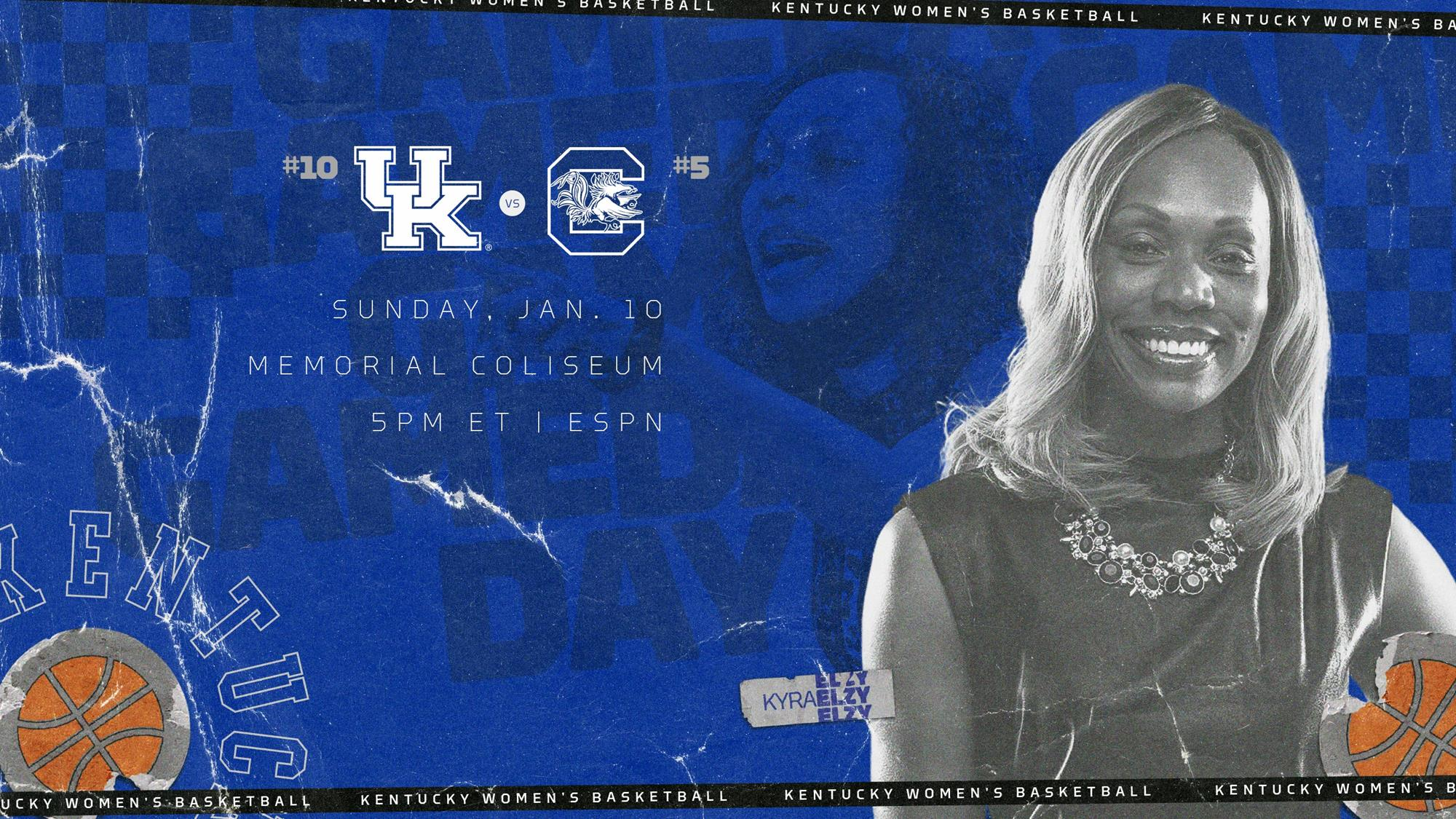 January 9, 2021 - 01:11 PM
No. 10 Kentucky Hosts No. 5 South Carolina Sunday in Memorial Coliseum
LEXINGTON, Ky. – The No. 10 University of Kentucky women's basketball team completes its most difficult stretch in program history as it plays host to No. 5 South Carolina on Sunday at 5 p.m. ET inside Memorial Coliseum.  
 
The game vs. South Carolina will be televised on ESPN with Courtney Lyle and Carolyn Peck on the call. The action can also be seen through WatchESPN on computers, smartphones or tablets. Darren Headrick will have the call on the UK Sports Network on 630AM WLAP in Lexington. Live stats and free live audio will be available online at UKathletics.com.
With attendance limited to 15% of normal arena capacity, the majority of tickets have been sold as full-season packages for women's basketball. The game Sunday is sold out. Concession stands are reopen at Memorial Coliseum. Doors will open 1 hour prior to tip.
 
Sunday's game completes a four-game stretch where Kentucky (9-2, 2-1 Southeastern Conference) faced a top-15 ranked opponent in four straight games. It is the first time in program history that the Wildcats have had to face four straight top-15 teams. Kentucky is one of two teams in the SEC that are currently scheduled to face four straight top-15 ranked league opponents with LSU being the other. The stretch started at home against No. 10 Arkansas followed by a road game at No. 12 Mississippi State. UK started this week with a game at No. 8 Texas A&M.
 
Junior guard Rhyne Howard has been the star for Kentucky so far in league play, averaging 26.3 points and 8.7 rebounds per game against conference opponents. Howard is also 9-of-18 from long range during that stretch with a team-best 15 assists. Senior forward KeKe McKinney is averaging 11.0 points and 5.3 rebounds per game in league action, going 6-of-11 from the 3-point line with four steals.
 
Overall, Howard is averaging 19.1 points per game this season with 7.1 rebounds per game and, leading Kentucky with 24 3-pointers. She is tied for the team lead with 34 assists while she is second on the team with 16 steals. Senior guard Chasity Patterson is averaging 13.3 points per game and leads the nation with 48 steals, while sophomore forward Dre'una Edwards is averaging 12.5 points per game with a team-best 8.0 rebounds per game.
 
South Carolina enters Sunday's game with a 7-1 record, including a 2-0 record in the SEC. The Gamecocks did not play Thursday as they paused all team activities due to a positive COVID-19 test, contact tracing and subsequent quarantining. USC has defeated two ranked foes this season in then-No. 21 Gonzaga and then-No. 23 Iowa State, while its lone loss was to then-No. 8 NC State at home. In league play, the Gamecocks defeated Florida at home 75-59 last Thursday before taking down Alabama on the road Monday, 77-60.
 
Zia Cooke leads the team with 18.8 points per game and has hit a team-best 18 3-pointers, while Aliyah Boston is averaging 12.8 points per game with 10.5 rebounds per game. Destanni Henderson is averaging 12.1 points per game and has a team-best 44 assists, while Victaria Saxton is averaging 10.1 points and 7.3 rebounds per game. As a team, the Gamecocks are averaging 82.9 points per game and limiting opponents to 57.5 points per game. USC has a +18.9 rebounding margin and +1.4 turnovers per game.
 
Sunday will be the 68th all-time meeting between Kentucky and South Carolina in women's basketball. The Gamecocks have won 11 of the last 12 meetings in the series.  Kentucky leads the all-time series in games played in Lexington, 20-10, but has not defeated South Carolina in Lexington since March 1, 2015 when it earned a 67-56 victory. UK lost both games last season to the Gamecocks and the Wildcats last win against SC was a 65-57 win in Columbia on Feb. 21, 2019. This is the fourth all-time meeting with both teams ranked in the top 10 of the AP poll. The Gamecocks have won each of the three previous meetings.
 
For more information on the Kentucky women's basketball team, visit UKathletics.com or follow @KentuckyWBB on Twitter, Instagram and Facebook.