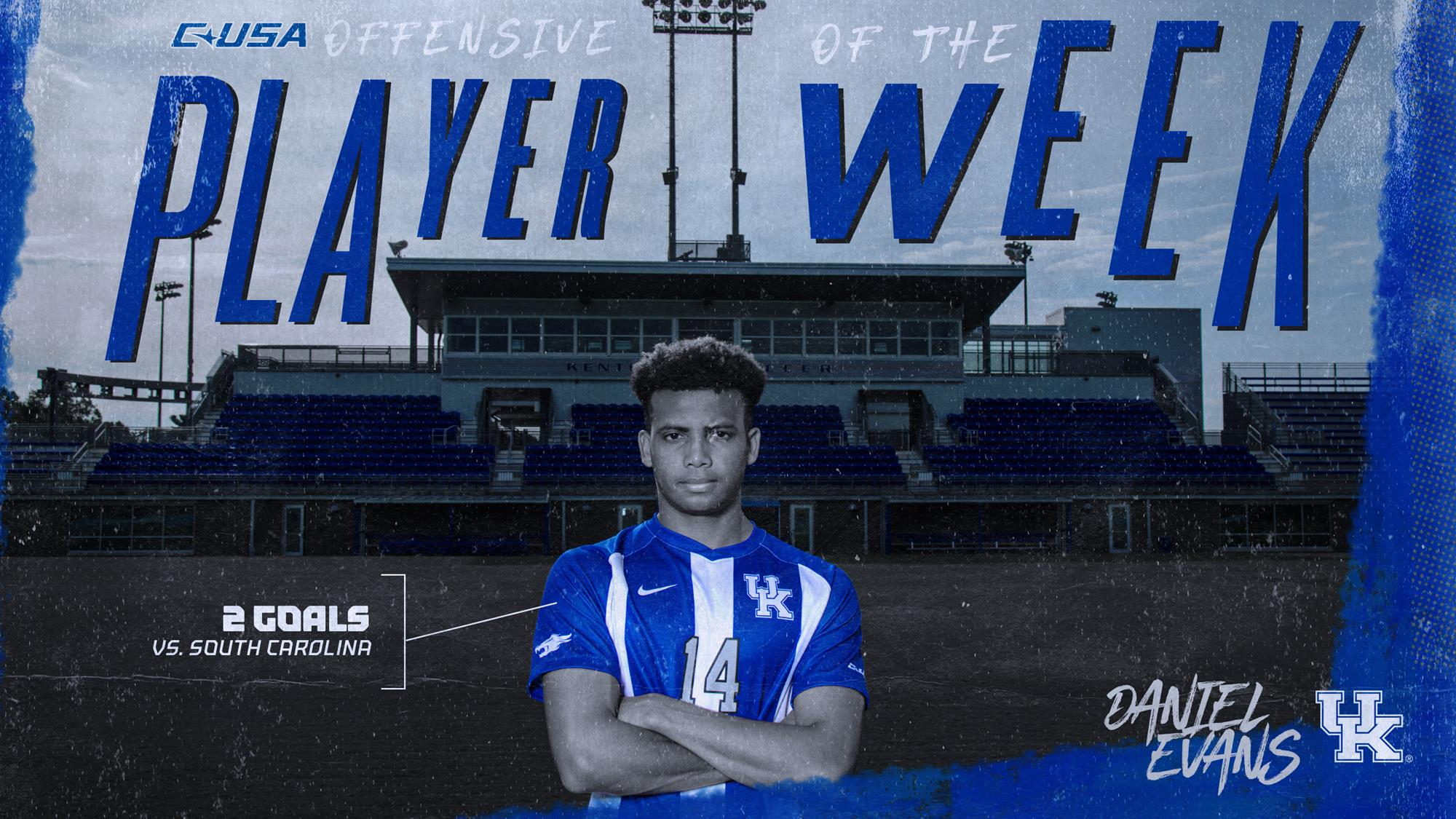 October 28, 2019 - 02:30 PM
Daniel Evans Named C-USA Offensive Player of the Week
LEXINGTON, Ky. – After leading the Wildcats to a 4-0 win over South Carolina last Sunday, No. 16 Kentucky men's soccer forward Daniel Evans was named Conference USA Offensive Player of the Week on Monday.
 
"I'm happy for Danny," said UK head coach Johan Cedergren. "He has really developed since getting here and is someone we have high hopes for in the future, as well."
 
With his team holding a 1-0 lead at the half, the sophomore product of The Colony, Texas, opened the floodgates in the second period with an easy goal in the 56th minute by way of a flawlessly orchestrated pass across the box from Kalil ElMedkhar.
 
Four minutes after Colin Innes grew the Kentucky lead to 3-0, Evans scored the match's final goal at the 75-minute mark on a breakaway opportunity following a collision between South Carolina goalkeeper Nick Brady and defender Frano Buhovac on a through ball from UK midfielder Clay Holstad.
 
Evans is the third Wildcat to record a brace this season and the first to earn a weekly award from the conference. Kentucky is set to return to action on Wednesday versus Wright State in a 7 p.m. ET kickoff at Wendell & Vickie Bell Soccer Complex.
 
For the latest on the Kentucky men's soccer team, follow @UKMensSoccer on Twitter, Facebook and Instagram, as well as on the web at UKAthletics.com.