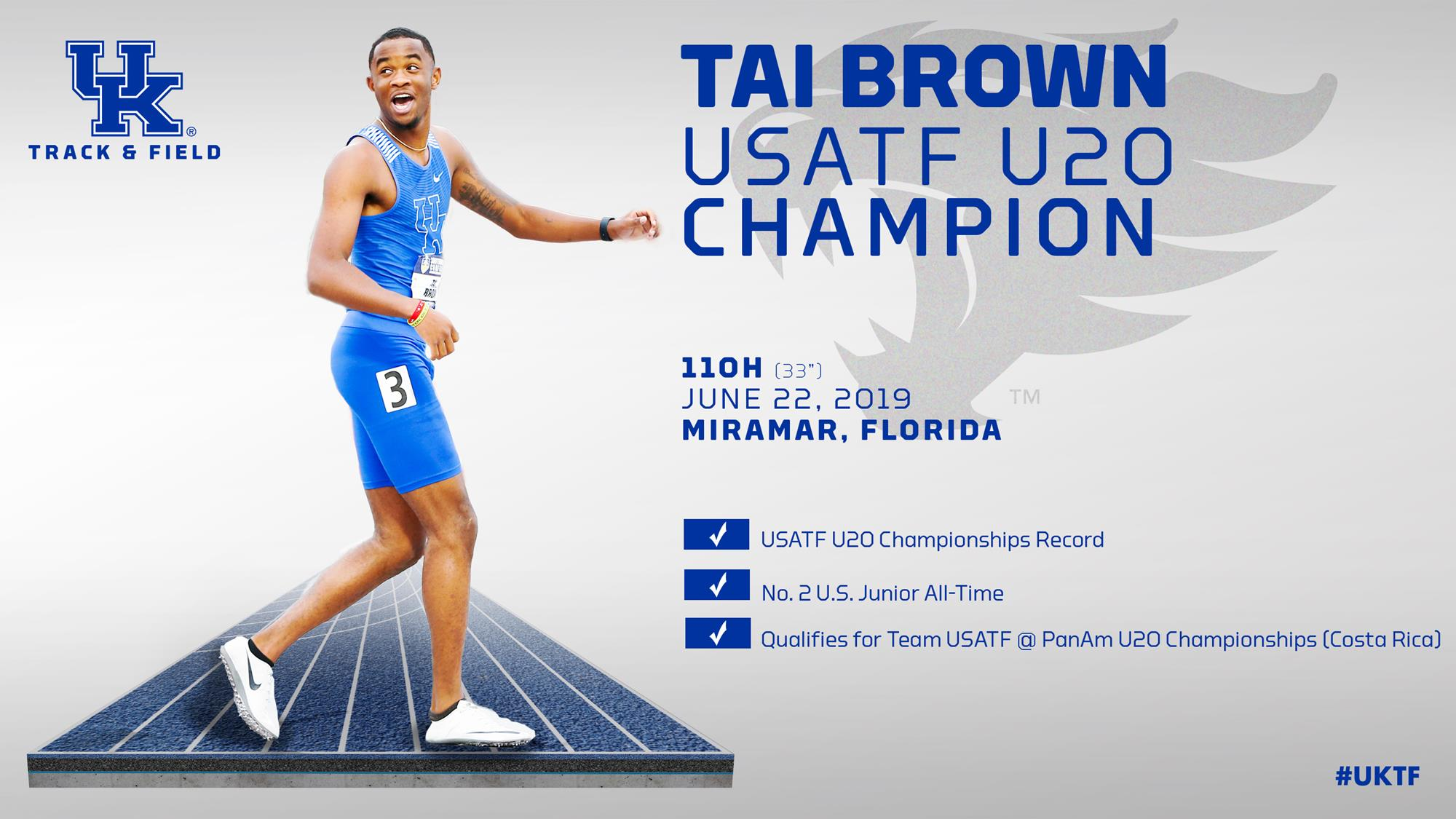 Tai Brown Wins USATF U20 110H
MIRAMAR, Fla. – Kentucky track and field's Tai Brown won the USA Track and Field Under-20 Men's 110-meter hurdles this weekend at the USATF U20 Championships at the Ansin Sports Complex.
 
Brown edged Oregon's Eric Edwards Jr. on a photo finish as both lowered the meet record to stop the clock at 13.21 (+1.5) (13.204-13.209). Brown became the No. 3 U.S. junior hurdler all-time.
 
The hurdles for the 110H at the U20 (formerly known as junior) height are six inches shorter than at the senior and collegiate level (33″/99.1cm compared with 39″/106.7cm) so the time doesn't count on the list of UK's school records.
 
Brown was named Southeastern Conference Co-Freshman Runner of the Year earlier this year. He was Second Team All-America in the 110H, and was top freshman finisher in his signature event at the SEC Championships. He broke the Kentucky freshman record in the event, running a 13.62 in prelims.
 
Freshman thrower Josh Sobota took silver in both the discus and shot put. He placed second in the junior weight discus (1.75kg, .25 lighter than the 2kg senior weight used in NCAA competition) with a 189'6″/57.76m toss.
 
On Saturday he was runner-up in the junior weight shot put (6kg, 1.26kg lighter than the senior implement (16lbs) which is used in NCAA competition) with a 68'6″/20.88m toss.
 
Their fellow freshman Masai Russell took double USATF Silvers in the women's 100m hurdles and 400m hurdles. She ran a PB 56.78 in the 400H final and 13.42 (+0.7) in the 100H final. She became the first American woman to since Queen Harrison in 2007 and third athlete ever to make the Pan-Am U20 Championships in both hurdles events.
 
She ran 13.35Q (+0.9) in the 100H prelims.
 
Russell was a First Team All-American in the 4x400m relay indoors and out this past season. She was also an SEC All-Freshman Team member in the 100m hurdles and 400m hurdles.
 
As top-two finishers at the Championships, Brown, Russell and Sobota have met the standard and earned qualifying places on Team USATF for the Pan American U20 Championships to be held in San José, Costa Rica on July 18-21, 2019.