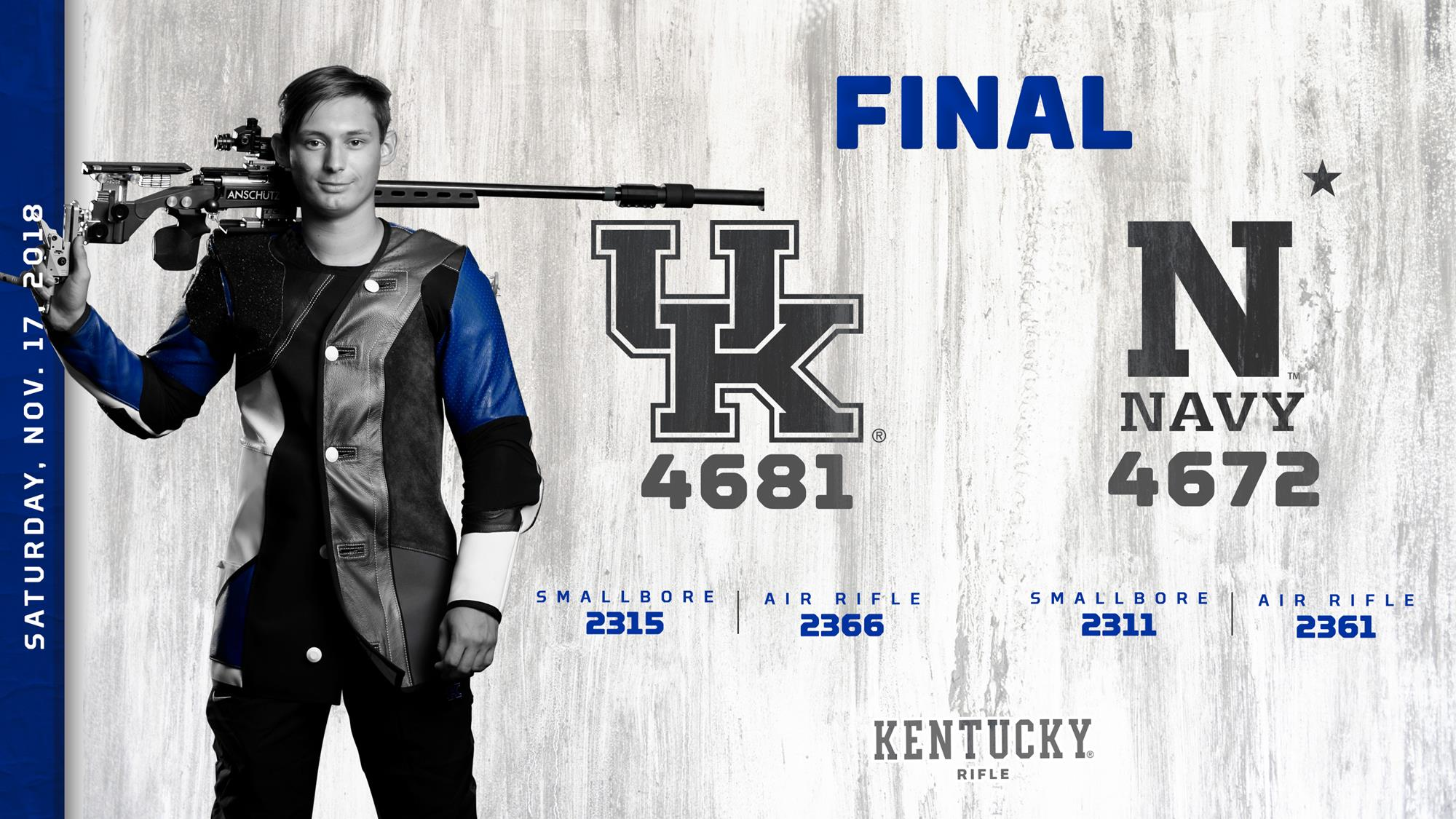 ANNAPOLIS, Md. – The Kentucky rifle team concluded the fall 2018 portion of the 2018-19 season with a 4681-4672 victory at No. 10 Navy on Saturday.
Will Shaner led the way for Kentucky in aggregate and both disciplines scoring 1180 (583 in smallbore, 597 in air rifle).
 
Smallbore report
UK led by a narrow margin after the opening discipline 2315-2311.
 
Shaner led the way, Hailee Sigmon fired a 579 – third best in the match and Richard Clark turned in a 578 – fifth best of all competitors.
Jason Spaude shot a 575 and Cathryn Papasodora turned in a 572.
 
Air rifle report
UK extended its lead slightly winning air rifle 2366-2361.
 
Shaner fired 597 for the second week in a row – one point of his season best. Clarke was the No. 2 Wildcats, third overall, with a 592. Sigmon fired a 590.
 
Ruby Gomes shot a 587 and Papasodora shot 584.
 
—
The Wildcats have emerged victorious from each of their seven matches this year, including the three-team Kentucky Long Rifle Match on Oct. 13.
 
UK's season-high 4718 on Oct. 13 was the best score a team has turned in in the nation this season. UK's best road match score was a 4694 at Ole Miss on Oct. 27.
Navy (7-3, 3-1 Great American Rifle Conference) had shot a season high of 4676 this season.
UK was ranked No. 4 in this week's Collegiate Rifle Coaches Association rankings.
UK will now break until the spring semester not returning to competition until Jan 19.
 
 —
For the latest on the Kentucky rifle team, follow @UKrifle on Twitter, Instagram and Facebook, as well as on the web at UKathletics.com.