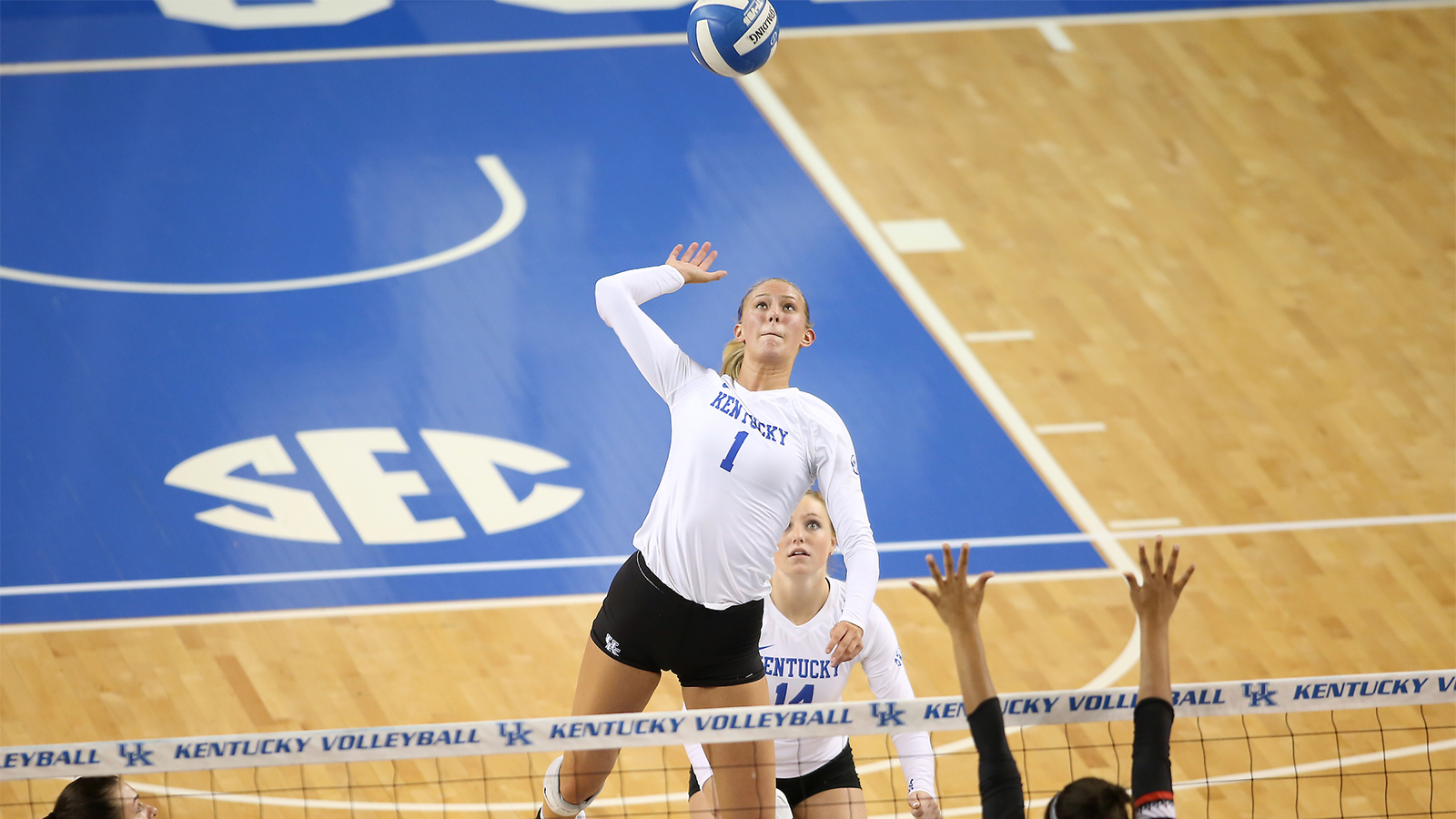 August 22, 2018 - 10:04 AM
After Tough Year, Nyberg Ready for Senior Season
Last season, the Kentucky volleyball team went on a late-season run that produced an SEC regular season championship and a berth in the NCAA Tournament's Elite Eight. But not every Wildcat was able to enjoy the magic ride.
While the Wildcats were in the midst of a 10-match winning streak, outside hitter Anna Nyberg was at home in Tomahawk, Wisconsin, to be with her ailing father. And as the Wildcats were preparing to play in the Sweet 16, Nyberg's father Jim passed away on December 3.
While the team still had the business of the tournament ahead of them, Nyberg knew that her teammates, and the university, were with her
"Just everything, from them flying me home, people coming to my service, I didn't even expect it," Nyberg said. "Even seeing them wear ribbons for my family was huge. (Volleyball Director of Operations) Kristen (Sanford) would text me through every single game. They really kept me up through it all. It would have been really cool to be there, but seeing them accomplish big things it made me more excited to come back and reach more goals."
Nyberg was especially touched when a group from UK, including head coach Craig Skinner, assistant athletic director Katie Eiserman and players Olivia Dailey and Kylie Schmaltz, surprisingly showed up in Wisconsin just before playing BYU in the NCAA Tournament.
"They were not there for long, which I understood because they had to get back," Nyberg said. "It was crazy. The closest airport to us was so small, it was a huge trip. But they made it and it meant a lot to me."
This summer, Nyberg experienced another significant loss when her former coach, Jen Pfannerstill, passed away. Nyberg credits Pfannerstill with much of her volleyball success.
"She kind of made me want to start playing volleyball," Nyberg said. "She started coaching me at the club level. She taught me a lot of things and made me feel that I could do this. We got along really well and she knew how to coach me. I kept in touch with her, she came to our spring game last year. She would text me after big games. She was a huge part of me getting started in volleyball."
While Nyberg is still coping with the loss of two very important people in her life, she still draws on lessons each of them taught her and she still feels their presence.
"I think knowing that they are watching over me is reassuring and makes me feel good," Nyberg said. "They both taught me a lot of things. My dad taught me how to manage my emotions, (Pfannerstill) always taught me to be very tough. I'll always use what they told me when I'm in those moments."
While she's experiencing a transition in her life, Nyberg is also going through a transition on the court. During her first three seasons, Nyberg played outside hitter for the Wildcats. Now, she's also being asked to play in the middle blocker position, something she hadn't done in quite some time.
"I came in as an outside and this past spring, they decided to try me in the middle," Nyberg said. "They liked how my blocking was, so I gave it a shot, even though I hadn't done it since seventh grade. I worked on it a lot in the spring and they are just keeping me there."
Skinner has been impressed with Nyberg's play, as well as her physical fitness.
"Anna has a great opportunity in front of her," Skinner said. "She's competing for playing time in the middle and on the right side and left side. She had a phenomenal summer, she's in good shape and is as strong as she ever has been. Her team has a lot of respect for her. She has really put herself in position to impact our team."
Nyberg is still adapting to the new position, but she hopes it can be the spot that helps her get into the lineup.
"It's going OK, I've never really played (middle blocker) at this level, so it's a lot to take in," Nyberg said. "But I'll do whatever they need and (play) where they want me."
Nyberg's teammates think she can make a major impact on the team this season.
"Anna can be that versatile player," said fellow senior Merideth Jewell. "She's been playing middle, right, we know she can play outside. She could really play six rotations. She can really step up and do anything she wants. She's been working really hard. The more confidence she gets, the more she's going to grow."
Nyberg and the Wildcats hope to duplicate, and exceed, last season's success. And this time, Nyberg hopes she will be able to celebrate with her teammates in person.