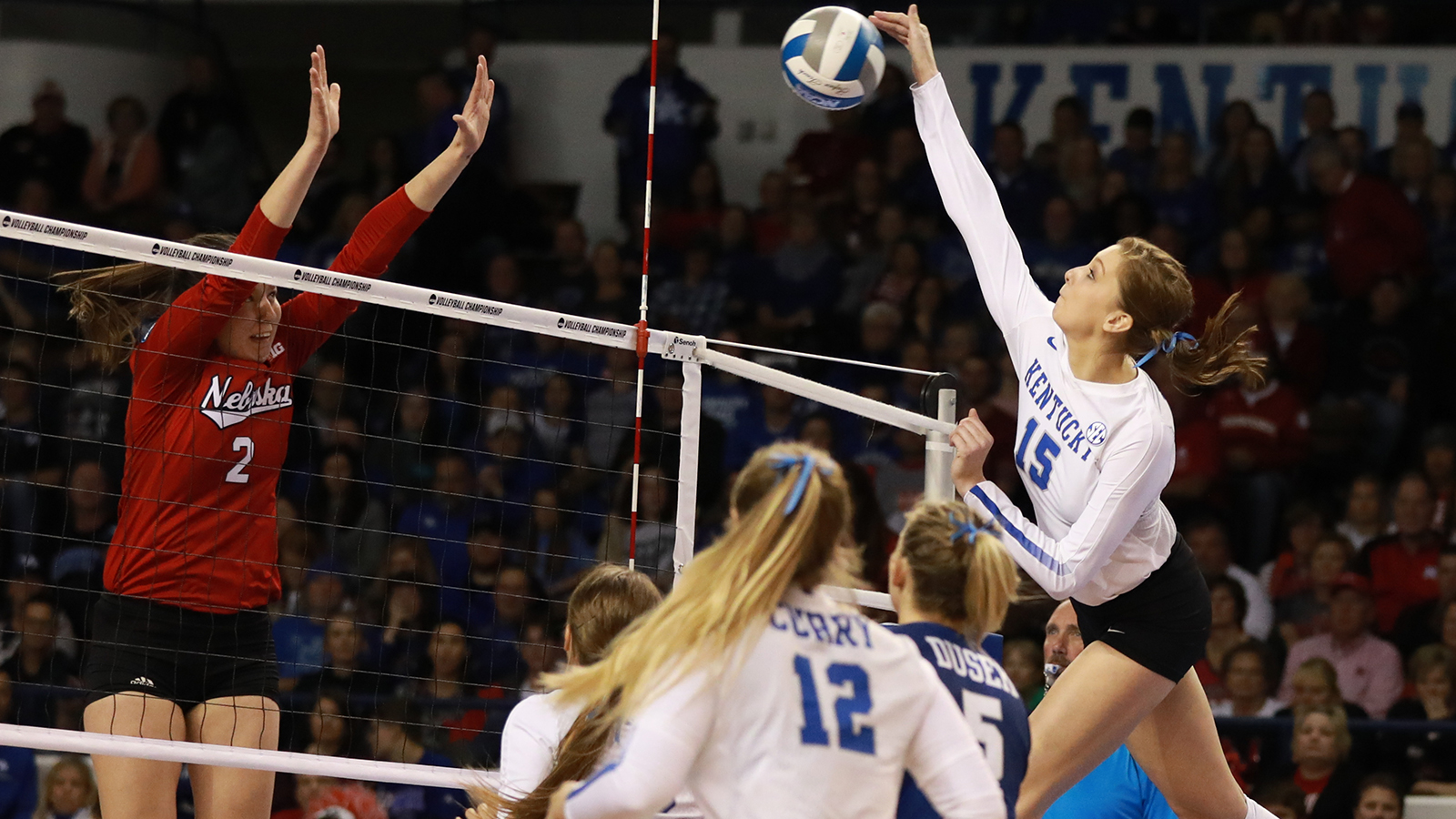 August 21, 2018 - 09:38 AM
UK Volleyball's Morgan Embracing Position Change
In life, change is inevitable. For Kentucky volleyball standout Brooke Morgan, a big change on the court is coming during her senior season. Morgan is being asked to change positions, and while she had some initial trepidation about moving to middle blocker, the situation seems to be working itself out.
Morgan played right-side hitter during her first three seasons at UK, but after Kaz Brown and Emily Franklin graduated, the Wildcats needed help inside. The transition was slow at the beginning, even when Morgan tried out in the middle for the U.S. Collegiate National Team.
"Going into (the tryout), I was a little worried about how I might do," Morgan said. "Going into it, playing middle, I had only been practicing (the position) for a month and a half."
But she did make the team and she enjoyed her experience playing for the squad, in Detroit.
"It was fun," Morgan said of the experience. "I learned so much and my coaches were great."
Kentucky head coach Craig Skinner is excited about the changes that Morgan has made to prepare herself for a potentially new role.
"Brooke has had a great offseason," Skinner said. "From January to now, she has worked really hard and has put herself in a great position to have a great senior year. She's as strong as she ever has been, she's jumping higher than she ever has, she has prepared herself for a great senior year."
The move from the outside to the middle has come naturally to Morgan so far. The senior looks forward to returning to the position she last played in high school.
"I used a lot of the same movements on the right side, so it's kind of new going to my left," Morgan said. "But I hit slides (as a right side), so I kind of did some of it already, but going back to it full time was a little interesting, but I love it."
Skinner saw immense potential in Morgan during the spring season.
"She had one of the best springs ever for a Kentucky middle in terms of performance in our spring exhibition matches," the UK head coach said.
A 6-5 native of Dike, Iowa, Morgan has 439 kills and 181 total blocks in her three seasons at UK. She was named to the All-SEC Freshman Team in 2015 and played in some pivotal moments for last year's Elite Eight squad. Can this year's team duplicate that type of success?
"We always shoot for the Final Four, and winning the SEC championship again would be great," Morgan said. "We're a very different team from last year, but our potential is very high."
As for this being her senior year, Morgan is still getting used to that fact.
"I haven't really wrapped my head around this being my senior year yet," she said. "I hope to take each practice, game and such at 100 percent."
Skinner and the Wildcats are hoping that Morgan's best will be a huge boost in the middle for the team.