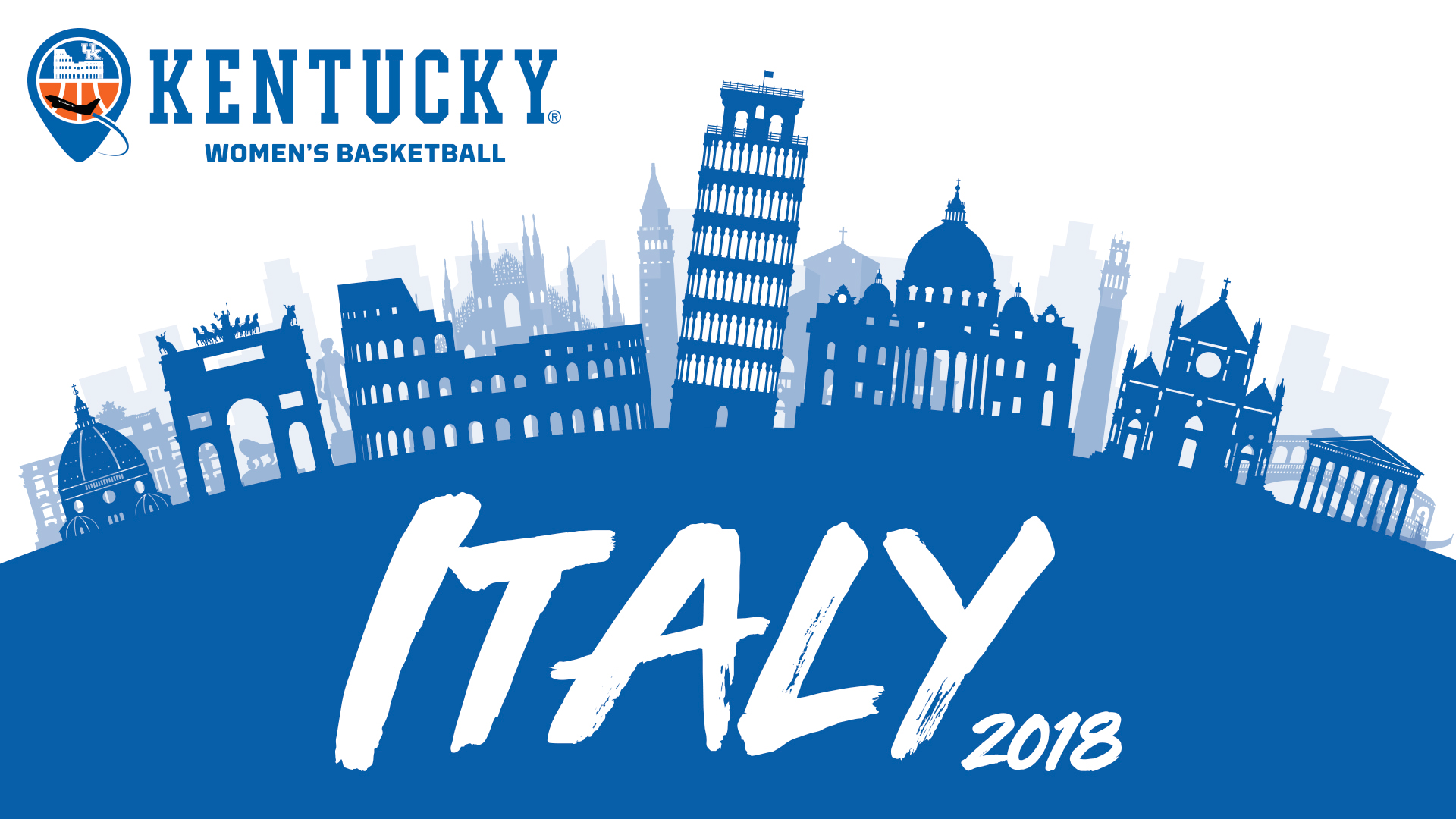 August 1, 2018 - 02:46 PM
Kentucky WBB Ready for Foreign Tour to Italy
LEXINGTON, Ky. – For the first time since 2001, the University of Kentucky women's basketball team will be traveling overseas for a foreign tour as it will spend 10 days and nine nights in Italy playing three games against international competition. Kentucky will embark on the journey Friday.
 
The Wildcats will arrive in Rome on August 4 and make stops in Florence and Venice before ending the trip August 13 in Lake Como and Milan. The team will face tough international competition three times during the trip, but will sightsee as well with planned tours of the Roman Colosseum, Vatican City and more. The trip will also be educational for the Wildcats, who have been participating in a class for credit during leading up to the trip. 
 
This will be the fourth time in program history the Wildcats have traveled overseas for a preseason slate of games. The foreign tour is the first for the UK program since traveling to France and Switzerland in May of 2001. The Wildcats also visited Finland and Estonia in May 1992 and Japan in July of 1982.
A tentative schedule of games is below. Fans are encourage to visit UKathletics.com or follow @KentuckyWBB on Twitter, Instagram and Snapchat, or Kentucky Women's Basketball on Facebook for complete information and coverage of the team's trip.
 
Kentucky WBB Italy Game Schedule – Tentative
Sunday, Aug.  5 vs. Bosnia and Herzegovina National Team – 6:30 p.m. (local)/12:30 p.m. ET – Rome, Italy (Associazione Sportiva Stella Azzurra)
Tuesday, Aug. 7 vs. TK Hannover – 6:30 p.m. (local)/12:30 p.m. ET – Florence, Italy (Sandro Pertini Sports Hall)
Friday, Aug. 10 vs. Marghera Select – 6:30 p.m. (local)/12:30 p.m. ET – Mestre, Italy (Palestra Dario e Federica Stefani)