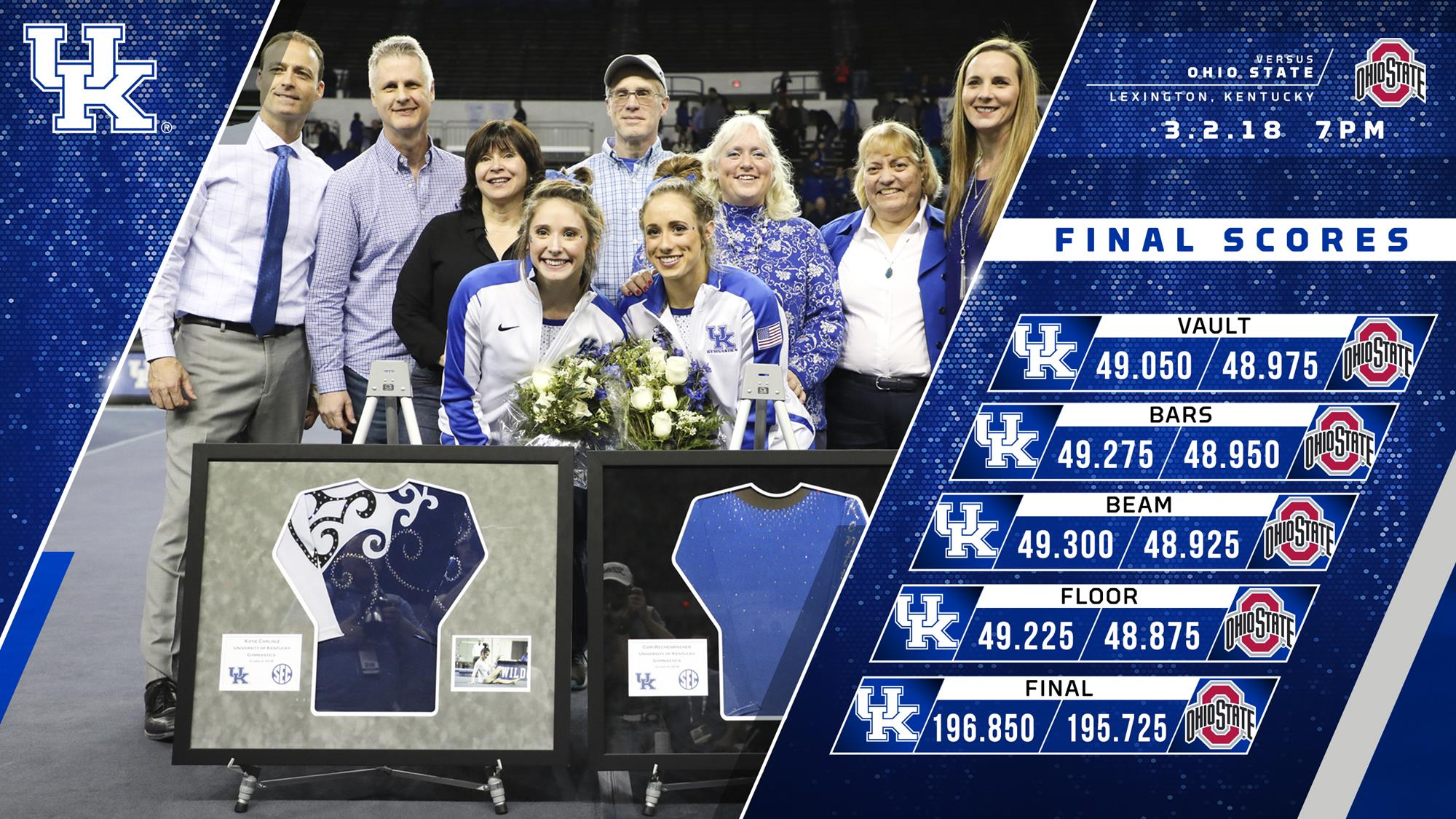 No. 9 Kentucky Beats No. 21 Ohio State On Senior Night
LEXINGTON, Ky. –  The No. 9 Kentucky (7-4, 3-4 SEC) gymnastics team finished the home season with a bang as UK took down Ohio State (10-4), 196.850 – 195.725. The Wildcats honored two seniors – Katie Carlisle and Cori Rechenmacher – after the meet.
 
"This program has grown so much over the last four years," head coach Tim Garrison said. "These two seniors were a big part of that growth. They've helped us every bit of the way, whether they were competing all-around or one or two events. They've helped the other athletes achieve at a higher level."
 
The 196.850 is the fifth-best score in program history and UK has only hit that mark seven times ever. Kentucky's best event was the beam once again, with an overall team score of 49.300. The Wildcats did not score below a 49 on any apparatus.
 
"We did a lot of things right," Garrison added. "We had great amplitude on vault and strong swing on bars, maybe even too strong. There were amplitude mistakes, but it's better than holding back. Looking ahead, we're going to have to be sharper. We need to get in a postseason mindset and fix those things now if we want to make a deep run in the postseason. This team is capable of doing that."
 
Carlisle completed her senior night with an impressive 9.875 on the bars, tying her career best.
 
"It feels awesome to go out with a bang," Carlisle said. "It's really an emotional night but being surrounded by team was an unbelievable feeling. It was a great night."
 
Rechenmacher competed on the beam and floor, posting a 9.825 on both.
 
"I can't describe tonight any other way but bittersweet," Rechenmacher said. "It's been a great four years and ending on a high note is awesome."
 
Sophomore Mollie Korth and junior Alex Hyland were the only two all-around competitors in the meet. Korth edged Hyland for the all-around crown, 39.475 – 39.450.
 
"We just have more consistency in the gym," Korth said on the team's performance. "Having a 197 last week, we gained a lot of confidence in ourselves. We just had to go out and repeat what we did last week. We had a little hiccup but it's a good home score."
 
Kentucky started on the vault, winning the event 49.050 – 48.975. Korth took home the event title with a 9.875, while junior Danaea Davis followed with a 9.850. Hyland posted a 9.8, while junior Katie Stuart had a 9.775. Juniors Sidney Dukes and Aubree Rosa both rounded out the scoring with a 9.750.
 
UK took the bars title, 49.275 – 48.950. Korth won the event once again, tying her career best with a 9.925. Carlisle finished second on her senior night with a 9.875, and freshman Ella Warren matched that score. Hyland came up with a 9.85, while sophomore Hailey Poland was the last scorer for UK with a 9.750.
 
The Wildcats' best event was the beam with a 49.300. Dukes and Hyland shared the beam crown with scores of 9.925. Both scores were season highs. Stuart and Rechenmacher each had 9.825s, while Korth also scored with a 9.8.
 
UK finished on the floor and posted a 49.225. Hyland won her third floor title of her career with a 9.875, and shared the crown with Korth. Poland's score was just short of her career best at 9.850. Rechenmacher scored for the Cats on Senior Night with a 9.825, while Dukes finished UK off with a 9.8.
 
Kentucky will be back in action on March 11 when UK heads to New Hampshire for a 1 p.m. meet.
 
For complete news and updates on the Kentucky Gymnastics program, go to UKathletics.com. Season tickets can be found on UKathletics.com/Tickets. News and updates on the team can also be found on Twitter at @UKGymnastics and at @UKCoachGarrison and Facebook at Facebook.com/UKGymnastics.