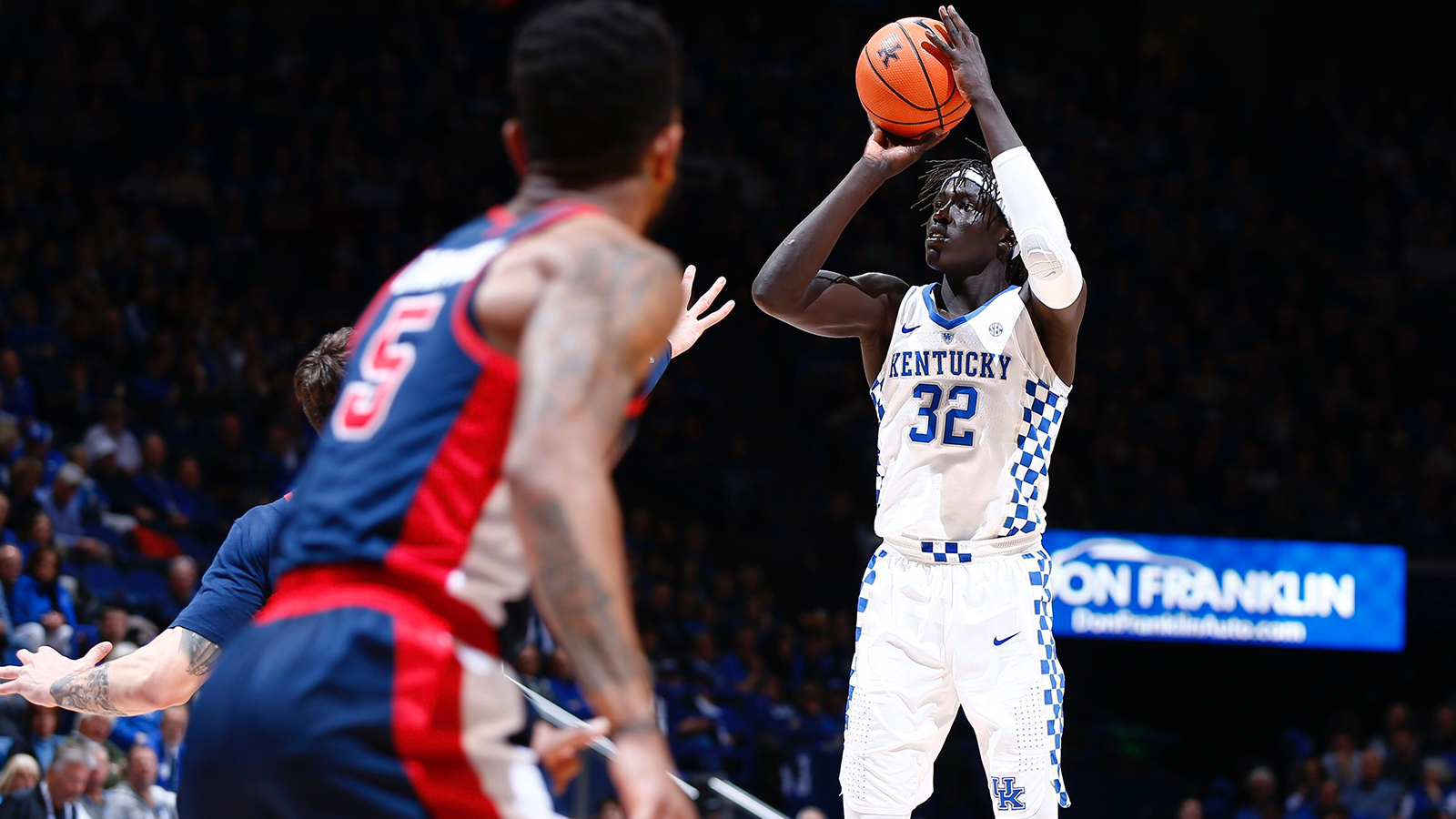 February 28, 2018 - 09:19 PM
No. 23 Kentucky Rolls Past Ole Miss
LEXINGTON, Ky. (AP) – Kentucky has followed a four-game slide with four consecutive wins featuring some of its best play this season along with the poise that was missing during the slump.
The No. 23 Wildcats had all of those aspects come together late to beat Mississippi for a victory coach John Calipari suggested his young team had to win.
Kevin Knox had 22 points and Quade Green added 18, including eight during a 15-5 second-half run that helped Kentucky pull away from Mississippi for a 96-78 victory Wednesday night.
"It was a win we had to have and I told them after the game," said Calipari, adding that telling them before the game might have made them nervous. "I didn't want to tell them that, this was like the biggest game of the year for us. This was it."
Shai Gilgeous-Alexander had 17 points, a career-high 10 assists and seven rebounds. Wenyen Gabriel added 15 points and PJ Washington 10 as the Wildcats (21-9, 10-7 Southeastern Conference) won their fourth consecutive game and home finale, the first without departing seniors under Calipari. Green had two 3-pointers and a layup during the run that provided an 82-69 lead with 6:40 remaining.
The freshman guard ended up making 7 of 12 shots in 30 minutes, crediting his play to playing off guard as Calipari stressed.
"Just being aggressive, really," Green said. "When I've got the ball, just be aggressive and make the right plays. Score when I have to score. Shoot when I have to shoot, pass when I have to pass."
Kentucky shot 56 percent after halftime and 50 percent overall in a game that was chippy at times, resulting in five technical foul calls and the quick ejection of Ole Miss senior forward Marcanvis Hymon after just 3 1/2 minutes.
"We knew they were going to be aggressive and get a little out of hand," Gilgeous-Alexander said. "We just had to keep our composure and keep ahead."
Terence Davis had 26 points and Breein Tyree and Bruce Stevens 13 each for the Rebels (12-18, 5-12), who lost for the ninth time in 11 games. The Rebels shot 41 percent.
"They really turned up the pressure," acting coach Tony Madlock said. "They made some really good stops and we were not able to make some of the plays that we need to make when you're able to cut it to four and you're right in the middle of what you want to do. Just not able to make the plays late."
BIG PICTURE
Mississippi: Losing Hymon to two quick technicals seemed to inspire the Rebels just as they were about to trail by double digits, responding to outscore the Wildcats 21-12 over 8:06 for a 25-24 lead. Ole Miss got within a basket several times after that but couldn't catch Kentucky, which strung together baskets and got the rebounds needed to stay ahead and gain some distance late.
Kentucky: The Wildcats took a little longer to get rolling, but their second-half run arrived on time and showcased the things that Calipari has stressed. Besides outrebounding the Rebels 43-35, they shared the ball (19 assists) and knocked down shots resulting from those good looks. The Wildcats also thrived at the line, making 16 of 19 attempts in the first half alone en route to finishing 26 of 35.
TECHNICALLY SPEAKING
The game was delayed several times in the first half as officials reviewed video to sort out several confrontations, including one that resulted in Hymon's departure before the first media timeout. Hymon drew his second technical foul for dead ball contact with 16:36 remaining in the first half after a skirmish under Kentucky's basket in which Wildcats forward Nick Richards received a non-contact technical foul while Stevens got a personal foul. Hymon drew an earlier technical foul after Ole Miss' opening basket 1:13 in.
Five technicals were ultimately called, with the Rebels' Justas Furmanavicius getting one later in the first half and Gabriel called for another in the second half. Gabriel thought the Rebels initially played physical to goad the Wildcats' buttons.
"It's expected and you don't have nothing to lose when you're playing against us," he said. "They're going to play their hearts out, and if they're going to get a technical, so be it."
UP NEXT
Ole Miss hosts Vanderbilt in the regular season finale Saturday night.
Kentucky concludes the regular season on Saturday at Florida, which escaped with a 66-64 upset win at Rupp on Jan. 20.