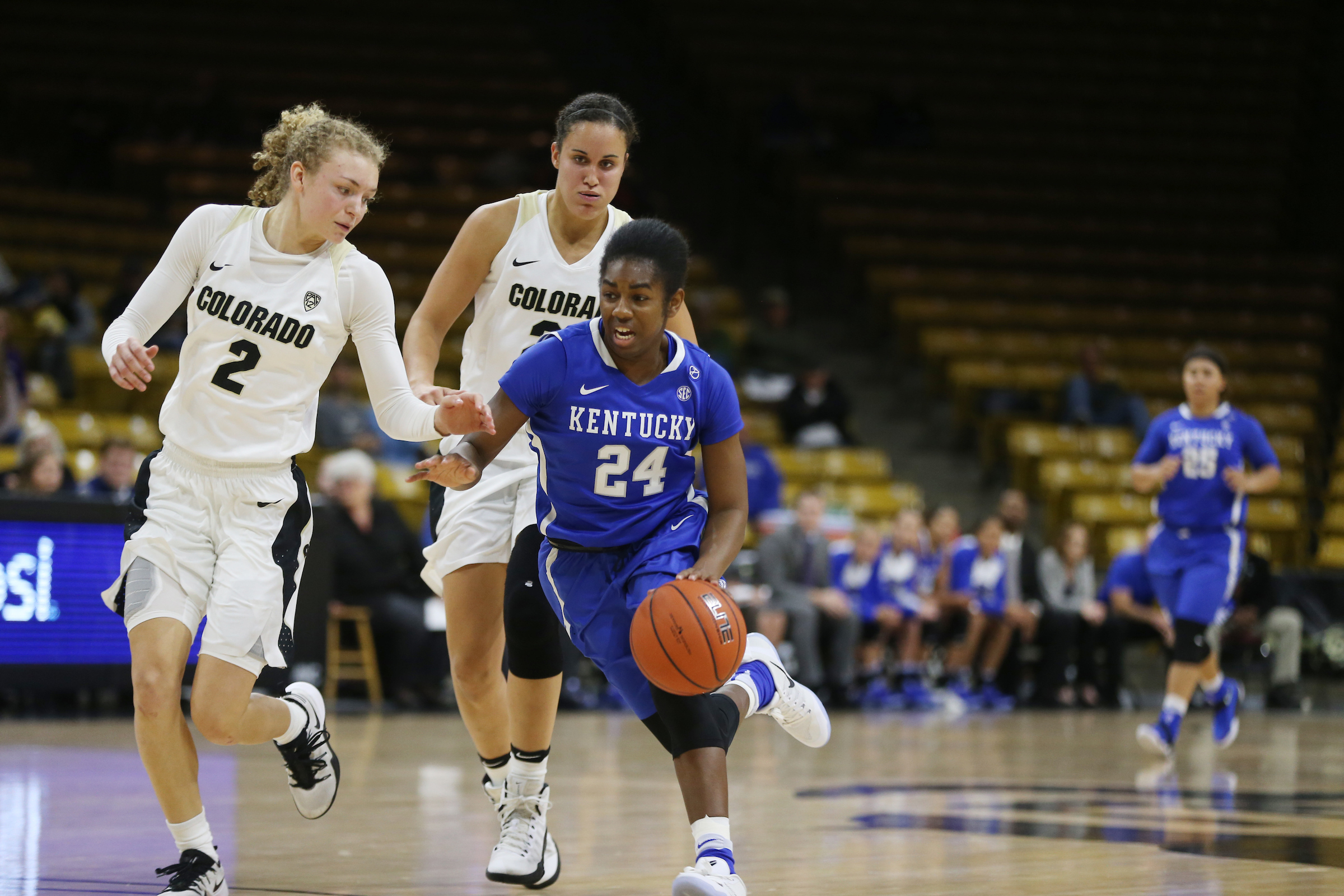 November 20, 2016 - 12:15 AM
No. 15 Kentucky Drops Road Test at Colorado
LEXINGTON, Ky. – The No. 15 University of Kentucky women's basketball team lost its first game of the season Saturday, falling 79-69 to Colorado at the Coors Event Center in Boulder, Colorado. 
Kentucky (3-1) held an eight-point lead early in the game and a 12-11 lead at the end of the first quarter, but Colorado (3-0) used a 7-0 run in the second period to gain the lead and give the Wildcats their first deficit at halftime this season. 
The Buffaloes took control of the game in the third quarter, hitting two early 3s to force a Kentucky timeout. Colorado shot 45.5% from the field in the third quarter, outscoring Kentucky 25-16 to take a double-digit lead into the fourth quarter. 
Colorado would not relinquish the lead, hitting 61.5% from the field in the final 10 minute to give Kentucky its first loss of the season. 
The Buffaloes took advantage of offensive rebounds in the game, outscoring Kentucky 22-12 in second-chance points behind 18 offensive rebounds. The Wildcats struggled from the free-throw line, hitting just 12-of-21 from the charity stripe. 
Individually, Kentucky was paced with four players scoring in double figures, including 12 points and 13 rebounds by Evelyn Akhator. The double-double was the senior's fifth consecutive. Senior guard Makayla Epps and sophomores Taylor Murray and Maci Morris each scored 14 points to lead Kentucky.  
For more information on the Kentucky women's basketball team, visit UKathletics.com or follow @KentuckyWBB on Twitter, Instagram and Snapchat, or Kentucky Women's Basketball on Facebook.