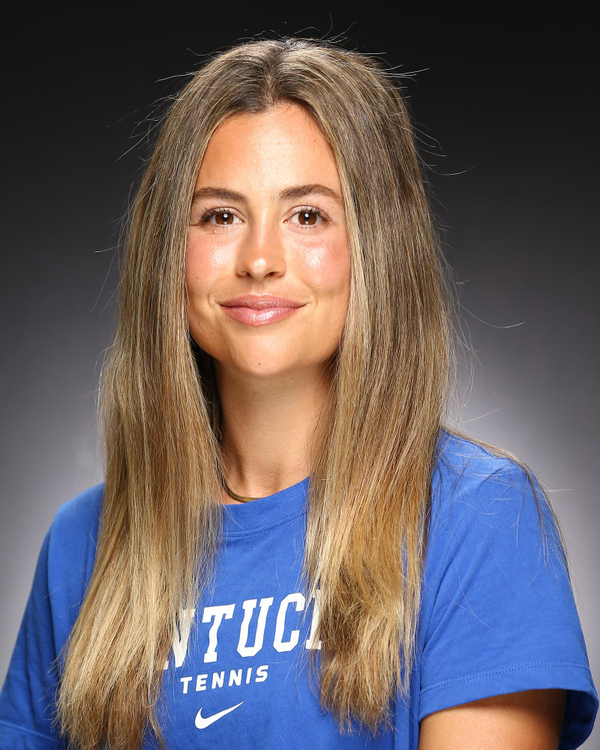 Carla

Girbau
height

5-8

class

Senior

Hometown

Barcelona, Spain

Major

Business Management and Finance

High school

Institut Obert de Catalunya
Career Notes
2021 ITA Scholar-Athlete
2021 SEC Spring Academic Honor Roll
2020 SEC First-Year Academic Honor Roll
Senior (2021-22)
Had a 7-17 record in singles competition during the spring season playing on the first three courts … Defeated LSU's Ena Babic in the first round of the SEC Tournament to help UK advance to the second round … Earned the decisive point over Western Kentucky's Laura Bernardos and Bellarmine's Ashley Jonathan … Also had singles wins over East Tennessee State's Alejandra Morales, Southeast Missouri State's Daniela Hlackikova, West Virginia's Ting-Pei Chang and Austin Peay's Jana Leder … Began the season paired with Ellie Eades for an 8-5 doubles ledger, including a big ranked win over SEC foes No. 27 Carson Branstine/Mary Stoiana of Texas A&M … Clinched the doubles point with Eades on four occasions against Notre Dame, East Tennessee State, Austin Peay and Western Kentucky … Teamed up with Lidia Gonzalez for a clinching win over Southeast Missouri State's Lera Valeeva/Ksenia Shikanova … During the fall season, posted a singles win at both the June Stewart Invitational and the Miami Invitational … Advanced to the singles main draw quarterfinals at the ITA Regional Championships, also teaming up with Ellie Eades to qualify for the doubles main draw semifinals. 
 
| | |
| --- | --- |
| Singles | Doubles |
| Overall: 7-17 | Overall: 9-10 |
| Conference: 0-11    | Conference: 9-10    |

Junior (2020-21)
Named to the SEC Academic Honor Roll … Recorded a 10-10 record in singles action during the season, including a 6-3, 6-3 win over SEC rival Chloe Cirotte of Mississippi State … Also had singles wins over East Tennessee State, Memphis, Miami Ohio, Middle Tennessee State, Marshall, WKU, and Notre Dame … Amassed a 2-4 record with Anastasia Tkachenko, a 4-5 mark with Elizabeth Stevens, and went 2-0 with Carlota Molina during doubles action … Rallied for a 2-6, 6-2, 6-3 victory over Lillian Gabrielsen to earn the decisive point in UK's victory over No. 19 Ole Miss during the second round of the SEC Championships … Defeated Syracuse's Zeynep Erman 6-4, 6-3 during the opening-round match of the NCAA Championships, also teaming up with Tkachenko to take down Polina Kozyreva and Sofya Teshcheva, 6-2 … Posted a 6-2, 6-4 win over Alabama's Vanesa Nikolovova in the SEC Challenge during the fall … Recorded a 6-1, 6-2 win over South Carolina's Lindsay Tulenko at the Bulldog Invitational in the fall … Teamed up with Elizabeth Stevens for a pair of victories over Auburn and Vanderbilt at the June Stewart Invitational during the fall season.
 
| | |
| --- | --- |
| Singles | Doubles |
| Overall: 10-10 | Overall: 8-9 |
| Conference: 1-8    | Conference: 4-6    |

Sophomore (2019-20)
Named to the SEC First-Year Academic Honor Roll … Recorded a 4-3 mark in singles and a 5-1 mark in doubles when paired with Anastasia and Diana Tkachenko during fall action … Played at the Baylor Invite, Ohio Valley Regional Championships and the Kentucky Invite during the fall … Was one of three teammates to go unbeaten in their final fall tournament of the season at the Kentucky Invite, recording one singles win and two doubles wins, despite coming off a wrist injury that week (round-robin, hidden-dual format) … In dual action, Girbau posted an 8-5 singles record, including a 2-2 singles record in the conference… Competed on the third and fourth courts during the season, hoisting a 3-1 mark on the third court … Put together a 6-6 record in doubles action during the dual season with a 0-3 mark in the conference … Paired with Anastasia Tkachenko, the duo went 2-0 on the second court at the beginning of the dual season … Season was cut short on Thursday, March 12 due to the COVID-19 public health threat.
 
| | |
| --- | --- |
| Singles | Doubles |
| Overall: 12-8 | Overall: 12-8 |
| Conference: 2-2    | Conference: 0-3    |

Freshman (2018-19 at Miami)
Played for the University of Miami during the spring semester … Logged an 8-5 record in singles and 1-3 ledger in doubles … Went 6-4 in dual match singles competition, including 3-1 at the No. 5 spot … Earned her first collegiate victory with a 6-4, 6-4 triumph over second-ranked Emma Kurtz of Vanderbilt in the Miami Spring Invite, beginning a five-match winning streak … In her first dual match, topped Natalie Kallmunzerova, 6-2, 6-4, at Florida Atlantic … Posted a 6-2, 6-4 decision against Arianna Capogrosso of No. 23 Tulsa in ITA Kick-Off Weekend action … Earned a 6-1, 6-2 result against Nadia Gizdova of No. 31 Georgia Tech … Went 1-1 in doubles with Lucia Marzal and 0-2 with Ana Madcur … Recorded her lone doubles triumph with a 6-2 victory against UK's Diana Tkachenko and Brianna Tulloch in the Miami Spring Invite.
Prior to UK
Entered Miami with a 10.40 UTR … Logged three wins over players who earned top-100 ITF Juniors rankings, including Switzerland's Simona Waltert, who peaked at ninth on the list … Defeated at least six players with an 11-plus UTR … Logged her first WTA point in January 2018 … Ascended as high as No. 45 in the Spanish national rankings … Won the 2015 Catalonia Championship and the 2014 Nike Junior Cup … Finished as the runner-up at the Spanish Doubles Championship in 2012 and made the semifinals in both 2016 and 2017 at the U12, U16 and U17 levels, respectively … Reached the Spanish Championship semifinals with her club team, Cercle Sabadelles 1856, in 2014 and 2016 … Club team qualified for the senior level championships in 2015 with a juniors-only team.
Read more