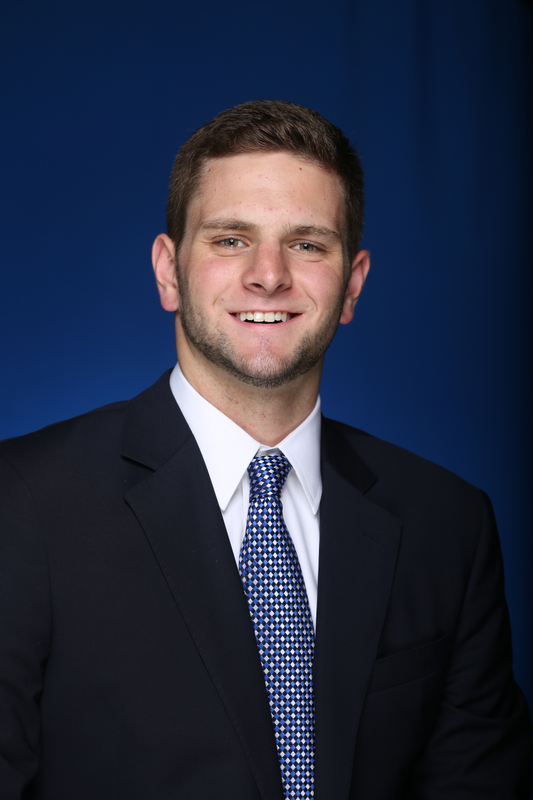 Jackson

Gunning
class

Senior

Hometown

Marietta, Ga.

High school

George Walton High School
Top Times:
500 Freestyle: 4:25.50 (2017 SEC Championships, 02/15/17)
200 Freestyle: 1:39.69 (2018 SEC Championships, 02/16/18)
1000 Freestyle: 9:18.16 (2017 SEC Championships, 02/18/17)
1650 Freestyle: 15:16.30 (2018 SEC Championships, 02/18/18)
 
LCM
200 Free: 1:53.46 (2017 Speedo Long Course Sectionals, 07/14/17)
400 Free: 4:00.04 (2017 Speedo Long Course Sectionals, 07/15/17)
800 Free: 8:12.9 (2017 Speedo Long Course Sectionals, 07/13/17)
1500 Free: 15:47.76 (2017 Speedo Long Course Sectionals, 07/16/17)
200 Back: 2:05.16 (2017 Speedo Long Course Sectionals, 07/16/17)
 
2016, 2017, 2018 SEC Winter Academic Honor Roll
2017-18 (Senior):  Scored in the mile at the SEC Championships for the fourth straight season, placing 20th with a personal-best time of 15:16.30 … Leaves Kentucky ranked No. 5 all time in the 1,650 freestyle … Also recorded a personal best time in the 200 free, going 1:39.69 to place 42nd …  Named to the SEC Winter Academic Honor Roll.
2016-17 (Junior): Recorded personal-best times in all three of his individual events at the SEC Championships … Scored at the conference meet in the 1650 free, going 15:16.83 to finish 22nd overall, a time which ranks fifth on UK's all-time performers list … Named to SEC Winter Academic Honor Roll.
 
2015-16 (Sophomore): Swam the eighth-fastest 1650 free at the SEC Championships in 15:22.45, placing 20th overall with an NCAA B cut … Set another personal record in the 500 free at the conference meet, clocking in at 4:30.68 to place 41st …Competed in the 200 back twice, with a season best 1:52.54 to place sixth in the Texas A&M dual … Named to SEC Winter Academic Honor Roll.
 
2014-15 (Freshman): Placed 18th in the 1650 free at the 2015 SEC Championships, touching in at 15:25.74 to rank seventh on Kentucky's all-time performance list … Also recorded personal records in the 200 (1:40.28) and 500 (4:30.97) free at the conference meet … Notched a time of 9:40.26 in the 1000 free against Cincinnati.
Read more