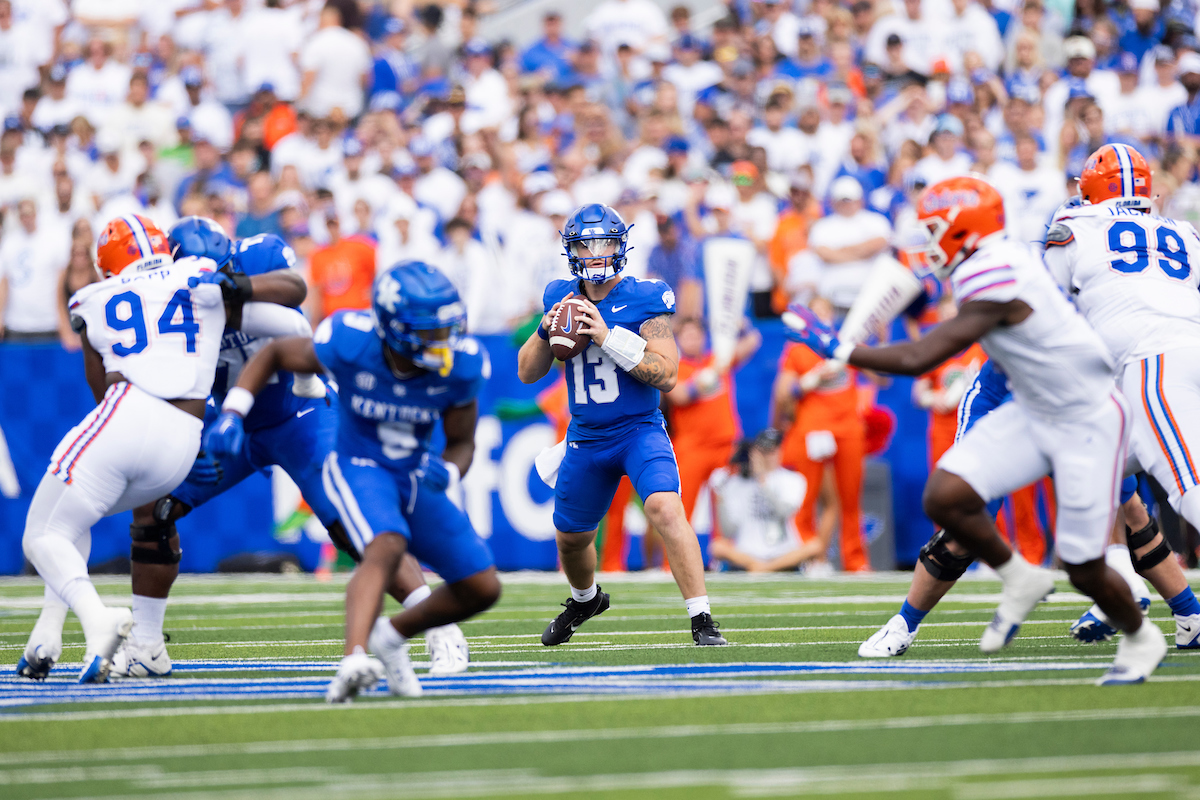 Halfway through the 2023 season, Kentucky is 5-1 and ranked 23rd in the country. That's good news but what might be even better news is that the Cats have yet to play what would be considered a complete game on offense so far this season.
Kentucky rushed its way past Florida two weeks ago, with Ray Davis going for 280 yards on the ground. However, UK passed for just 69 yards in that game. In fact, Kentucky's best passing game in three Southeastern Conference games is 205 yards in a win at Vanderbilt last month.
Offensive coordinator Liam Coen cannot quite put his finger on why the passing game has yet to really get going through six games.
"I think we throw and catch a little better during the week of practice than we end up doing on Saturday," Coen said. "Can't really always point to why, as to one reason or another. It's just overall execution. Pitching, catching, running the right route at the right depth and just making some throws and being in the right timing and rhythm and making the right decisions. I think we've made the right decisions for the most part on Saturday. At the end of the day, we just have to make those throws and make those catches."
Coen does believe that the Cats are close to breaking through and playing a complete offensive game.
"You saw some of it against Florida, in one part of the game. We ran it really well," Coen said. "But the pass game took a little bit of a hit and wasn't quite clicking. It's just coming back to work every day. These kids are not going to quit, coaches aren't going to quit. We're not going to say we haven't thrown the ball well, let's stop throwing it."
Quarterback Devin Leary thinks the formula for making the passing game click is fairly simple.
"Honestly, just making the layups. Making the easy throws," Leary said. "Getting back to the way I've always played. Just doing what you practice to do. Do what you're coached to do. For me, it's just take it one play at a time, take a deep breath before the play and just execute."
Leary admits to being hard on himself every day.
"At the end of the day, those throws need to be made, those completions need to be made," Leary said. "I'm my biggest critic. I always tell the offense that it starts with me, how I'm managing the game, how I'm operation the offense. There's no excuse for it to be one step off or one yard away from the catch. It's my job to give those guys a chance and make sure that we can make plays and that didn't happen on Saturday. I've got to be better."
Coen hopes that the Cats are able to rev up the offense with a nice mix of the pass game and the running attack.
"Maybe it just takes a play, maybe it takes a game for us to click," Coen said. "It needs to click, we want it to click, we're working on it to click, it just hasn't yet. There's been moments. But hopefully here soon, one of those games, one of those moments one of those plays allows us to start to click on all cylinders."