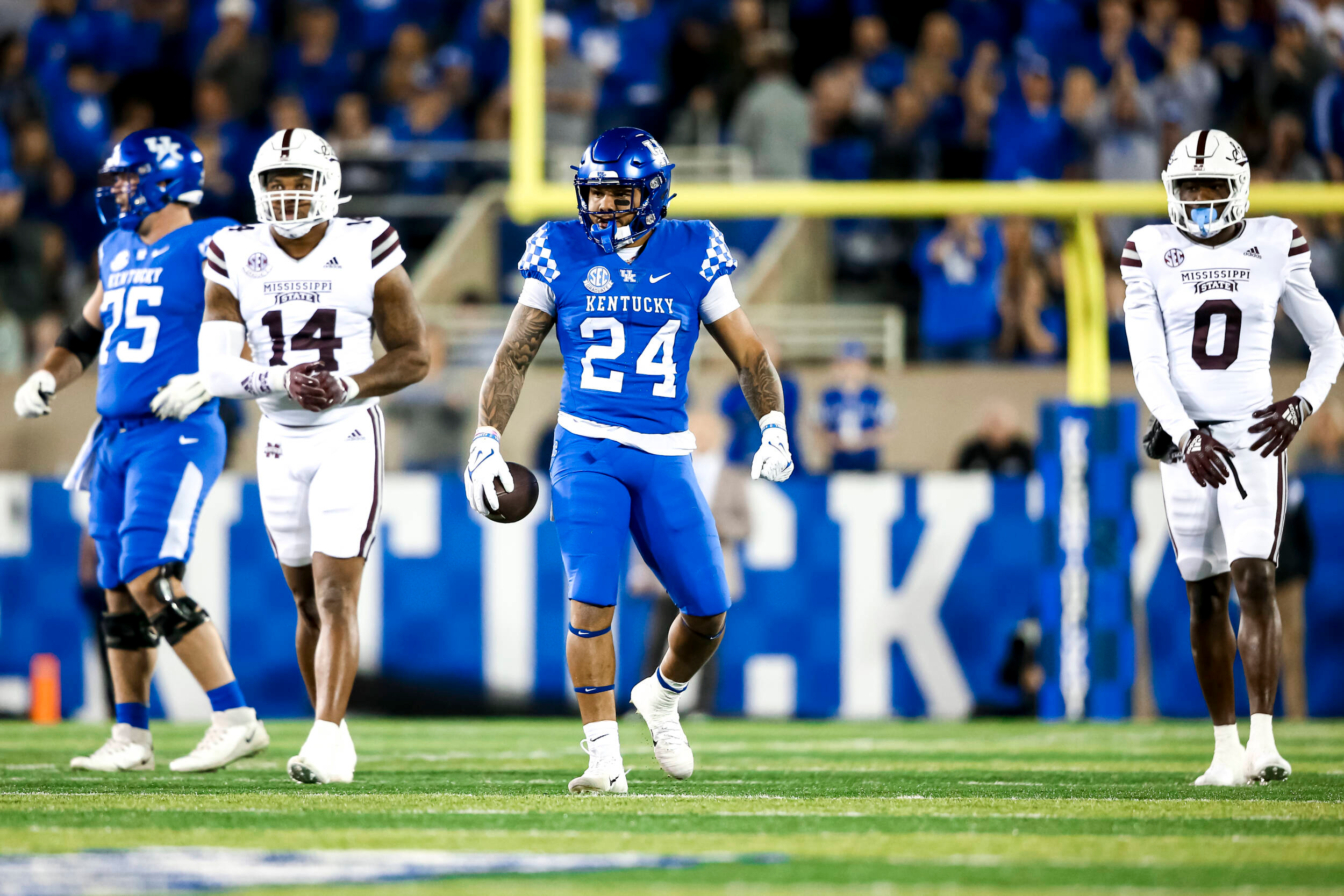 After its bye week, No. 19 Kentucky returns to action on Saturday, facing the team that has probably generated the most buzz of any team in the country this season, the third-ranked Tennessee Volunteers.
The Vols lead the nation in scoring offense, averaging a whopping 50.1 points per game. Tennessee also leads the country in total offense, averaging 571.7 yards per contest.
On Monday, Kentucky head coach Mark Stoops said that he and his team are embracing the challenge ahead of them this week.
"Very excited about the opportunity we have this week to go play an extremely good Tennessee team that is absolutely playing on fire right now," Stoops said. "Offensively, playing at a very high level right now. With their tempo, their talent, the way they're playing at quarterback – across the board. Extremely hard to defend and playing extremely well. A big challenge ahead of us."
While the challenge is certainly there, so is the opportunity to do something special.
"Any time you play top-ranked teams, great venue, SEC game against a top-three team in the country. Big game. Big opportunity," Stoops said. "We have to embrace that challenge."
The Cats their bye week working on Tennessee but also doing some self-reflection.
"You have to take a good look at both (yourself and your next opponent) during the off week," Stoops said. "You have to examine yourself. It's the only time you have just a little bit of time to take a good look at yourself. Evaluate the things you're doing well and try to continue to feature that. And then areas where you're falling short, how do you get that fixed and why are you falling short."
Stoops knows that his team needed the off week.
"The bye hopefully came at a good time for us," Stoops said. "We played a very good game the last time we played but we needed some time to heal. The players needed some time to heal up a little bit and getting our legs up underneath us to play a team that's as fast as Tennessee is in all areas."
Kentucky will counter the UT offensive attack with its defense, which is ninth in the country in scoring defense, allowing just 16.4 points per game, and 14th in the nation in total defense, surrendering 295.4 yards per outing. The Cats also hope that facing high-tempo Ole Miss earlier this season can be beneficial.
"It definitely gives us some prep," Stoops said. "Just getting our feet up underneath us and try to work at that tempo. It's almost impossible for your scout team to simulate anything as fast as they do or execute like they do."
Stoops and the Cats have a challenge ahead of them and the UK head coach knows that his team needs to rise to the occasion.
"It's human nature, when you're playing a team that's playing this well, you better play at a high clip or you'll get embarrassed," Stoops said. "They're scoring points on everybody. When you're playing the number one offense in the country, you better be locked in."
Stoops knows there is a formula for success against a team like Tennessee. It involves both sides of the ball.
"You have to be able to capitalize, you've got to be able to make big stops when you have to," Stoops said of his defense. "Because ultimately, this team is going to go fast and they're going to move the football. You have to try to get some stops."
And on offense, the Cats also must produce.
"Moving the ball is important. Third down efficiency is important," Stoops said. "Possessing the football, it does limit the opportunities (for Tennessee)."
The Cats face a big challenge this weekend in Knoxville. But that also means the Cats have a great opportunity to do something special.