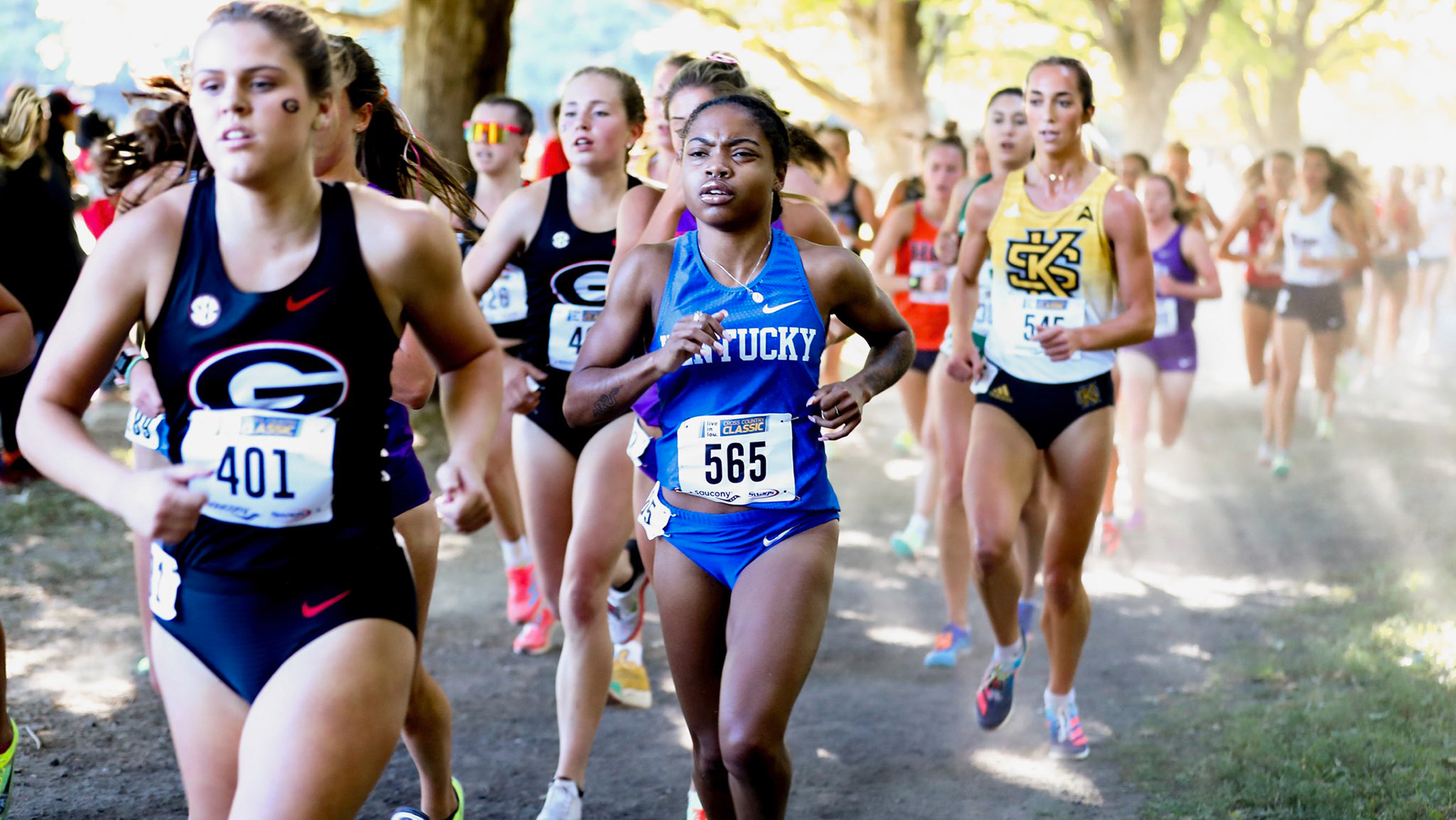 October 1, 2022 - 02:29 PM
Mitchell, Martin Pace Wildcats at Live in Lou Classic
LOUISVILLE, Kentucky – Jonah Mitchell and DeAnna Martin paced the Kentucky cross country efforts Saturday morning in the Live in Lou Classic.
Held at E.P. "Tom" Sawyer Park, Mitchell placed 85th out of 308 contestants in the men's 8,000-meter race with a time of 24:41.7.  Martin finished No. 101 among 378 racers in the 5K women's race, clocking in at 18:05.2.
After a pair of intense, grueling races the previous two weeks, Kentucky used the event to gain more experience for those who have not seen a great deal of competition this season. Martin was followed on the scoreboard by Bryanna Lucas (18:32.7), Phoebe McCowan (18:38.8), Natalie Molotky (18:49.8) and Eliza Scoggin (19:10.4).  UK finished 31st out of 41 teams in the women's event.
Kentucky did not send a full men's team but had three compete as individuals.  Following Mitchell were Cade Byer (25:12) and Blake Byer (25:41.7).
Saturday's race results are posted at https://loucrosscountryclassic.com/results-archive.
UKXC Women's Team: 31st, 852 points (first five finishers count toward team scoring total)
UK 5k Individual Results; 378 total runners
101. DeAnna Martin, 18:05.2

165. Bryanna Lucas, 18:32.7

187. Phoebe McCowan, 18:38.8

209. Natalie Molotky, 18:49.8

258. Eliza Scoggin, 19:10.4

312. Maggie Aydt, 19:34.3 

357. Aurora Melzer, 20:20.5
UKXC Men (no team score, three competed as individuals)
UK 8k individual results; 308 total runners
85. Jonah Mitchell, 24:41.7
152. Cade Byer, 25:12.0
200. Blake Byer, 25:41.7
After Live in Lou, the last regular-season meet is October 15 at the Panorama Farms Invitational in Charlottesville, Va.  The Wildcats begin postseason action October 28 at the SEC Championship in Oxford, Miss.
Follow Kentucky Track and Field and Cross Country on Facebook, Instagram, Twitter and at UKathletics.com.